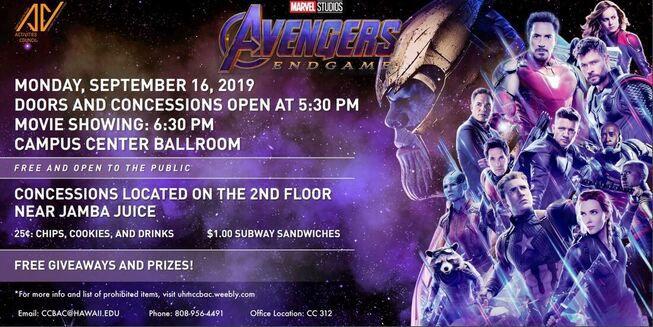 Movie-goers and hardcore Marvel fans have the chance to enjoy "Avengers: Endgame" at the Campus Center Board Activities Council's Movie Night.
Scheduled for Sept. 16, the event will be held at the Campus Center Ballroom and feature giveaways, prizes and concessions such as chips, drinks and Subway sandwiches for purchase.
Doors and concessions open at 5:30 p.m., with the screening to begin at 6:30 p.m. It is free and open to the public. Attendees are also encouraged to bring blankets and pillows for comfort. 
In an email interview, CCBAC event coordinator Angelica Fajardo said that the purpose of "Movie Nights" is to provide University of Hawaiʻi at Mānoa students a break from collegiate work. 
"Our movie nights are for students to hang out with their friends and enjoy," Fajardo said. "We try to feature films that were either quite popular when they were released (so that students can see it again at no cost) or films that fit a theme (for example the season)." 
"We always keep in mind who our audience is, and that is our fellow students, so we try to keep movies within that demographic," Fajardo said. "I, too, was extremely excited for [Avengers: Endgame] to come out in theaters so I thought to give our students, and the public, another chance to see a great movie."
Fajardo hopes that prospective attendees will come and have fun. 
"For every event my team puts on, our main goal for the students, staff, etc. is to be able to leave and say they enjoyed the event!" Fajardo said. "That's the whole point in our job: to give back to the students and give them a space outside of the classroom to enjoy."
She also encourages the community to contact the CCBAC on social media. 
"Follow us on social media! We share our announcements and hold contests (which means the chance to win some free items)," Fajardo said. "Also feel free to pitch any ideas on what you would like to see in our events, or even any new events you would like to see!"
To ensure safety and enjoyment for all going, one should refer to the CCBAC's "Prohibited Items" list (located at the bottom of their web page). More information about this event, the CCBAC and its upcoming events can be found at uhmccbac.weebly.com or @uhmccbac on Instagram.