Hawaiʻi has begun to vaccinate people in the 1B priority group, and UH President Lassner says the university is helping to assist the State with this process by providing them the email addresses of people who may qualify for the next round.
"The Hawaiʻi Department of Health (DOH) and the counties have since asked UH to provide sub-prioritized 1B lists, with email addresses, given the large size of the statewide 1B group, which includes the State Department of Education," Lassner said.
Lassner explained how people who qualify for the 1B-1 tier on Oahu have already begun to receive emails about how to schedule their COVID-19 vaccine appointments. In relation to UH, this group includes:
Custodial and security staff

Environmental health services

24/7 IT operationalists 

Student residence hall staff

On-campus child care staff
People included in the 1B higher priority groups are anyone who's work related duties must be done on-site within close proximity of others, according to the DOH.
Lower priority 1B participants are expected to get an email about their vaccine appointments later this Spring, according to Lassner.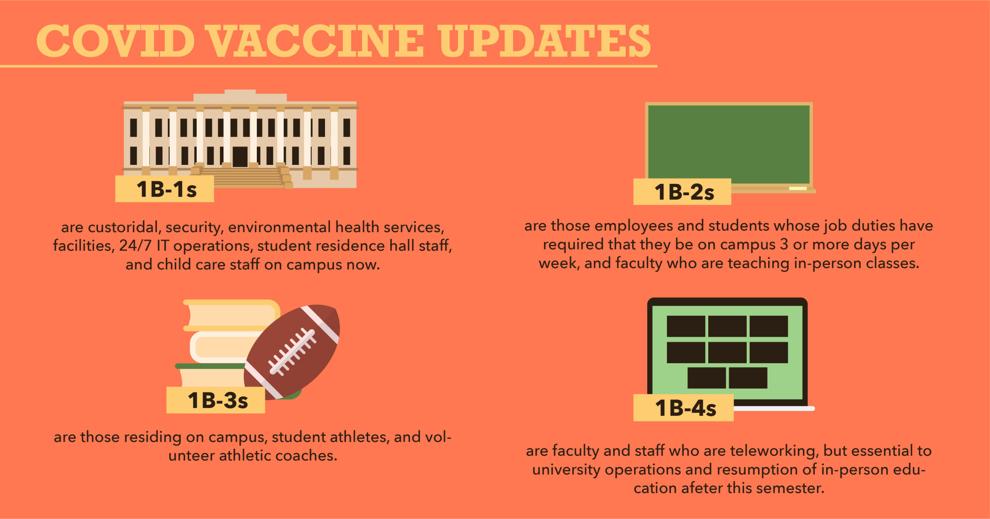 Students who do not qualify for 1B will be a part of "priority 2, unless they work on campus or have specific health issues that qualify them for a higher priority group," Lassner said.
He also acknowledged that certain individuals have not followed the group method and have "cut in line."
"While the vaccine is in short supply, this takes away vaccination opportunities from those who need them most," said Lassner.
On Jan. 14, Lassner released an initial statement encouraging students and faculty to get the vaccine in hopes that it would quicken the return of in-person classes on campus. In his most recent email to the community on Feb. 9, he insisted that UH is still working towards vaccinating everyone, but that the process is slow and unpredictable.
"We wish that we could provide more definitive information and guidance at this time, but this is the best we can offer right now," said Lassner in his most recent email.
On Feb. 10, UH reported nine new positive COVID-19 cases within the past 14 days, seven of which were at UH Mānoa. 
"We know how concerned everyone is, but we ask for patience until the vaccine supply stabilizes and the process becomes more predictable. We are doing all we can to ensure that the COVID-19 vaccine doses available are distributed equitably," Lassner said.