To stop the spread of COVID-19, Honolulu Mayor Kirk Caldwell issued an emergency "stay at home" order for Oʻahu until April 30.
"All individuals living on the island of Oʻahu are ordered to stay at home and work at home except for essential activities," Caldwell said at a news conference at city hall on Sunday.
The order will go into effect on Monday at 4:30 p.m., though Caldwell said that it is likely that the order will be extended beyond the current end date of April 30.
On the list of what will remain open included "Educational institutions providing distance learning"—meaning that UH campuses will still be operational. 
On March 20, UH officials said in an email that all 10 campuses are closed except to students and employees.
However, UH officials encouraged students, faculty and staff to practice social distancing on campus and to work from home if possible. 
Classes will remain online for the rest of the semester, but essential services such as libraries, resident halls and on-campus dining (takeout only) will remain open for students.
Check out our list of what is open and closed at UH Mānoa.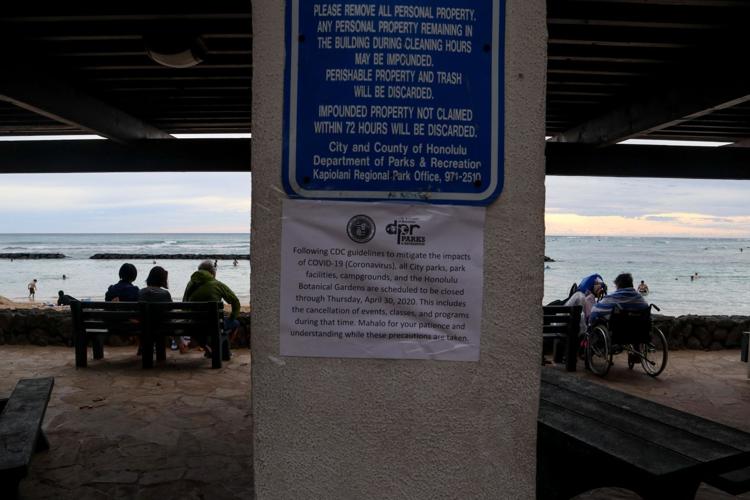 The city defined these as essential activities that are allowed:
Errands essential to health and safety of individuals and pets, getting medicine, visiting a health care professional or getting supplies needed to stay at home

Shopping for groceries, pet supplies 

Outdoor activities that comply with social distancing rules such as: walking, hiking or running (City and state parks are closed) 

Work providing essential products or services

Caring for a family member or pet in another household
Who are essential workers?
Health care professionals

Essential infrastructure

First responders
Essential businesses:
Health care operations and essential infrastructure

Grocery stores, farmers markets, food banks and pet supply stores

Farming and fishing operations

Businesses that provide food, shelter and social services

Media (Newspaper, television/broadcast stations, radio stations, etc) 

Gas stations, car and bike repair businesses, and towing services

Banks and related financial institutions

Hardware stores

Plumbers, electricians, exterminators, and other service providers who maintain the safety, sanitation and essential services needed in homes and businesses

Businesses that provide mailing, shipping and delivery services

Educational institutions

Laundromats, dry cleaners and industrial laundry services

Restaurants and other facilities that prepare and serve food for delivery or carry out

Businesses that supply products needed for people to work from home

Businesses that supply other essential businesses with supply

Airlines, taxis and other private transportation providers

TheBus 

Home-based care for seniors, adults or children

Residential facilities and shelters

Professional services, including legal, accounting, real estate and other services

Childcare facilities

Businesses that provide food, shelter and other needs for animals

Hotel and motels

Funeral, mortuary, cremation and related services

Building and construction services

Critical labor union functions

Licensed private detectives, guards and similar agencies