Gov. David Ige announced at a press conference today that law enforcement will be removed from Maunakea for the holidays.
Ige said that the construction of the Thirty Meter Telescope will not be moving forward for now. It is unclear if TMT will pull the plug on the project that was slated to begin back in July.
"We're looking at all of the resources that are currently on Maunakea and trying to make decisions," Ige said. "We've been working with the PIO (public information officer) being prepared for them beginning construction, and when we were informed that we will not be proceeding at this time, we thought it would be prudent to remove state personnel."
Cost was another factor in the decision to pull law enforcement. The state has spent $15 million sending law enforcement to deal with the demonstrators who call themselves kia'i (protectors).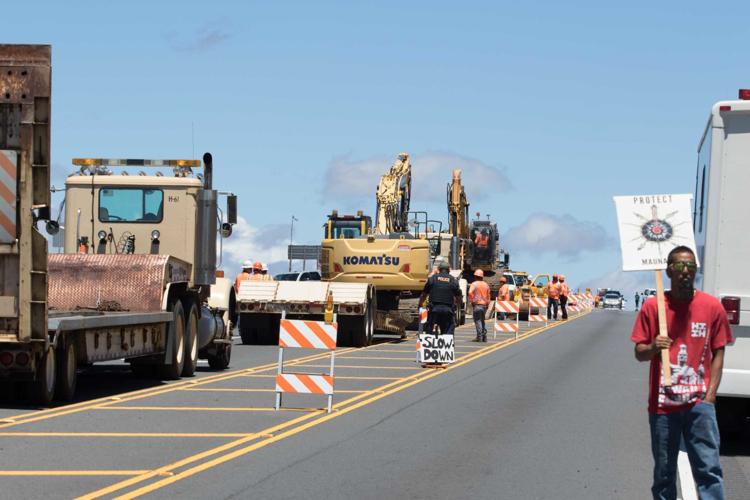 The Honolulu Star-Advertiser reported that the stand-down may be expected to last for more than 22 weeks.
The University of Hawaiʻi reiterated its support for the construction of TMT in a press release sent out 20 minutes before the press conference, and wants to "embrace the decommissioning of multiple telescopes on the mauna and the commitments to stewardship, education and cultured embedded in the permit condition for the TMT and the resolution of our Board of Regents."
"These past months have been difficult for everyone, and we deeply hope this provides a period of reflection for all to continue to seek a positive, peaceful and nonviolent path forward on Mauna Kea and for Hawaiʻi," UH President David Lassner said in a statement.
The university's support also sparked resistance from some UH students, which initiated the Bachman Hall sit-in at UH Mānoa.
The UH students at the sit-in have been occupying Bachman Hall for over 100 days to demonstrate their support for the kia'i on Maunakea and to convince the UH administration to step away from their support of TMT. 
"We are hopeful that these are the first steps for the TMT to permanently depart Hawai'i," UH graduate student Tiele-Lauren Doudt said in a written statement to Ka Leo. "We further hope that the state uses this 'moratorium' to reassess where it devotes its funds, given that rampant underfunding of critical state agencies and programs."
This story may be updated with more information.