July 26, 2020 5 p.m. update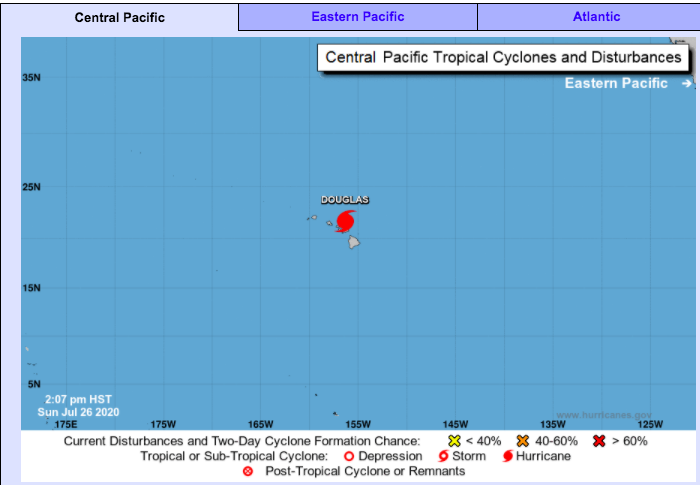 NWS says Douglas still remains dangerously close to the islands. 
The hurricane warning still remains in effect for O'ahu and Kaua'i county including Ni'ihau while the warning was cancelled for Mau'i, Lana'i, Kaho'olawe and Moloka'i.
Douglas is 60 miles NE of Honolulu, therefore the height of the hurricane should be arriving to the North and NE side of the island within the next few hours. 
Locations that could be most affected on O'ahu are North Shore to the Windward side first. It can then move to the Ko'olaus and to central O'ahu and possibly downtown Honolulu.
"We don't have any reason right now to believe it will deviate from that track," NWS Meteorologist Eric Lau said. 
These conditions could last till midnight tonight.
"We are fairly lucky that main Hawaiian islands are in that southwest quadrant and that it did not take a jog further south...that could have made a major difference in what we could have seen," Lau said. 
Although conditions have improved as hurricane watches are downgraded for other islands, NWS warns residents to not let their guard down as hurricane conditions are still expected.
July 26, 2020 11 a.m. update 
The National Weather Service (NWS) and the Central Pacific Hurricane Center (CPHC) provided an update on Hurricane Douglas this morning, July 26 at 11 a.m. Douglas is continuing to weaken as it moves towards the islands, but could still bring drastic weather conditions. 
"Luckily, the south side, at least in the direction of motion, with Douglas moving towards the west northwest at 16 miles per hour, that puts us on the weaker side of the system," said Robert Ballard, the Science and Operations Officer of the CPHC in a media conference this morning. 
Douglas is about 45 statute miles east northeast of Hana as of 9 a.m. this morning. It continues to push strong 85 miles per hour winds, but the CPHC hopes to see that it moves in the west northwest direction by the end of the day. 
The west northwest track is going to come very close to the Hawaiian islands. Hurricanes, however, do not move in a straight line so there may be a chance of extreme weather conditions.
"We do expect that some gradual weakening will proceed with Douglas as it encounters a little bit stronger wind shear now as it's getting closer to the western end of the island chain," said Ballard. 
Stronger wind shear entails drastic variations in wind speed over a short distance. In addition, the sea surface temperatures are still warm enough to support a hurricane as it approaches each island. 
O'ahu will still receive conditions of at least a tropical storm. The drastic weather conditions will be experienced late afternoon Sunday and will continue until the evening. Maui County is expected to see the peak conditions today and Kaua'i will experience harsh conditions later on in the evening. 
"We always talk about the hurricane being a triple threat. So not only do we need to consider ourselves with the possibility for wind damage, and remember that those winds will be accelerated by terrain so if you're near the mountains or around the mountains then you can see much stronger wind gusts in those areas," said Ballard. 
The remaining threats along with wind damage include very high surf of 15 to 25 feet and a storm surge that will make water levels rise on east-facing shores.
"You need to be paying attention if you live close to the shoreline, you need to think of the possibility of whether you might want to move inland in order to shelter for the storm," said Ballard. 
Ballard warns everyone to not wait until conditions get bad to prepare or relocate. It is important to prepare and shelter early. 
Douglas is also expected to bring heavy rainfall of up to 5 to 10 inches of rain with localized amounts of 15 inches in the mountains. Due to its slow trajectory, rainfall will not be as much as was seen during Hurricane Lane in 2018, but still possess the capability for destruction to terrain and flash flooding.
"Hurricanes bring a tremendous amount of moisture with them, and so you need to keep that in mind that you could get sudden thunderstorm development any time around a tropical cyclone," said Ballard. 
According to the CPHC, it is still possible for Douglas to hit Honolulu County directly. With hurricane trajectories being so uneven, any movement towards the O'ahu and the other Hawaiian islands could bring extreme weather conditions. 
July 26, 2020 5 a.m. update 
The NWS Central Pacific Hurricane Center's 5 a.m, advisory stated that Douglas was 145 miles east of Kahului and 235 miles east of Honolulu moving WNW at 16 mph with 90 mph winds.  
A hurricane warning was issued to Kaua'i, Ni'ihau, O'ahu, Mau'i, Moloka'i, Lana'i and Kaho'olawe while Hawai'i Island is under a tropical storm warning. 
The center of Douglas will pass over the smaller islands with expectations that tropical storm force winds will arrive early afternoon today and will continue to early Monday. 
Mau'i should expect tropical storm conditions this morning and will persist late Sunday night to Monday morning. Kaua'i should expect tropical storm conditions late Monday and will last until early Tuesday. 
Hawai'i Island is currently experiencing tropical storm conditions. 
Short bursts of heavy rainfall is anticipated with 5-10 inches of rain and a maximum of 15 inches, especially in higher terrain and could result in flash flooding.