Late honey harvest for 2018
In-State beekeepers experiencing severe losses in honey production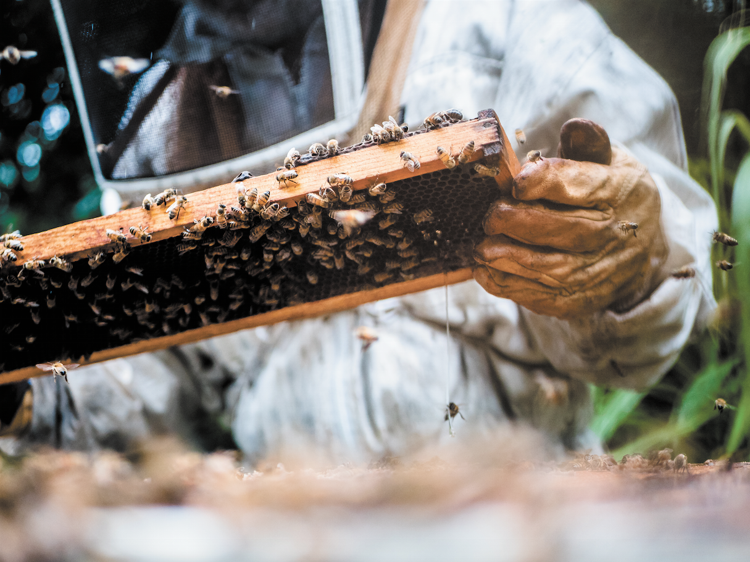 Researchers and beekeepers at the University of Hawai'i at Mānoa harvested honey from the university's apiary (collection of beehives), for the first time this year on Aug. 2, about two months later than expected.
"The honey flow, when bees are producing honey, has been really slow this year," Scott Nikaido, a UH researcher who manages the apiary, said. 
Nikaido and a small group of collectors harvested 525 pounds of honey from some of the 40 or so hives located at Waimanalo Research Station.
He expected to harvest honey in May but said they did not produce enough to do so until Aug. 2 because they were not storing enough honey to keep them through the winter. 
"Some hives got so weak that by the time spring came around and early summer, when the hives should be getting stronger and storing a lot of honey, they were just using it to stay alive," he said.
Honey bees produce honey to prepare for cold winters when they stay in their hives. Because Hawai'i is warm year-round, the honey bees have more time to forage and produce honey. 
Partially because of the state's weather, Hawai'i usually ranks as one of the best in the country in honey production per colony, producing about 100 pounds of honey per hive. However, the university's hives only produced about 50 pounds of honey per hive during the recent harvest.
In Hawai'i, beekeepers can typically harvest honey from late spring to early fall.
There is no clear reason for the apiary's reduced production, but it is a phenomenon that other beekeepers around the state are also experiencing.
"This is the first year where beekeepers called us saying, 'We don't see production,'" Nikaido said.
Rhea McWilliams, a beekeeper on O'ahu, who has cared for his own hives for 22 years said that this year is the worst he has ever seen. 
McWilliams harvested some honey in May but said his production is down nearly 90 percent so far. 
Why it's happening
Nikaido has a few hypotheses for the bees' struggles but thinks the weather during the winter might be a contributor. 
"We had the weird bout of off-and-on rain in the winter… Rain is one of the worst things because bees will not go out to forage in heavy rain," Nikaido said.
Nikaido ruled out sick colonies, which may come in the form of varroa mite or small hive beetle infestation, because beekeepers today are better at managing their colonies than they used to be.
Honey bees, then, may be behaving as a sentinel species for some change in the environment.
"The honey bee is a canary, essentially. It will tell you what's going on in the environment," Nikaido said. "So, if they're not producing and you're controlling for everything else, then something else is going on."
Hungry bees suggest there may have not been enough flowers to forage from, and Nikaido encourages everyone to help out planting bee-friendly plants such as basil, rosemary and green onion. Honey bees are generalists and will collect pollen or nectar from a variety of plants.
"You need a whole community effort to create a habitat not only for honey bees but for other pollinators," he said.
UH Mānoa does not sell the honey it collects. The University gives it to the beekeepers who help with the apiary.
Despie setbacks, Nikaido is confident that they can harvest again in late August or early September.