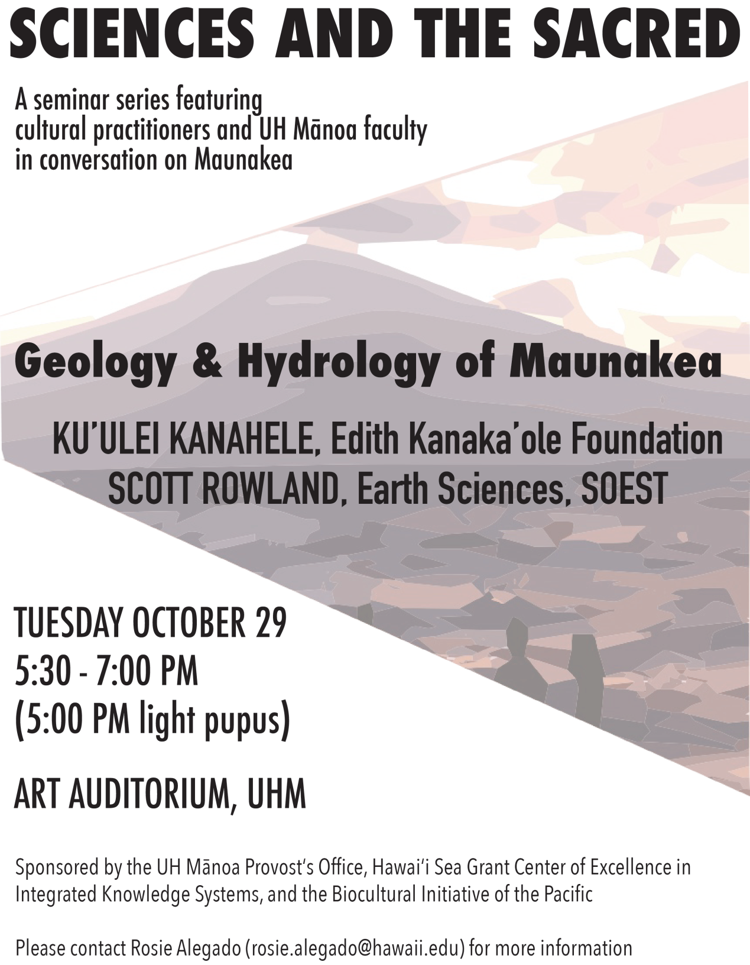 The first lecture of "Sciences and the Sacred: Conversations on Maunakea," began Tuesday, Oct. 29 at the UH Mānoa Art Auditorium.
The series of five lectures organized by the University of Hawaii Provost's Office, Biocultural Initiative of the Pacific and the Sea Grant Center of Excellence in Integrated Knowledge Systems will focus on Maunakea from both western and Hawaiian perspectives with the intention of fostering dialogue rather than debate on the Thirty Meter Telescope issue. 
Each seminar will pair a Hawaiian practitioner with a UH Mānoa faculty member, with each taking turns to present on a specific Maunakea topic so as to "explore topics from various knowledge systems."
"As members of the academy, we have a profound responsibility to educate ourselves about Maunakea, and to do so with open minds and with civility and aloha," UH Mānoa Provost Michael Bruno stated in his online announcement.
Associate professor of oceanography Rosie Alegado was another main organizer of the seminar series. She traces the birth of this event to conversations she had with other SOEST faculty about Maunakea. According to Alegado, it was necessary to ask what Maunakea "means to all of us." However, these conversations led her to believe that in order to fully acknowledge this question, more knowledge on the issue was required.
"We needed to educate ourselves first," she said. "We were having a lot of conversations without the underlying foundation, and that's what we're seeking to do in this limited lecture series."
The First Seminar
This first seminar was titled "Geological and hydrological phenomena of Maunakea," featuring Kuʻulei Higashi Kanahele, Ph.D. candidate in Hawaiian and Indigenous language and cultural revitalization, and Scott Rowland, UH Mānoa geologist. 
Kanahele opened the seminar by defining the word "akua" to foster a better understanding of the more nature-oriented Native Hawaiian worldview. Unlike the commonly assumed definition of "god," Kanahele argued that "akua" is more closely related to the word "elements," referring to sacred manifestations of the natural environment rather than mere deities assigned to specific things.
"Pele is not 'goddess of the volcano' but rather she is lava itself," Kanahele said.
From there, Kanahele and Rowland took turns presenting on topics such as the creation of the Hawaiian islands and glacial action on Maunakea. While Rowland presented through a geological lens, explaining geological phenomena in a scientific manner, Kanahele took the same ideas and shared moʻolelo (stories) and oli (chants) that report the same scientific phenomena which had been observed by Native Hawaiians since ancient times.
"I got really excited about bringing an awareness that our Hawaiian stories and our Hawaiian chants are more than just stories and chants, that they have a scientific background to them," Kanahele said, "Being able to survive in these islands as successfully as we did pre-contact shows how scientific minded our people are."
Kanahele said this in reference to the claims of some TMT supporters that the kia'i are anti-science. By reinforcing scientific knowledge with moʻolelo and oli, Kanahele feels that she is pushing against this claim.
"It's really fascinating to hear them talking together and having that kind of conversation, and I think that helps us to try to bridge some of the ways in which science is seen as being only western," Candace Fujikane, UH Mānoa English professor and attendee of the seminar, said. "I think what this event proves is that kanaka maoli science is just as important as western science if not more so, because there's even more attention and more effort invested in the observation of these natural phenomena."
This lecture series is one of many initiatives throughout campus to foster a better understanding of Hawaiian views and issues in a university aiming to be a "Hawaiian Place of Learning."
"My hope is that taken together, these events will encourage and strengthen a campus-wide dialogue during a critical moment in our university's history," Bruno said.
Four of the Sciences and the Sacred seminars remain. The seminars are free and open to the public. More information on the seminars can be found on the UH Sea Grant website (http://seagrant.soest.hawaii.edu/news-and-events/sciences-and-the-sacred/).