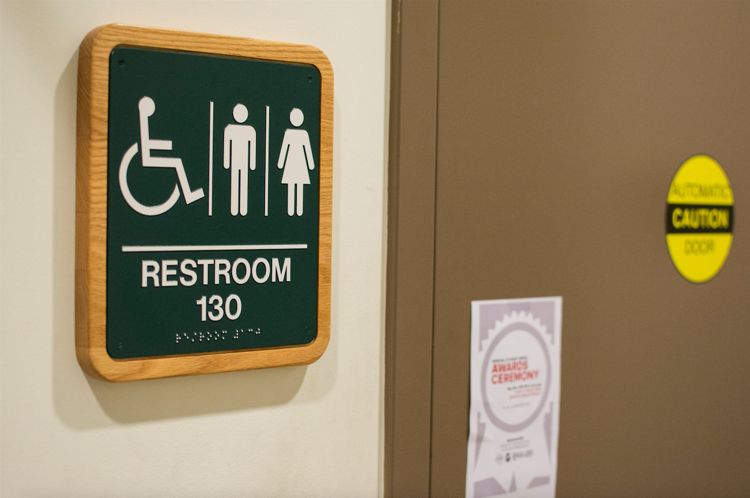 University of Hawai'i at Mānoa's Queen Liliuokalani Center is expected to have its first all-gender restroom for Fall 2019 after a survey conducted earlier this year revealed that a majority of the faculty, staff and students of the building were in support of the project.
"We are honored to provide our campus community a safe space that honors all gender identities and expressions," Interim Vice Chancellor for Students Lori Ideta said. "Given the departments and support services the Queen Lili'uokalani Center for Student Services provides, it was important for us to not only provide outstanding support programs but also spaces where our students feel safe and welcome."
The survey was conducted from January 23 to February 8 by QLC psychologist Kevin Tomita in collaboration with Ideta and Assistant Vice Chancellor for Students Sabrina Uganiza.
The survey reported that out of the 95 respondents, 85% were supportive of the all-gender restroom.
Questions asked in the survey were if occupants of QLC knew what an all-gender restroom was, their comfort levels, opinions and a list of places in QLC to build it. The survey provided comments for any concerns or additional comments.
"The survey was conducted in order to get a sense of individuals that occupy this building," Tomita said. "Specifically people who are working in the building. The reason why we wanted to do that in terms is to figure out where people are at in terms of the creation of the multi-celled restrooms to see if there are any concerns that people had or preferences or any myths to be debunked. That was our baseline to make sure that we're taking people's perceptions into consideration." 
QLC's all-gender restroom will be a multi-stall restroom that will replace the third floor men's restroom. The construction is to be completed for the first day of the fall semester.
What is an all-gender restroom?
On July 17, a public presentation was held at QLC to present the survey and its findings for the all-gender restroom.
An all-gender restroom is a restroom that is inclusive to people of all genders and does not differentiate by gender or sex.
The survey revealed that 93% of the QLC respondents knew what an all-gender restroom is, and 64% said they have utilized one in the past.
UH currently has nine all-gender restrooms through the campus and 20 restrooms are single-celled, having only one stall. 
"The single-stall restrooms are easy to convert into an all-gender restroom because you just throw a sign on it, and you can use it," Tomita said. "But sometimes people have concerns about the multi-stall restroom just because of the set up. They're worried about people being attacked."
However, according to the Transgender Law Center, the Human Rights Campaign and the American Civil Liberties Union, there is no statistical evidence that all-gender restrooms are any less safe than gender-specific restrooms.
The survey and UH policy state that no person should feel pressured into using an all-gender restroom if they don't want to. 
UH policy states that a person can use any restroom for any gender they identify as.
"I'm excited that we're finally going to have a multi-stalled all gender and deeply encouraged that it will be at QLC because this is for all students at UH Mānoa," Camaron Miyamoto, director of the LGBTQ+ Center, said.