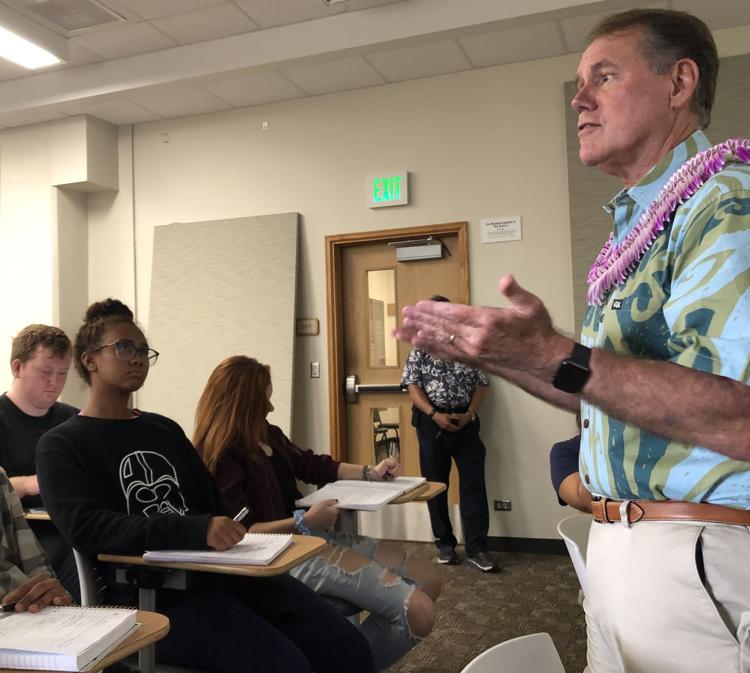 Hawai'i's District 1 Representative Ed Case made a visit to the University of Hawai'i at Manoa Wednesday, Oct. 2 to share his thoughts on various government policies and processes.
Case's core discussion was on the substance and lessons of impeachment, a currently hot topic in the media regarding the latest Trump impeachment inquiry.
He paraphrased the Founding Fathers of the United States and their purpose behind the impeachment process and said, "Look, you can have your policy differences with the president, you can have your stylistic differences with the president … but if a president is disloyal to the very foundations of the government and constitution, then he should be subject to removal from office.'"
Once the Mueller Report came out in April of this year, Case opposed an impeachment inquiry for Trump, but now favors the US House of Representatives move on the proceedings. 
"You shouldn't be able to just kick him out of office because you don't like him or his immigration policy; and so we have the impeachment process," Case said.
"There are acts that are disloyal to the constitution," Case continued, "Until a week ago there were not enough sufficient numbers in the house who felt we should launch an impeachment inquiry [on President Trump]. There's now a majority of people who feel that we need to investigate these facts towards possible impeachment."
Although the democratic party holds the majority of the US House, Case said there had been "major major" disagreements with the US president across the board. Everything from funding, immigration, gay rights, and social issues are all being evaluated currently.
"This review must continue to be responsible, deliberate and fact-based, focused not on policy differences but on upholding and defending our Constitution," Case said, in a released statement regarding congressional oversight of the President's dealings with the Ukraine, on Sept. 25. 
"There are many people like myself who think we need to obtain the facts before we come to a decision"
He expressed disappointment and said he does not take pleasure in going through this type of process saying, "I never thought I would come back and be facing the reality of being responsible to decide on impeachment. I think that's sad that we're at this place in our country and I don't think we should have ever been here."
Another topic covered was on news and the media and how to discern the truth in the midst of fake news.
"Delving into the digital wilderness … that's a wilderness filled with wolves and it has become a challenge to educate students and navigate through that world," said Assistant Professor and journalist, Julien Gorbach, "There's never been a better time where we need more guides and leadership for the future in journalism."
Case questioned the room rhetorically and asked how the students felt about their access to the media and it's fairness.
"Do you feel that you have all of the facts right now? Do you feel that the access to media you're getting is fair? That you're getting the objective truth? That you are understanding what the overall situation is so that you can make a judgment on this? Or do you feel that the media messaging is being manipulated, molded in a way to influence you?" Case said.
The presentation followed a question and answer with students asking an array of questions  from voting policies and importance to the climate crisis.
Once the presentation was finished, he commented on the importance of talking to students at the university with hopes to encourage the next generation of political leaders and possible members of congress one day.
"I think it's critical for people like me in office to reach the next generation and get them involved, I feel really passionate about that." Case said. 
His "Talk Story" community meetings will take place this week with five in-person meetings throughout the First Congressional District from East Honolulu to Mililani and Ko Olina; and one electronic Talk Story. 
For more information, visit https://case.house.gov/.