On Wednesday, students, faculty and staff stood on the steps of Hawaiʻi Hall and held a press conference calling for the termination of the Thirty Meter Telescope (TMT) construction on the Maunakea summit.
The press conference was a system-wide event, with attendees present from various campuses throughout Oahu calling upon UH President David Lassner, the UH Board of Regents (BOR), as well as TMT International and its affiliated universities and funders to take community voices into account in their decisions for the future of the mauna, or mountain.
This event was organized in response to the recent Hawaiʻi Supreme Court decision in late October ruling in favor of the TMT's construction.
"The proposed TMT would be 18 stories tall, two stories deep underground, and spread out over five acres in the Maunakea science reserve," Konia Freitas, department chair of Hawaiian Studies at UH Mānoa, said. "The construction footprint will extend out 8 acres, pave 3,400 feet of new road, and excavate 20 feet into the mountain to remove approximately 64,000 cubic yards of earth."
These dimensions of land development upon the summit did not pass well with cultural and environmental advocates alike.
"This [construction] will have a severe impact on the pristine and fragile ecosystem of the summit, obstruct the view plain of the most sacred and revered mountain in Hawaiʻi, degrade sacred cultural resources and irreversibly impact irreplaceable natural resources that are integral to sustaining the primary source of freshwater on Hawaiʻi island," Freitas said.
The ethics involved in the TMT debate were also questioned at the press conference. A main point addressed throughout the event was how the construction of the telescope would be in conflict with the university's responsibility to promote ethical research practices.
"Placing a one hundred and eighty [foot high] building in the most pristine and sensitive environment on Hawaiʻi island is completely absurd, and it goes against the principles of aloha ʻāina, it goes against the principles of ethical research," Freitas said.
The disconnect between the university's role as a research institution and an indigenous-serving institution was also addressed.
"[We] oppose research that severely compromises the work that we have done to build an ethical relationship between the academy and our community in Hawaiʻi, and undermines the goal to become a model indigenous-serving institution," Freitas said.
Student voices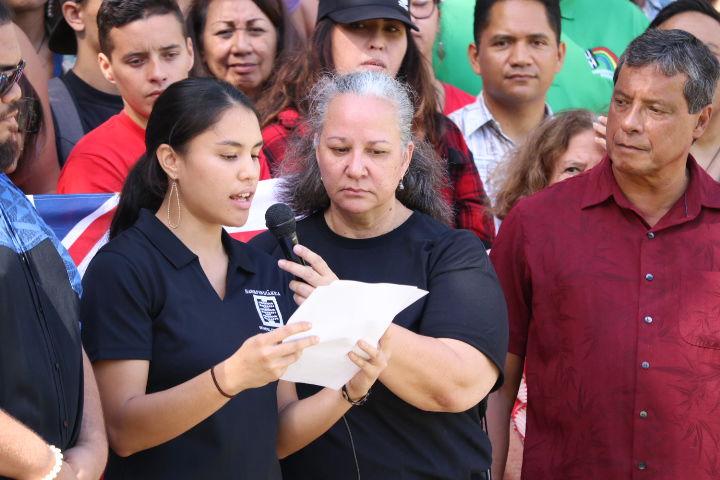 Students of UH Mānoa in opposition to the telescope's construction were also represented at the press conference by Hiwa Ka'apuni, a junior double majoring in Hawaiian studies and political science.
"We affirm that we will not yield, we will not concede, and we will not surrender our dignity, our lands or our ancestry to this institution that was founded by our very Queen Liliʻuokalani herself in 1892. We will persist until the last aloha 'āina," she said to the crowd.
Ka'apuni spoke on behalf of the UH student body, drawing support from various student and community organizations including Young Progressives Demanding Action (YPDA), the Ethnic Studies Student Association (ESSA) and Oceania Rising.
"It was a big thing to finally hear student voices, especially on such a platform as this one," she said. "A number of us tried to engage in more student organizations on campus to promote student activism, you know affirmative action. We just kind of ʻhui-ed' up and we said you know what? We're gonna do this because this is something that needs to be done."
University response
UH spokesperson Dan Meisenzahl addressed the university's response to events like these.
"This is what makes higher education great. Members of our community feel like they can come out and express themselves," Meisenzahl said. "They have a real problem with what's going on right now and they're letting us know and they're letting the world know."
Although those in opposition to the construction of the TMT were able to use their voices, this does not change the university's decision on the subject, according to Meisenzahl.
"The decision about TMT was made about seven or eight years ago. The Board of Regents and we started this process that's led us to where we are today," he said. "So we're really kind of following through on decisions that were made in honoring our agreements that were made about seven or eight years ago. After years of discussions as well and of course public hearings and the like. But of course the issue continues."
Although the university's view on construction still stands, the proposed administrative rules pertaining to activities tolerated on the summit are still up for debate. A draft of these rules went to multiple public hearings throughout the state, and based on the feedback from these hearings, the rules are being redrafted before they are again presented to the BOR and to the governor.
Regarding these administrative rules, Meisenzahl said, "there's no intention to limit any traditional Hawaiian cultural practices, none whatsoever."
However, according to Freitas, the proposed rules "would criminalize those seeking to protect and sustain the mauna and restrict native Hawaiian spiritual and customary practices."
The university also claims to be planning to decommission some of the telescopes no longer in use while the TMT is under construction. According to Meisenzahl, they are currently in the process of decommissioning the Caltech telescope and a few others will follow during TMT construction.
"Decommissioning is a big part of what we're doing on the mountain, and the decommissioning process is very detailed. We have to go through a lot of steps to make sure it's done appropriately, and this is the very first time we're exercising this process" he said. "Once we get to this first one, the process will move a little faster."
Looking at the issue as a whole, Meisenzahl states that no decision will make everyone happy.
"But that doesn't mean that we can't improve what we do and change the way that we're managing the mountain," Meisenzahl said.
At the end of the conference, Freitas made a last statement in regards to the university's responsibility on the issue.
"The policy and practice of UH must begin to prioritize the protection of Maunakea, its natural and cultural resources, respect the protectors and native Hawaiian cultural practitioners of Maunakea, and begin to heal the degradation that has already occured," she said.
Web Editor Algeo Rosario and Sports Editor Chavonnie Ramos contributed to this report.