Chants for climate change echoed throughout the ornate halls of the Hawaiʻi State Capitol building as environmentalists and students gathered on March 15 as part of the Youth Climate Strike.
Hawaiʻi is one of the states who joined the protest with younger generations advocating for change.
"The kids get it," Rep. Cynthia Thielen said. "They understand what's going on and the adult leaders are either in denial or ignoring the fact that we're in climate chaos in the world. We as an island state should be more prepared than anyone else but we aren't."
On the same day, thousands of protests boomed across the globe including China, Uganda, New Zealand and Chile.
The co-founders and national co-directors who called upon the movement are: Isra Hirisi, 16, of Minneapolis, Minnesota; Haven Colemen, 12, of Denver, Colorado; and Alexandria Villasenor, 13, of New York City.
The teenage activists organized the national event to demand that world leaders take legislative action to transform the system, reduce greenhouse gas and prevent any effects of climate change.
Waipahu high school junior Kawika Pegram was the event organizer for Hawaiʻi, and said that he was happy with the turnout at the event; approximately 400 people attended the climate strike at the Capitol.
Pegram said he initially did not expect many people to show up.
"I expected three people to show up: Me, my mom and my best friend," he said. "My mom and best friend couldn't even come. It was with wonderful help from our co-sponsors that we were able to pull together so many people."
Some keynote speakers were professional environmentalists and students from elementary and high schools.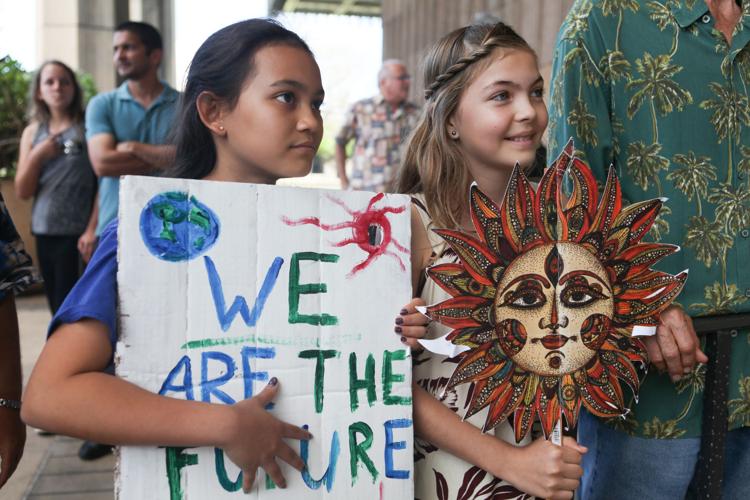 11-year-old Meisha, whose mother declined to give her last name, was one of the youngest keynote speakers addressing climate change at the Capitol.
Meisha was just as tall as the podium. She started off with her general definition of climate change as being "something that happens when fossil fuels are burned."  
"How could humans be so powerful, that we could actually change the Earth's climate?" Meisha asked. "Well we may be powerful, but not always smart."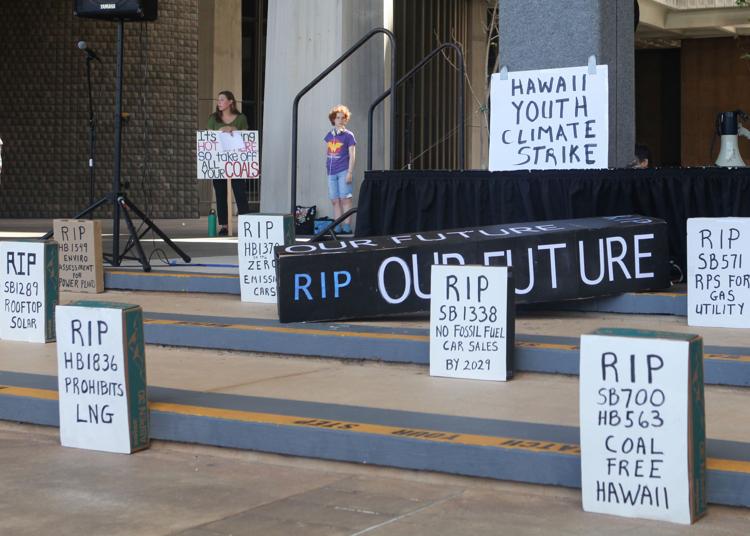 Below the podium were planted cardboard tombstones with dead bills relating to the climate issue and a black coffin centered that read "RIP Our Future."
"It's discouraging," Sen. Karl Rhoads said. "This is the issue that there is no other issue at this point."
Rhoads said that Hawaiʻi in particular will "get hit really hard with (climate change)" because people are not taking it seriously enough.
His Senate Bill 1463 is the only carbon tax measure alive in regards to the issue.
SB 1463 is intended to be revenue neutral, according to Rhoads, which means it will not raise any more money than already-raised gas prices, for example.
If the bill is not heard by this Thursday, it dies.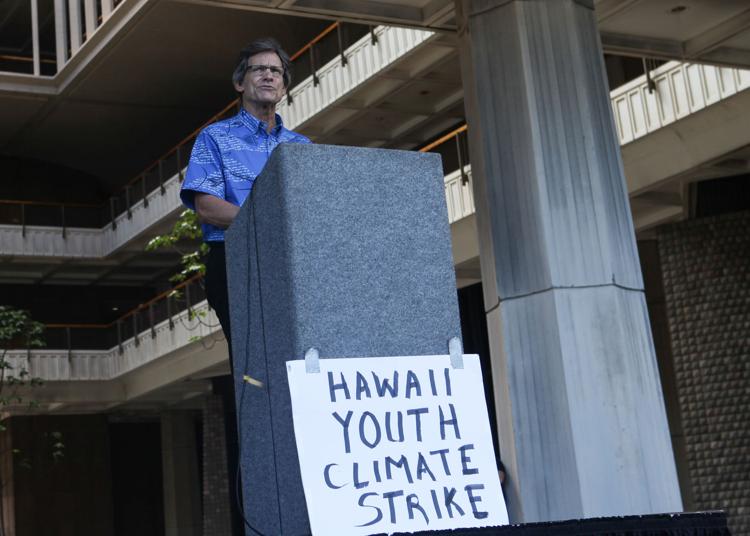 University of Hawaiʻi at Mānoa students and a professor also attended the event. 
UH School of Ocean and Earth Science and Technology Associate Dean for Academic Affairs and Professor Charles "Chip" Fletcher was another keynote speaker who addressed the issue of climate change.
"We will not thrive in a world of global warming until we learn to wrap our mitigation and adaptation efforts around meaningful restoration of an indigenous view of the world," Fletcher said. "A view that sees Earth as no different than a family member that we love that needs our support, that needs renewal and rest. Not extraction, pollution and depletion."
UH Mānoa student Nicole Lang said people need to be aware of what the future is going to look like for the Hawaiian islands and other islands in the Pacific Ocean. Lang added that there needs to be more of an effort for the future generation and to provide them with land and clean air.
"I know climate change can be really daunting," Lang said. "But if we can just connect people on just a simple level of not using straws, it's a start."