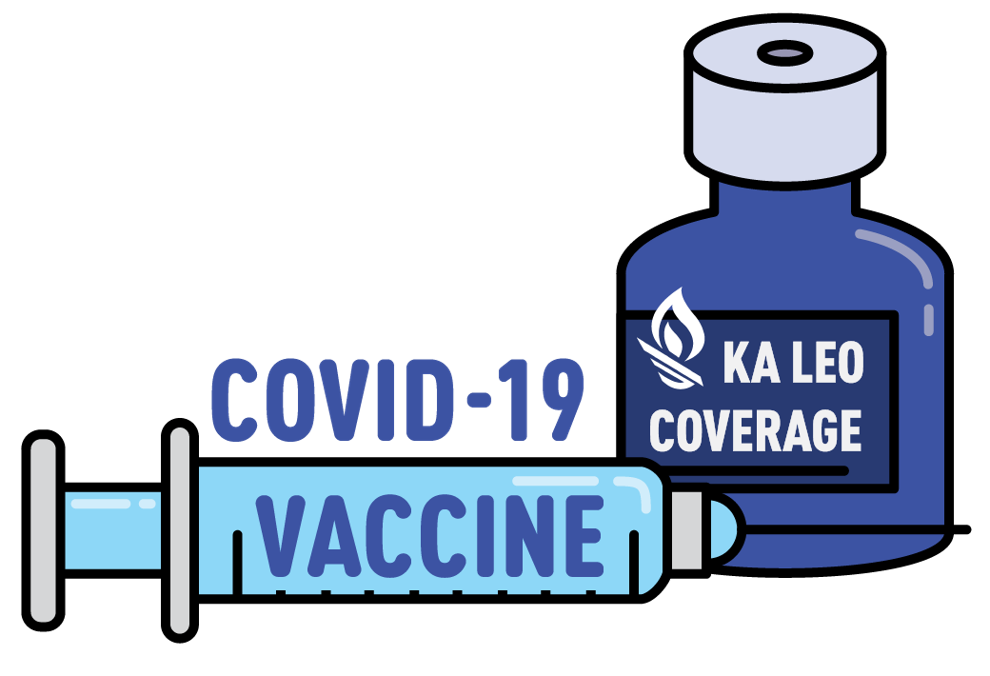 On Jan. 14, UH President Lassner released a statement to the public supporting the administering of the COVID-19 vaccine to UH students and faculty, and hopes to be able to provide vaccines to students within the next few months following the Department of Health's phasing plan. 
"The university is deeply committed to Hawaiʻi's vaccination effort, and we are doing everything we can to make the vaccines available as quickly as possible," President Lassner said in his statement on University of Hawaiʻi News.
UH held its first large-scale vaccination clinic at Leeward Community College on Dec. 22, where thousands of first responders lined up to receive their first dose of the Pfizer-BioNTech shot. Eleven students from the School of Nursing and Dental Hygiene program and three faculty members were trained and drilled in the Point of Dispersing method for administering the vaccine to an estimated 2,400 first responders. 
UH Maui College also hosted a drive-through vaccination clinic the following day, administered by UH Maui College nursing students and faculty volunteering at the event. The UH system will continue to hold weekly vaccine clinics throughout the state to people who qualify for Phase 1a until there are more doses available.
If UH students and faculty want to get the vaccine, they must first fill out the online COVID-19 questionnaire. 
More than 7,000 members of the UH community have already filled out the questionnaire according to Lee Buenconsejo-Lum, Associate Dean at the John A. Burns School of Medicine, in an online forum on Jan. 20 titled, "Vax Facts UH: Science, Safety & Society." 
"We are working with the Department of Health to not only get these numbers, but to figure out what makes the most sense in terms of delivering the vaccine to our UH population," Buenconsejo-Lum said regarding the purpose of the questionnaire. 
When can you get it?
The Pfizer vaccine first arrived in Hawaiʻi on Dec. 14 in large insulated boxes containing an estimated 975 doses. The Moderna vaccine arrived in Hawaiʻi on Dec. 21, containing 12,000 doses. Both vaccines require two doses per patient, the Pfizer 21 days apart from the first and the Moderna 28 days apart. The shot is administered in the upper muscle of the arm.
"We are currently still in Phase 1a," Buenconsejo-Lum said. 
The DOH's phases for vaccination administration are broken down into 2 phases.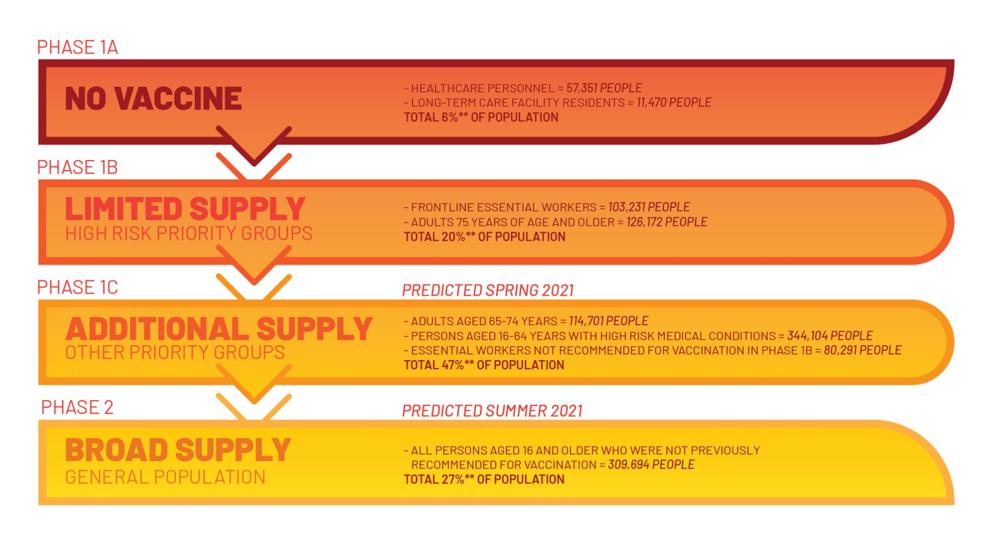 *Information from DOH Base Plan. 
**Percentages are estimates according to https://www.cdc.gov/mmwr/volumes/69/wr/mm695152e2.htm
Buenconsejo-Lum also explained that Hawaiʻi started the 1b group a week ago, and while the amount of vaccines that came in this week may sound plentiful, only 18,000 of approximately 32,000 doses are for new 1b patients' first doses. The remainder are for the second doses of the 1a group. 
"You don't want to waste vaccine… So the steps are not necessarily sequential. So you can go 1a, then if it looks like there are more spots [doses] available, you can ask some 1B people to come," Buenconsejo-Lum said. \
As of Jan. 21, the DOH has reportedly administered 94,003 vaccines.
UH hopeful for a return to campus
Lassner acknowledged some of the community's concerns about getting the vaccine in his message, but urged them to consider the benefits of it for the betterment of the community.
"The decision is yours," Lassner said. "And if you have concerns, we urge you to seek out more information so you can weigh those risks for yourself."
Similar to other vaccinations like the flu, the vaccine is currently not required for students to return to campus, but that may change. 
"Right now vaccinations are under an emergency proclamation, which is under federal guidance. If the FDA officially recognizes vaccinations then at that point, being a public university, it may be required, but then again, it's not required at this point in time," UH Spokesperson Dan Meisenzahl said. 
"The university is doing everything we can to expedite the process so we can drive COVID-19 out of our community and enable a safe return to substantial in-person instruction for Fall 2021," Lassner said.