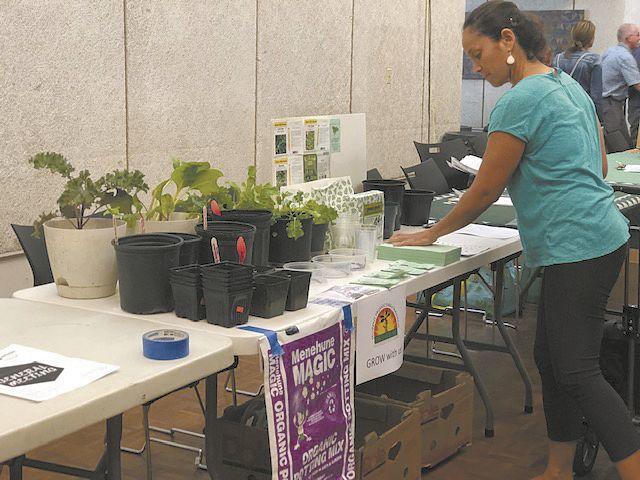 Nearly 300 students attended the first "Town Hall" event, on Wednesday, Sept. 25,  in the University of Hawaiʻi at Mānoa's Campus Center Ballroom to discuss the topic of food insecurity and island sustainability.
Guest speakers from GoFarm Hawaii and Maʻo Organic Farms gave presentations that focused on the meaning of agriculture in Hawaii in the past, present and future and what it takes to make a change as a community.
Following the presentations, students were encouraged to ask the speakers how to take direct action while attending college and living on a budget. Among the students was women's studies and sustainability major, Sarah Michal Hamid, who brought a different approach to the forefront of food insecurity in Hawaii that was not yet discussed.
"I think the reason we have to talk about food security nowadays is not just because people can't afford it, but because of a much deeper, darker, longer history and understanding as to why people of color and marginalized communities aren't able to pay for food and sustenance and how it's all connected to the systems of colonialism that we live in, especially here in Hawaii," Hamid said.
According to a 2018 study sponsored and conducted by USDA's Economic Research Service, which annually monitors the extent and severity of food insecurity in U.S. households, "rates of food insecurity were higher than the national average for households with incomes near or below the Federal poverty line, Black and Hispanic households, and households in principal cities."
"What I was hoping to do today was to challenge the audience to think deeper about the surface level issues that we experience and how they're connected in multiple ways that we can't even understand sometimes because they've been so normalized to us and I want to undo that normal, complicate things and try and not just imagine or hope for, but really build and rebuild a future into one that it should be..." Hamid said.
UH Mānoa ACCESS Advisor and graduate student, Austin Davis commented on the importance of becoming more sustainable in Hawaii, especially if a natural disaster were to happen to the islands or the countries and states that Hawaii imports food from.
"We have such a heavy reliance on all of these outside sources and not much inside of our own state, so food insecurity is prevalent here. You can even see the high cost of living here in relation to the high cost of food … pretty much everything is connected," Davis said.
He explained that the importance of this event was to engage students to start thinking of solutions to these problems and to realize that food insecurity is connected to everything, including climate change.
"It's very important to start thinking about these things because in this country we still think of climate change as if it's this religion, we're not thinking of it as if it's a fact that's credible. If we start changing the way we think about climate change … then we can start thinking of solutions," Davis said.
According to the Hawaii Department of Business Economic Development and Tourism and the Department of Agriculture, about 85-90% of Hawaii's food is imported which makes it "particularly vulnerable to natural disasters and global events that might disrupt shipping and the food supply."
Most of the students were first-year students taking CAS 110, an Integrating Seminar which gives an introduction to the university community through the College of Arts & Sciences. 
Additionally, vendors and organizers from on and off campus, provided students with ways to get more involved and engaged with sustainability issues in Hawaii.
"I'm really glad that we have opportunities to discuss prominent sustainability issues in an open forum. I think with that comes the ability for students like myself and community members to be able to voice their critiques and discuss deeper understandings of the problems we are talking about," Hamid said.