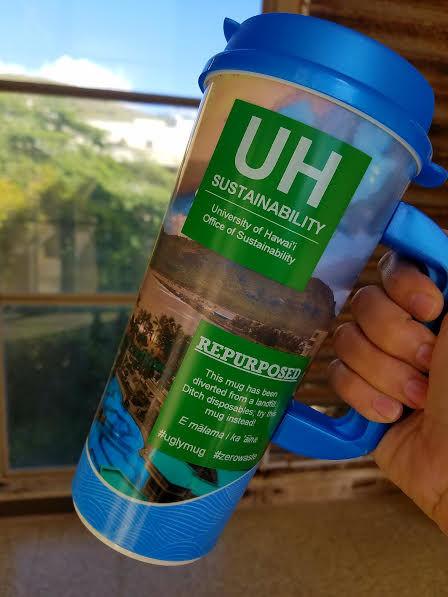 The University of Hawai'i Office of Sustainability is bringing sustainable practices to UH Mānoa one cup at a time.
The "My Cup" program is a pilot initiative that encourages the use of reusable mugs on campus. According to Nicole Chatterson, the student sustainability coordinator for the UH Office of Sustainability, this program is a year and a half in the making.
"We got stuck figuring out how (the cup) will look like and if all vendors should participate," Chatterson said.
After searching for a launchpad for this initiative, the UH Office of Sustainability recently had its big break.
UH Mānoa senior and officer for the UH Office of Sustainability Rosie Kulhavy-Sutherland stated that a large hotel chain on Kauaʻi had asked if they could repurpose 4,000 reusable plastic mugs that were misprinted. If not used, the mugs would have been thrown into a landfill.
These mugs were taken, repurposed for the "My Cup" program, and distributed among UH campuses across the state, including UH Mānoa.
Getting involved
Partnering with UH Mānoa Dining Services, students can participate in this initiative by picking up the affectionately-named "Ugly Mug" for free at Campus Center, Feb. 19-21 from 10 a.m. to 2 p.m. If students use these mugs, they can purchase $1 coffee from Simply-To-Go until May 2.
Kulhavy-Sutherland believes this initiative offers a unique opportunity to encourage sustainable practices among college students.
"It's really amazing that UH is doing this, and I'm happy that I got to be a piece of it. One of my favorite things is when we get to work with the public. It gives us a lot of hope," Kulhavy-Sutherland said.
Although the mugs are free, the Office of Sustainability will ask students for their email addresses so they can fill out a feedback form at a later date.
The comments received from this survey will help the Office of Sustainability make improvements to the initiative, as well as get funding to continue the project.
Freshman Ana Velasquez is a member of the Surfrider Foundation student chapter at UH Mānoa, which is also collaborating with the Office of Sustainability for this program. She says that sustainable practices should be incorporated into everyday life.
"Sustainability choices you can make, you should make," Velasquez said.