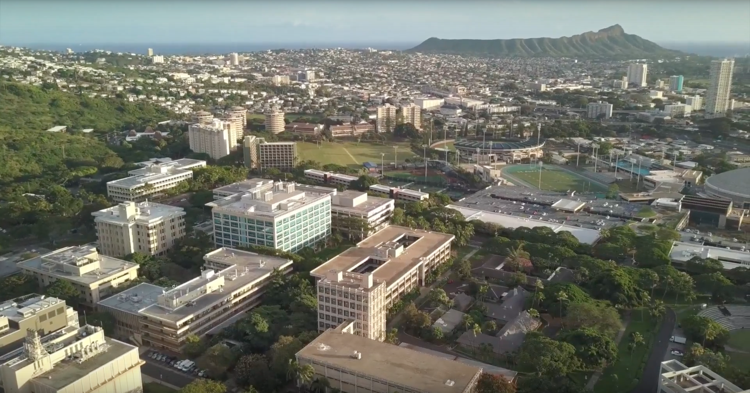 Some University of Hawai'i faculty union members criticized UH leadership during the Board of Regents meeting on March 28. 
This was in light of the BOR voting 12-3 to approve Phase I of the Mānoa reorganization proposal, which recombines the positions of the system president and UH Mānoa chancellor and establishes a new UH Mānoa provost position.
Some faculty criticized UH leaders and President David Lassner on how they responded to the state Senate's budget proposal to cut $30 million over the next two years at the university, which would include terminating 121 faculty positions at Mānoa. 
Lassner has served as both UH president and interim UH Mānoa chancellor with no additional pay since September 2016. Some of his critics say that he needs to be held accountable for his handling of the situation. 
"Our desire is that the Regents hold the president accountable for managing a crisis," UH Professional Assembly Executive Director Kristeen Hanselman said. "And ensuring that faculty members are assured that the President is in fact defending their work, defending their profession, and recognizes that faculty voices are a powerful deterrence to having damage done to the university."
UHPA is the union that represents faculty on all 10 UH campuses.
The proposal was reversed on March 22 after Sen. Donna Mercado Kim received additional information from the university. Initially, the review focused on positions that had "neither teaching responsibilities nor grant support." 
Kim later learned that those positions included retirements, terminations, leaves without pay and sabbaticals. Fifty percent of those positions were temporary and were federal or grant funded. 
Kim also gave the opportunity for UH faculty to testify at the Legislature. 
"It was the voice of the faculty that turned the tide here," Hanselman said. "It is not just an insider's game. This is a legislature that responds to the voices of those faculty members that can tell their story, and they tell them well, and they talk about what they bring to students in our communities. That cannot be done by a university administration."
At the BOR meeting on March 28, Lassner said that they made it a priority to reverse the cuts as quickly as possible. 
"And we succeeded," Lassner said at the meeting. "We obviously differed with UHPA on legislative strategy in a number of ways. We did engage fully and directly with the Legislature at multiple levels to reverse those cuts before they made it into the conference budget." 
Lassner also said they differed with UHPA on communication strategies. UH leadership did not inform the 121 individuals that their positions were considered for termination. Lassner said he did not want to "cause personal stress and alarm" to the individuals.
Hanselman said UHPA notified its members if they were on the list because they needed to know.  
According to UH spokesman Brent Suyama, as soon as they became aware of the Senate proposal, they sent out emails to all faculty and staff across the 10-system campus to notify them. He said that as more developments occurred, UH leadership continued to update the community. 
The UH Mānoa Faculty Senate Executive Committee took no position on UH's leadership in regards to the legislative budget scare.
"Our effort as a university community would be better focused on ensuring that this sort of assault cannot happen again, by changing how some elements feel empowered to treat the university as a punching bag or scapegoat," the SEC said in a written testimony during the March 28 BOR meeting. 
The SEC also noted that everyone needs to work together and that "UH is valuable and needs to be supported, not attacked, and that, if it is attacked, it must be defended by all of us." 
The SEC said this incident should be a "catalyst for unity as the UH community; if not, we are weaker and ripe for further challenges in the future."  
House Bill 2 is the "base operating budget" for most departments in the State for fiscal years 2019-2020 and 2020-2021. As of March 27, the bill has been transmitted to Gov. David Ige's office.
The House position of the budget does not include UH. UH's budget is in HB1521 and HB1522. The Senate Ways and Means Committee passed HB2 with amendments to include UH's base budget. 
HB116 SD1 includes additional funding for UH above the base budget of HB 2. 
There are also additional appropriate bills introduced by the Legislature that add funding for certain programs that were not originally included in the BOR request.
Hanselman noted that there can still be harm done during the legislative session because the budget is still a live document. 
"This has been a war of attrition, during this legislative session, and UH is not out of the woods yet," she said. "Due diligence is called for here, both for UHPA as well as the university."