University of Hawai'i at Mānoa students, faculty and staff gathered at the steps of Bachman Hall today demanding that UH President David Lassner resign following the arrests of Native Hawaiian activists on Maunakea.
"It's an incredibly sad and an embarrassing day for the university to force a telescope on a community that clearly doesn't want it, and to do so in a way that means that very well respected kupuna have to get arrested in order to protect what we believe to be considered sacred–it's just shameful," Konia Freitas, director of Kamakakūokalani Center for Hawaiian Studies, said. 
Since July 15, hundreds of activists have gathered at the base of Maunakea to protest the construction of TMT. 
At 11 a.m., approximately 200 people voiced their concerns about the arrests of Kanaka Maoli, including kupuna, the Thirty Meter Telescope and why President Lassner should resign.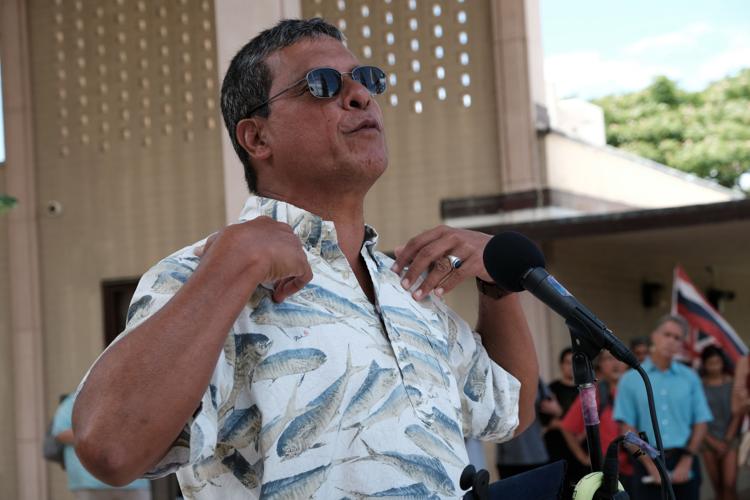 Jonathan Osorio, dean of Hawaiʻinuiākea School of Hawaiian Knowledge, spoke at the event, two days after he was at Maunakea.
"I have aloha for President Lassner, I do. I work with him, I have never really had the opportunity to work with administrators, but he seems to be a decent man caught in a difficult position. But I will say this–that's not our problem," Osorio said.
With a trail of a tear down his face, Osorio said he was there when he saw that people he knew, including his daughter Jamaica Osorio, intentionally chained themselves to a cattle guard on July 15 for eight hours. 
"When they chained themselves it was bitter cold, by the time they were done it was hot," Osorio said. "They couldn't leave where they were. They were under arrest from the moment they were chained, and I saw what happened in the aftermath when the police decided eventually not to make arrests."
Osorio added that state officials put a gate at the entrance to Maunakea. 
When Lassner made his statement the crowd was silent, but the animosity and confusion were present.
"It's hard for everyone," Lassner said. "I do hear you. I am not deaf and I am not heartless. I am proud of the fact that students staff and faculty are standing up for what they believe in."