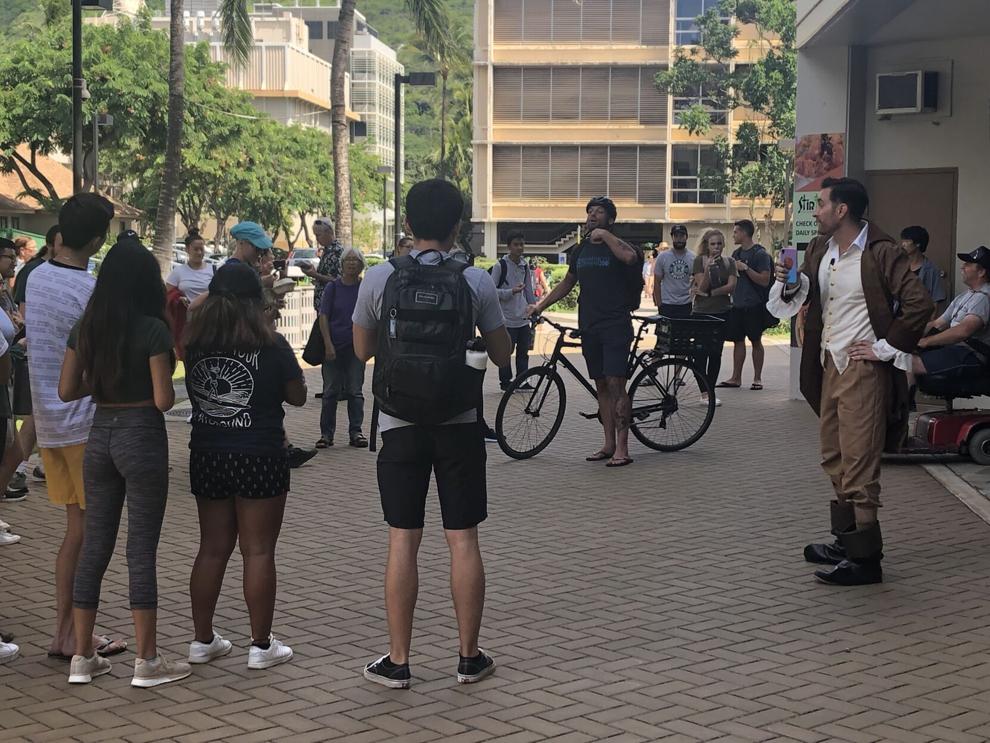 Facebook, Twitter and Instagram were flooded on Wednesday as pro-Trump supporters stormed the U.S. Capitol. Among the sea of selfies and pictures of rioters looting and vandalizing the Capitol that quickly went viral, one face looked familiar to many in Hawaiʻi: Nick Ochs. 
"Hello from the Capital lol," he said on Twitter, misspelling Capitol. 
He boasted on Twitter with a picture of himself smiling with a lit cigarette clenched between his teeth amid the chaos. 
Hello from the Capital lol pic.twitter.com/H1Axdou708

— Dictator of Hawaii Elect Nick Ochs (@OchsForHawaii) January 6, 2021
Ochs, leader of the Proud Boys Hawaiʻi Chapter, was arrested by the FBI on Friday upon arrival at the Daniel K. Inouye Airport, being charged for unlawful entry into the U.S. Capitol.
Ochs graduated from the University of Hawai'i at Mānoa with a Bachelors of Arts in journalism in May of 2020. He told CNN that he was there as a "professional journalist," while not claiming a specific news organization.
A picture surfaced on Twitter of Ochs posing with a thumbs up next to a sign that said, "Murder the Media."
Had Ochs really been in the Capitol as a journalist, he would have violated the rules of the Society of Professional Journalists' Code of Ethics by, what has been shown on social media, participating in the riot.
Ochs ran unsuccessfully for the Hawaiʻi House of Representatives last year as a Republican. He was defeated by Adrian Tam, who now represents Waikiki, Ala Moana and Kakaako. 
"It's not surprising to see him (Nick Ochs) at the Capitol," Tam said in a video on Twitter.
Proud to be a "Proud Boy" 
In 2018, Harrison Patino of Hoʻa Oʻahu, a media organization made up of UH Mānoa's School of Communication students, wrote an article on Och's leadership (click here for link to their website) of the Proud Boys Hawaiʻi Chapter as well as his other political involvements. 
According to the article, Ochs was the Vice Chair of Donald Trump's Hawaiʻi campaign. 
Ochs and other members of the Proud Boys at UH were criticized by professors and students often being referred to as a "campus hate group," according to the article. Past and present students of UH Mānoa say he and his friends have been known to cause trouble on campus. 
In 2019 on Indigenous People's Day, formerly known as Columbus Day, a video circulated of Ochs dressed as Captain Cook at UH Mānoa campus center brazenly speaking on topics such as Mauna Kea. This was during the height of the 2019 Thirty Meter Telescope (TMT) controversy.
In the video, a heated exchange between Ochs and a by-passer takes place. Ochs is escorted off campus by a Department of Public Safety officer shortly after. 
So what do those who encountered Ochs say about him? 
Leilani Portillo, a UH Mānoa PhD student, recalled an encounter with Ochs and two other Proud Boys two years ago. She said they asked her and her friends about their political views on Mauna Kea and TMT. 
Portillo said she was uncomfortable when the Proud Boys approached her. She was also upset at UH for "condoning their behavior."
"How can you sit here and not say anything about an active white supremacists who has a record of harassing people of color?" Portillo said in an interview. "For UH not to say anything, it's like the marginalized people don't matter. His viewpoints are fascist and he believes that marginalized people don't exist." 
Since Wednesday, UH has been the subject of criticism as students question the university's tolerance of white supremacy and hate-groups after news of Ochs' involvement.  
UH Spokesperson, Dan Meisenzahl, says that due to the Family Education Rights and Privacy Act (FERPA), information besides Ochs' major and graduation date cannot be released. However, Meisenzahl ensured that his actions do not represent what UH stands for. 
It was Ochs and the Proud Boys who brought conservative commentators Candace Owens and Charlie Kirk of Turning Point USA to speak at UH Mānoa back in 2018. Owens and Kirk led a Q&A panel called, "White Supremacy is a Myth: Change My Mind" and a talk titled "Free Speech Comes to UH." 
Students held signs in opposition of the event stating that it was promoting white supremacy and questioned the legitimacy of Kirk and Owens' messages. 
During this event, Ochs said that him and other like-minded people's rights to free-speech had been infringed upon as his flyers for the Turning Point USA speakers were quickly taken down. 
"Faculty, students-My free speech has been trampled upon on a regular basis," he said in an interview in 2018 regarding the Q&A event. 
What's next?
Despite Ochs' 15 minutes of fame as he has made national headlines following the raid, it is clear that his activity as a pro-Trump supporter and Proud Boy is nothing new. 
After being arrested for his unlawful entry into the U.S. Capitol, he awaits his hearing which is expected to take place in federal court next week.