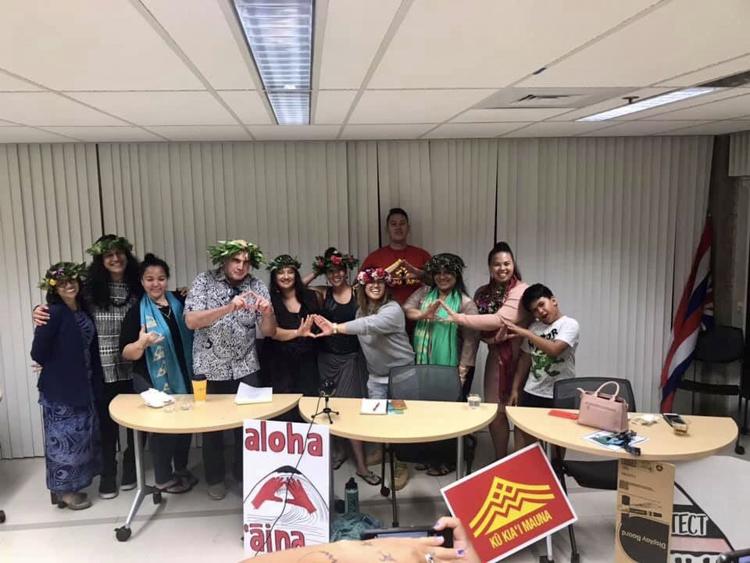 I am a Korean-American raised in Honolulu since the age of one, and born in the United States territory of Guam, an island of the North Pacific Ocean. I am an outspoken and fierce woman for social justice; I do not shy away from the conversations that illuminate tension and division within society. Well, most of the time.
It was the Thirty Meter Telescope (TMT), which sparked a protest of the lāhui and allies of Hawaii, that left me conflicted and frustrated with myself and others. It was the same question many were asking me: "You are not Hawaiian. Why do you care?" 
It became obvious that the question was not why do I care, but why should I care. With that question posed over and over, I silenced my protest of TMT and allowed the issue to fade into the background because essentially, I am not Hawaiian. 
Throughout my conversations with those in favor of TMT, I often heard the "education" argument -- that if the Native Hawaiians cared for the furthering of education, then they would be ecstatic to have such a monumental telescope on Mauna Kea. Similarly, others used the history of Hōkūleʻa, the famous voyaging canoe Polynesians navigated from Tahiti to Honolulu using the stars as their compass and guidance. If Hōkūleʻa was about the stars, then why be against a telescope that will further its research? 
Others asked me questions I did not necessarily have a response to such as, "What do convoys, protests on the mountains, and road blockages do to further their movement? They are rather being disruptive."
 I felt at a loss for words as the whole conversation surrounding Mauna Kea became overwhelming. Overwhelming enough to pressure me into silence. 
It was an invitation to Ho'olaulike, an Aloha 'Aina movement discussion on November 22nd at Queen Liliuokalani Center of Student Services led by Masters and Doctors of Social Work, that I again felt a purpose in TMT.
This panel, Ho'olaulike, was organized by a group of graduate Social Work students of the University of Hawaiʻi at Mānoa to urge the Department of Social Work to have a larger presence in the Aloha 'Aina movements, as well as highlight the social workers who have been at the front lines of this battle. As Racquel Raneses, one of the student organizers stated, "We wanted to create this space to create a forum for those who are ambivalent or do not have the resources to discuss and create an informed opinion. How can we be equipped as social workers to help those who are hurt and angry?"
The guilt of my ambivalence toward Aloha 'Aina movements was confronted in the presence of leaders who urged for my support. Leaders like Stephen Kanea'i Morse, a historical Kaho'olawe 9 member, as well as Lana Kaʻopua, Jamie Rodrigues, Kuʻuleialoha Salzer, and Shelly Muneoka -  voracious social workers and fighters for the lāhui of Hawaii - re-translated "why I should care" to "why I do care." 
The questions and comments about the disruptiveness of these Aloha 'Aina Movements I found myself at a stalemate with is now combatted with the words of Morse: "Getting into trouble is necessary to make change." 
Shelly Muneoka began her discussion with her story of being on the front page of the newspaper on August 21st, 2009 protesting with others in Honolulu on Statehood Day on its 50th anniversary. The repercussions she endured was professionally devastating, but just as emotionally taxing. 
She asserts that "Working on Aloha 'Aina movements were stages of grief at a community level." However, it was the meaning of Aloha 'Aina that kept her kuleana as a Kānaka Maoli evident: "In the kingdom era, it (Aloha 'Aina) meant patriotism. There is a political aspect embedded in the word." 
It dawned on me that the sacrifices these panelists experienced  was not in vain and that the wisdom they bring to conflict, including conflict that has left many painful scars on Hawaiian history, exemplifies the foundations of the Aloha 'Aina movements. 
Ka'opua, a former UH Mānoa professor, answered how she remains inclusive of others who do not see the issue with TMT. 
"Laying aside my judgments about complicity allowed me to have conversations and build relationships," Ka'opua said. 
Similarly, Rodrigues expressed that conversations are the foundation of any movement. 
"When people have conversations, people better hear what they are saying, what they know, what they do not know, and the attitude of what they are saying," Rodrigues said. 
In the midst of controversy and strong emotions, it is as if I forget how to speak, debate, and stand my ground but the calm and collected answers from these social workers on the frontlines of Mauna Wakea exemplifies what Kapu Aloha looks like. 
Through the tearful, heavy-hearted stories and statements, I had a personal conclusion for my part in Aloha 'Aina movements. I care about Mauna Wakea because it is one of the last parts of the sacred history of Hawai'i that remains after the overthrow. I have compassion and sympathy for the protectors of Mauna Wakea because they have graciously shown me what Kapu Aloha and answering my call, my kāhea, as an inhabitant of this island looks like. 
I am inspired to be a part of the Aloha 'Aina movements as it is community-led by social workers, those of my future profession, who hold themselves accountable to catalyze civic engagement and open a space for education with a welcoming spirit. 
Civic engagement begins with those who are brave enough to care and be emotionally invested just as the social work student organizers, Lilinoe Kauahikaua, Racquel Raneses, Iotana Tua, and Rosanna Pierto demonstrate. 
Tua reminded me what social work is, which is, "leveraging the privilege we have in our academia...and being gatekeepers in our profession."
Kauahikaua shared that, "This arose out of a frustration that our voices were not being heard; that we did not have the backing of UH or other social workers of Hawai'i." It was through their defiance of complicity that the Hawaii chapter of the National Association of Social Workers (NASW) released a statement in regards to Mauna Kea. In their statement, they said "The NASW policy statement on "Sovereignty and the Health of Indigenous Peoples" (2009) recognizes that spiritual, physical, social, and emotional health diminishes with infringement of Indigenous rights. Further, the NASW Code of Ethics (2017) upholds the cardinal principle of social justice for all. At a global level."
For those reading this, I leave you with the kāhea Rodrigues declared to the attendees, not only as social workers, but residents of the State of Hawai'i: "I am going to put out a call to all you social workers. Our job is to educate people on civic engagement. How do we insert ourselves into this political process and how do we get the people who do not engage, to engage?"