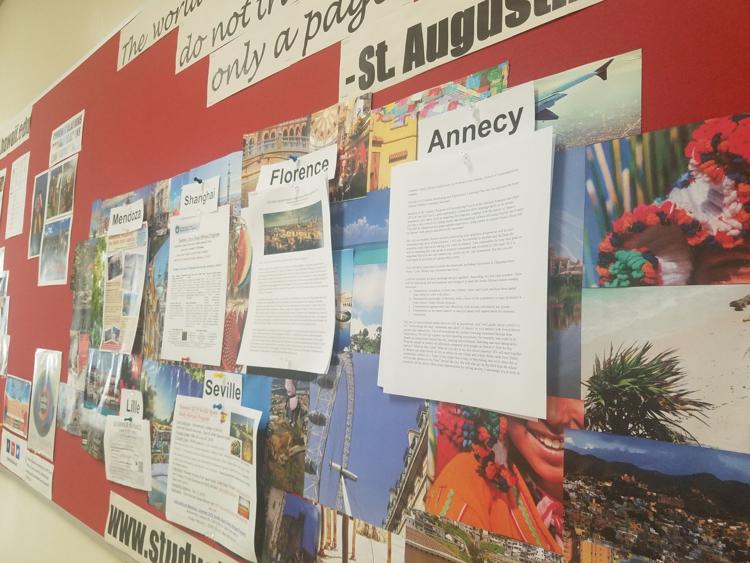 Going to a foreign country, learning the culture, making new friends and memories all while working on your degree? 
It almost sounds too good to be true.
According to NAFSA: Association of International Educators, 332,727 students in the United States studied abroad for credit in the 2016-17 academic year. 
Everyone I've talked to that has participated in a study abroad program has described it as being one of the best experiences of their lives.
University of Hawai'i at Mānoa junior and secondary education major Denver Blickhan studied abroad in Europe this past fall. 
"Studying abroad is an experience I will never regret. Before I left, I was told I would not come back the same person. I didn't know what that meant, but now I understand," Blickhan said. "The people I met, the cultures I experienced literally bring tears to my eyes. Grateful is not enough to express how I feel after this experience. I discovered more about myself than I had in my entire life."
 As a student who has been wanting to study overseas, I've wondered if the study abroad programs at UH Mānoa are accessible to everyone and the ways in which students can benefit.
The programs and the countries
The programs at UH Mānoa consist of the Study Abroad Center,  Mānoa International Exchange (MIX) and the National Student Exchange (NSE). With these programs, students can choose countries and schools around the world, such as Japan, Russia and Thailand, and receive credits toward their degree.
Vinnie Burns is the director and advisor of MIX, and advocates for the benefits of studying abroad. 
Burns described that there are over ninety different universities involved in their program, which are oftentimes the top universities in their country. 
Not only do students get a great education, their perspective and learning style will be broadened. Different schools, locations and professors will each have a different teaching style and curriculum that offer new ways of thinking and learning. 
Language and independence
Living in a new country and being surrounded by people speaking a different language forces foreigners to learn it in order to get by. Even if you have been studying a language in class for years, you will not have the same grasp on the language as someone who has been exposed to native speakers.
"You don't have a command of colloquial language until you have studied abroad," Burns stated.
Going abroad also teaches students independence in a way that they often don't expect.
"You are on your own and you don't have the support of friends and family. Going abroad shows you what you are capable of," Burns said. 
New People
Studying abroad expands your horizons with new and interesting people from all backgrounds. 
"When you go abroad you often think you will be able to make a lot of new friends from that country. What you don't often think about is that you will also meet other U.S. students from other universities studying at that university," Burns said.  "Beyond that, there are students from countries all over the world. Some of your closest friends become people who you wouldn't have had the opportunity to meet otherwise."
Cost
"There is a misconception that study abroad has to be expensive," Burns said.
With MIX, students pay the same tuition as what they are already paying now, whether you are an in-state or out-of-state student, a WUE student or functioning on any other form of scholarship. 
In fact, students can even save money due to the lower cost of living in some other countries, like Korea or Taiwan.
The study abroad programs with the Study Abroad Center have a set fee, which can often be cheaper for all students, especially those paying out-of-state tuition. For example, according to the SAC website, a semester of study in Shanghai in 2018 cost $4,742, including food and housing. Meanwhile, a semester at UH Mānoa costs residents $12,024 and non-residents $23,040, including food and housing. 
Learning more and how to apply
 With MIX, the summer, fall and full-year exchanges have an application deadline of Dec. 1 for exchanges occurring the following year. 
While the deadline just passed for fall exchanges this year, the application for exchanges in the spring of 2020 is open until May 1.
For more information, MIX also offers advising appointments with both staff and student peer advisors who have studied abroad themselves. 
The SAC has application deadlines of Oct. 15 for spring programs, Feb. 17 for summer and April 1 for fall.