Hawaiʻi has become the 26th state to decriminalize marijuana possession. We break down what this means, what UH Mānoa students are saying, and how companies such as Weedmaps have already shown us how cannabis can have innovative impacts on our local communities and abroad. 
Decriminalization is not the same as legal.
In other words, we aren't Colorado. We know you're not going to read through the entire bill description on the Hawaiʻi Legislature website, so we did. First introduced in January and passed into law on July 10 (going into effect January 11, 2020), the bill "decriminalizes the possession of three grams or less of marijuana." Decriminalization means no jail time. No longer will individuals be incarcerated if they are found with less than three grams on them. However, they will still be fined $130. Additionally, harsher sentencing can occur with repeated offenses. 
Possession of more than one ounce of marijuana remains a petty misdemeanor punishable with 30 days in jail and a max fine of $1,000. Increasing penalties, incarceration and fines occur with higher amounts of possession. Hawaiʻi's new decriminalization law was notably passed without a signature from Governor David Ige. 
Legalization of cannabis, such as in Colorado, is concisely described by Findlaw.com to mean "you can't be arrested, ticketed, or convicted for using marijuana if you follow the state laws as to age, place, and amount for consumption. However, you can still get arrested for selling or trafficking marijuana if you aren't following state laws on licensure and taxation."
While Hawaiʻi has yet to legalize weed, Senate Bill 686 sought to do so. It read, in part, "the legislature further finds that the legalization of marijuana for personal or recreational use is a natural, logical, and reasonable outgrowth of the current science of marijuana and attitude toward marijuana." This bill has yet to advance, though it demonstrates the efforts of some lawmakers and the potential for legalization of cannabis substances in the state's future. 
Does no jail time mean a change in the perception of cannabis? 
Marijuana, like most substances that come under federal and state laws, such as alcohol and tobacco, face mixed public opinions.
When asked to share her views on decriminalization and legalization of weed in the state, Catharine Creadick, a University of Hawaiʻi at Mānoa junior geology major, stated, "It's extremely prevalent and normalized anyways, so legalizing it is likely going to have no effect, but maybe the ability to tax it would be beneficial for local projects?"
Creadick continued by mentioning, "For weed itself I'm pretty mixed on it because I think for some people it's detrimental but others actually do need it."
Chloe Loftis, a UH Mānoa senior majoring in psychology, thinks "decriminalization of weed is something that's long overdue." Loftis additionally expressed that, "Marijuana is something that has potential to help a lot of people, from things like chronic things like chronic pain to mental illness. To limit and criminalize weed is to encourage needless suffering."
As legalization of weed spreads to more states, scholarly research on the pros and cons of marijuana usage. A 2018 study published in the Digestive Diseases and Sciences journal showed that for patients suffering from Inflammatory Bowel Disease, "Those prescribed marijuana reported more active disease, and more use of steroids, narcotics, and zolpidem."
A 2019 study published by the American Association for the Study of Liver Diseases noted that the health benefits of marijuana include improved "pain management." The study additionally noted marijuana's role in the reduction of depression, pruritus, nausea and more. 
Unfortunately, studies such as these often do not tell the full story of marijuana, its pros or cons. Cherry-picking, using information that supports your own view, can occur not only in reporting on substances but also in our own conversations.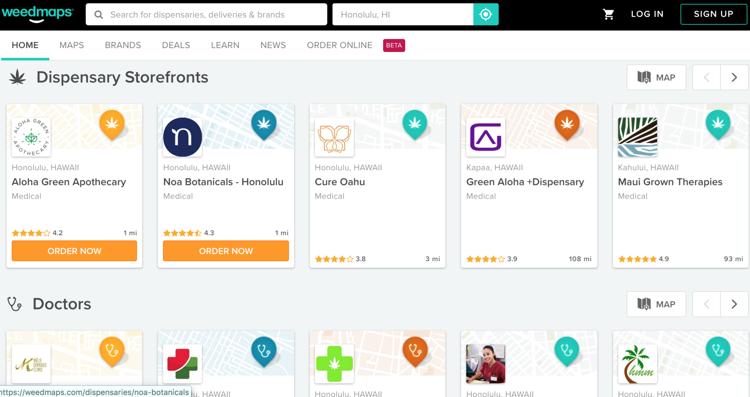 Weedmaps and an alternative culture
Weedmaps, founded in 2008, is essentially the Yelp of weed dispensaries. Overall a technology company, Weedmaps connects users to local dispensaries. It allows them to read and write reviews, receive directions, and learn more about the businesses in their area. 
Eric Sorensen is Weedmaps action sports director. Among other duties, he manages and provides the vision for Weedmaps' team of athletes across action sports genres. Notable members include surfer Bruce Irons, born in Kauaʻi and previous winner of The Eddie, as well as skateboarder Aaron Homoki, who has appeared in the X Games and brought home a bronze medal for the US team.
The Weedmaps Pipe House, started by Sorensen and located on Oahu's North Shore, has welcomed team athletes to not only visit Hawaiʻi and compete in local competitions but to utilize the space to focus on athlete health and wellness.  
WM HAWAII PIPE EXPERIENCE from WMSURFING on Vimeo.
Sorensen's personal mission was to provide an atmosphere and location that curbed the party and addictive lifestyles often associated with action sports, focusing instead on the education, mental engagement and overall physical health of the team. 
Hiring an all-local staff of chefs, masseuses and more, Sorensen stated that his goals were to have athletes "educate, conversate and understand the movement of cannabis and its role in health and wellness." He additionally shared his views on how cannabis could become "a new sports medicine."
Noting the difficulty and dangers that come along with most action sports, Sorensen stated, "These athletes just want to relax, get a good night's sleep... be calm before doing a trick. Without even knowing it, smoking weed could be their medicine to fight the anxiety." 
Sorensen hopes to see the movement of marijuana as a means of health, education and wellness grow not only in the action sports industry but locally as well. He personally encourages engagement with local workers from all industries to unite toward alternative ways of viewing, understanding and the holistic health of athletes involved in action sports. 
When told about Sorensen's efforts to promote athlete health, Creadick, who paddles for a local team, stated, "[That] would definitely be a way for the legalization to have a positive impact on the community. We are very dedicated to the sport since it's a big community and time intensive, so any outside support would be greatly appreciated."
Keep an eye out for how cannabis will impact Hawaiʻi; decriminalization is just a first step.