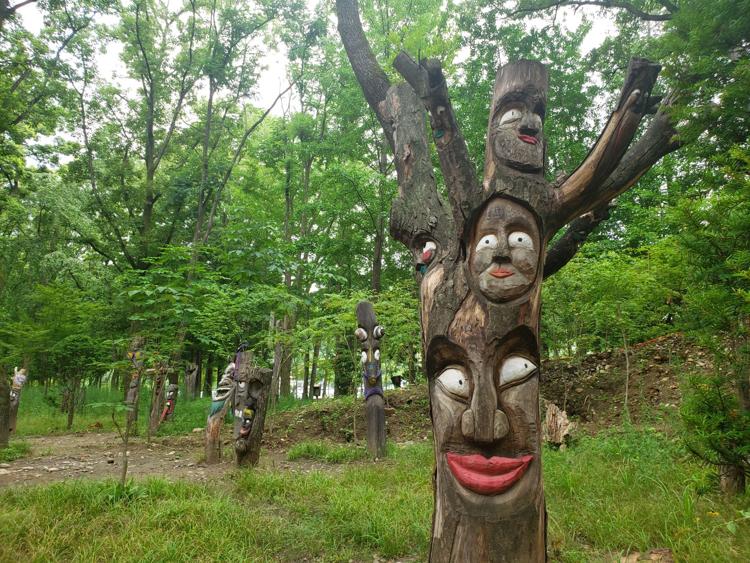 Hawaiʻi is made up of eight main islands, with more landforms underwater. Many places in the state are tourist spots, such as Hanauma Bay on Oʻahu and Punaluʻu Black Sand Beach on Hawai'i Island. 
South Korea also has its share of tourist attractions, though few may know that, like our state, the peninsula has its own islands - 3,358 of them, according to a 2017 CNN Travel article. While in South Korea, I found myself on one of these isles: Nami Island. 
An island of their own 
Those who know of Nami Island probably watched or heard of the 2002 Korean drama "Winter Sonata," which was filmed there. 
According to Visit Korea, Nami Island is a halfmoon-shaped land mass that formed due to the construction of Cheongpyeong Dam in Chuncheon, 63 kilometers away from Seoul. The island is named after General Nami, who served King Sejo during the Joseon Dynasty.
Being more of a Korean pop fan than a K-drama fan, I had no knowledge of Nami Island prior to arriving in South Korea. When the opportunity arose to visit it via a SeoulPass tour, two friends and myself jumped at the chance. Like any visitor would, I expected an adventure-filled afternoon on an island. 
I did not think I was going to a culturally independent republic. 
According to its official website, Nami Island, formally called Naminara Republic, declared cultural independence from the Republic of Korea and follows its own diplomatic and cultural policies. It was also declared a "UNICEF Child-Friendly Theme Park" in 2010. 
The website also states the island was founded by Byeong Do Minn, who began to take care of the land by initiating the planting of foliage. Any person who helped in the planting and cultivation of Naminara are considered "Naminarians," or citizens of the island.
Getting to Nami Island 
Having gone with a tour group, my friends and I traveled from Seoul to Gapyeong Wharf before taking a round trip ferry to the island. 
Those with cars can drive to the wharf, but must pay a 4,000 won parking fee. If parked for longer than 12 hours, an additional 1,000 won will be charged every 60 minutes. Shuttle buses from "Insa-dong/Nadaemun" and "Myeong-dong/Jamsil" are available. Prospective visitors can also take the subway by riding the ITX train's Gyeongchun Line. 
According to Nami Island's website, visitors must pay for a VISA; this covers the republic's entrance fee and ferry fare. "Regular" tourists must pay 13,000 Korean won. Those 70 years and older, as well as middle to high school aged students, pay 10,000 won. Children three years to elementary school age, and those who visit after 6 p.m. (March to December) or 7 p.m. (April to November) give 7,000 won. 
For adrenaline lovers, a zipline to Nami Island is 44,000 won. This includes the island entrance fee and a ferry ride back to the wharf.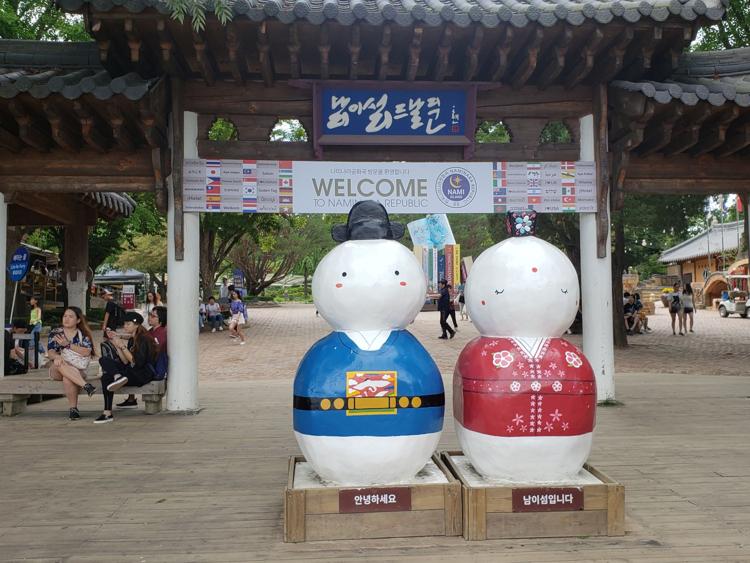 Sights and activities: A brief retelling by the formerly motion sick 
I did not fare well on the way to the wharf thanks to motion sickness. Despite the ill-state, the time spent on Naminara was not wasted. 
After getting off the ferry, visitors are free to walk around the island. There are walking trails that people can follow that will take them through the center or along the coast of Naminara. The center road, "Korea Pine Tree Lane," has trees lining either side of it, which serves as a neat photo op for travellers. Due to the summer heat, a sprinkler system was set up in the trees, allowing passersby to be sprayed with water as they walked beneath the foliage.
According to Naminara's official website, there are other walking paths scattered around the island, including "Gingko Tree Land," known for its yellow ginkgo leaves in autumn and "Cherry Tree Lane," popular with visitors in spring. 
We also walked by a handful of other island attractions, such as the "Picture Book Library," where young children can enjoy Nami's collection of literature, and the "Nami Island Handicraft Studio," where artists partake in various forms of creative expression including ceramics and woodwork. 
Various gift shops are set up along different paths. Memorabilia such eco-bags, salt shakers, postcards and Snowman plushes (Naminara's mascot) can be purchased, alongside other handmade crafts and snacks. Restaurants (with one serving Halal food) and cafes are also available.  
Those who fall in love with Naminara can check into Hotel Jeonggwanru, whose rooms were each decorated by different artists. The hotel's reservation page states that, for regular rates, room prices range from 119,000 to 169,000 Korean won. Along the river, bungalows and cottages can be reserved as well. Bungalow "regular" rates go between 200,000 to 380,000 won, while cottages go from 149,000 to  229,000 won. 
Additionally, Nami Island is also home to various animals, such as rabbits, deer and peacocks, who roam around the island freely. 
Reminiscing on the islands 
I returned to the islands on Aug. 22 from my study abroad semester in South Korea. Out of the places I have visited, some mentioned in previous installments of this column, Naminara Republic has been one of the most memorable. For one, it was the first destination I've visited in which I was physically ill (and managed to push through). More notable, however, was the island's history. Although Naminara was formed as a result of construction, it has developed into its own cultural republic where visitors can appreciate its beauty. 
This reminded me of home. The Hawaiian Islands hold their own gems that locals and tourists alike can enjoy. While every place offers different experiences, each moment presents learning opportunities for one to understand a place's history and value progress made in recognizing cultural significance. 
If there is anything I hope readers of this column will take away, it's this: while travelling, do not merely appreciate the superficial fun a new place or experience offers. While tourist brochures promote the beauty and "Instagram-worthy" areas of a city, do not forget that each place has its own unique facets. The true beauty of  travelling is having the ability to partake in a country's culture and history, enjoying the joyful aspects as well as respecting the points that may not be so "vlog-friendly."