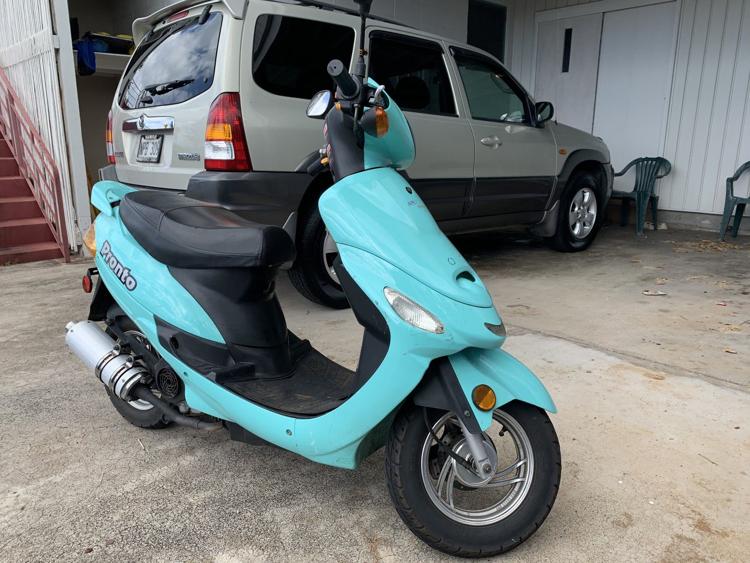 Mopeds are a popular mode of transportation at the University of Hawai'i at Mānoa, but the downsides of driving them may outweigh the benefits. Theft, repairs and safety are all issues that moped drivers face on a regular basis.
According to statistics from the Honolulu Police Department, in the year of 2015, one person died, 16 people suffered serious injuries, three people suffered critical injuries and two people were in stable condition while hospitalized as a result of operating mopeds.
Maddy Hobbs, a junior at UHM, was recently in an accident while on her moped in January 2019. Hobbs says she was riding her moped on Waialae Avenue. She was trying to make a right turn and went into the bike lane with two other mopeds behind her. A car turned into the City Mill parking lot next to her and almost hit her. Hobbs turned in order to avoid getting hit and fell onto the side of her moped and slid into his car.
Hobbs shares that although the driver stopped and helped her, she had to go to the hospital for the incident.
"I have become more cautious on my moped and sometimes get jumpy when I ride it. Like I'm on edge. I honestly only want to ride it because I can park for free and close to school. If parking wasn't a problem I would get rid of my moped and take my car after it," Hobbs said. 
Moped drivers are not required to take a certification course like motorcyclists are, which means drivers end up on the road with little to no training. 
Hawaiʻi law prohibits double riders, and strongly suggests that moped drivers wear a helmet and protective eyewear and clothing. However, many students are often seen riding on the back of others' mopeds or not wearing their helmets.
Another common issue students face is the high rate of moped theft in the area. No matter how well students lock them up or how strong the chain is, mopeds can be stolen and students may lose $1000 or more of their hard-earned money.
Sophomore Shannen Murray had her moped stolen and later found and returned, albeit damaged.
Murray parked her moped inside the popular off-campus student apartment building Hale Mahana. While she did not put the lock on it, she had locked the handlebars. The next morning, the moped was gone. She filed a police report and did not expect much from it. However, a few days later the police had recovered her moped but it was damaged. Murray ultimately ended up buying a new moped. 
"I love mopeds and I think they're the perfect vehicle for living in this area and as a college student, but you have to take the right precautions when locking them up and picking where to park your vehicle," Murray said.
Other students agree that riding a moped at a school like UH Mānoa
has many benefits. Junior Tyler Bach says they are great for students who live on campus and commuters alike due to the fact that they are better for the environment, can be parked anywhere, and are relatively inexpensive compared to cars. 
"Mopeds are a wonderfully efficient means of transportation for getting around all of Honolulu. They are fun to ride and offer an unparalleled way of experiencing the island," Bach said. 
Bach decided to ensure his moped's safety by spray-painting his moped and smashing one of his own mirrors to make it look less tempting to thieves.
"It goes without saying you should always lock your moped to something secure. However, if a thief really wanted your moped it's almost inevitable, but I'm going to make them work for it. Moped theft is a plague on this island and it's not getting cured anytime soon," Bach said.
As a moped driver myself, I understand how fun and convenient they can be and how nice they are in terms of fuel efficiency and parking. At the same time, I have also had multiple near-death experiences while riding my moped and have heard horror stories from friends about terrible accidents they had gotten in, or how their moped got stolen even with it locked up. I worry about the safety and theft risks, and if I decide to stay in Oʻahu after I graduate, I will probably buy a car.
Mopeds are a great means of transportation if you cannot afford a car or if you are only temporarily needing transportation. Ultimately, it is up to the driver to decide whether the benefits of driving a moped outweigh the downsides, but if you can afford safer means of transportation, a car is a much better alternative. But whatever you do, if you do drive a moped, wear your helmet and lock it up.