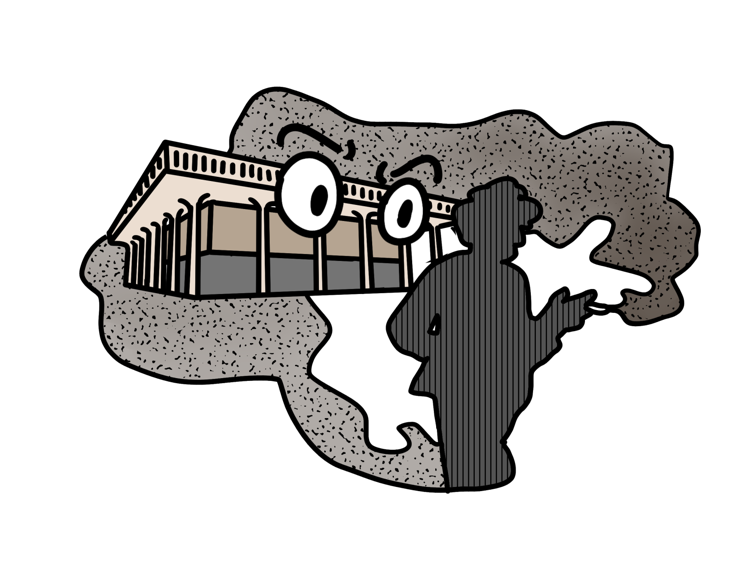 House Bill 1509 seeks to ban cigarette sales to those under the age of 100 by 2024. If the Hawai'i House Health Committee did not vote to hold this bill during this past session, the legal smoking age would have increased to 30 in 2020, then 40, 50, 60, and 100 in subsequent years. While health is at the center of this measure, the government should let  people choose their lifestyles and deal with the consequences accordingly.  
Smoking and the Aloha State 
For years, smoking has been considered a major health risk, accounting for about 30 percent of all cancer deaths in the United States, according to the American Cancer Society.  The ACS also reports that smoking shortens the lives of male and female smokers by 12 and 11 years respectively. Smoking also causes chronic obstructive pulmonary disease, also known as COPD. This disease affects the lungs and is the third leading cause of death in the United States.
Even non-smokers are susceptible to health risks due to secondhand smoke, which can harm any living cell it touches. 
America's Health Rankings analyzes national health on a state-by-state basis. In its 2018 annual report, AHR found that 12.8 percent of adults living in Hawai'i smoke, a drop from 16.8 percent in 2012. 14.4 percent of students with some college education smoke, while only 6.2 percent of college graduates partake in the activity. 
The decrease in smoking percentages from college students to college graduates could possibly be due to what the National Center for Biotechnology Information calls "social smoking." This phenomenon occurs when people smoke with friends, but do not continue outside of social settings. Participating in social events is important in forming connections, especially while in college. In their article titled "Characteristics of Social Smoking Among College Students,"  it is shown that data suggests that more than one-third of students who have smoked in the past 30 days do not see themselves as smokers.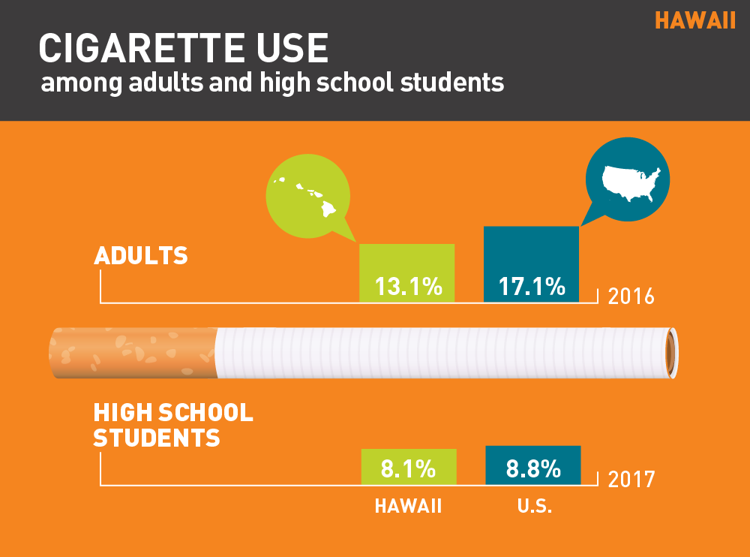 Good intentions, questionable execution 
One cannot deny the health risks of cigarette smoke. HB 1509 calls the cigarette "the deadliest artifact in human history" because it kills half of its long-term users and causes "more preventable disease, death, and disability than any other health issue." 
Introduced by House Representative Richard Creagon, HB 1509 hopes to gradually raise the minimum legal smoking age, eventually eradicating the sale of cigarettes. The bill does not address the sales of e-cigarettes and other tobacco products. 
The bill is an effort to free smokers from "the enslavement of this powerful addiction" and to aid the state's overall health status. 
HB 1509 is an example of the  government's role in protecting and maintaining the health and well-being of its citizenry. This bill shows that the government is attempting to do its job. 
However, every bill comes with complications. HB 1509 raises questions regarding the extent of the government's role in our everyday lives.
The power of choice is a right that all American citizens are given; however, just because one has the ability to make a choice, it does not mean they will always make the "right" or "wrong" decision.
 Each person should have the freedom to learn about and consider their options, predict consequences and make a decision that best suits their situation without judgment from others, especially from those who lead different lifestyles. 
 Some people may choose to lessen their carbon footprint by incorporating sustainable practices into their lives. Others may continue to use fossil fuels and plastic cups because it best suits their lifestyle. The same can be said for smoking: people will choose not to smoke for health reasons, while others will continue to do so for relaxation or social purposes. 
Although the risks of smoking are known, people still continue to smoke, though at a decreased percentage, in the state. For those who enjoy smoking or use it as a way to relax, HB 1509 would have taken that choice away from them. 
When the government begins to restrict people's ability to make a choice about how they live their lives, it presents the question: "What's next?" Banning the sale of certain products impedes peoples' ability to choose to consume them. 
Take sugar consumption, for example. Sugar has negative impacts on those with diabetes, and, according to Harvard Medical School, can also increase the risk of cardiovascular disease. Sugar is also connected to obesity, which is considered another major health issue according to the Pew Research Center . 
In a 2013 survey, the Pew Research Center found that while 67 percent of responders approved of chain restaurants listing calorie counts on their items,  64 percent disagreed with raising taxes on sugary drinks and unhealthy food. 67 percent of responders also opposed limiting the sizes of soft drinks in restaurants and convenience stores.  
This survey provides some evidence that while people acknowledge health risks, they will continue to partake in them if that is their choice. 
Leaving people to their own devices 
HB 1509 seeks to raise the minimum smoking age in order to help increase the overall health of the state's population. While its intentions were founded in good faith, its strategy in banning cigarettes restricts peoples' ability to choose to partake in them.
According to the bill, the Legislature's lack of action to prevent cigarette-related deaths is "considered the moral equivalent to murder," if not  "an accessory to murder." 
If the issue of health is approached from the perspective of "murder," then all things should be considered harmful to one's life. If cigarettes are banned because of their correlation with death, then why shouldn't sugar also be banned because of its connection with cardiovascular disease? 
The government's job is to govern, provide for and protect its people, but it cannot restrict the choices of their community in order to achieve these goals.