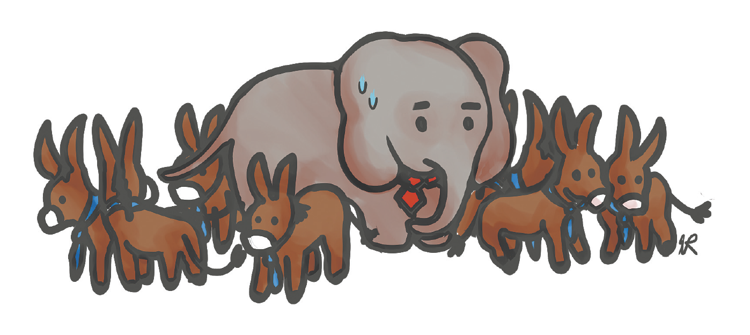 Hawai'i must not neglect its Republican presence. Regardless of opposing views and perspectives, Republicans are still needed to re-establish balance and democracy in Hawai'i's Legislature. 
The Republican fall and the Blue Revolution 
Colin Moore, director of the Public Policy Center and associate professor of political science at the University of Hawai'i at Mānoa, believes Democrats are more prevalent in the islands for a handful of reasons, the first being history. 
Moore said the Republican Party was associated with the Territorial Period which, according to hawaiihistory.org, began after the overthrow of the Hawaiian Monarchy in 1893 and caused "economic and population booms" thanks to sugar profits.
The Republican Party had a stronghold in government until World War II, which saw "a local movement to empower laborers in Hawai'i," according to the Democratic Party of Hawai'i  website. 
John A. Burns, who the UH School of Medicine is named after, began to organize the plantation laborers, which consisted of Filipino and Japanese Americans. Burns believed that "grassroots organizing and the power of elections could overturn the corruption and unfairness of the Republicans in power." With many rallying behind Burns, the Democratic Party "shifted towards egalitarianism," and soon found Burns being elected governor in 1962. 
"[This] became the [Democrats'] powerbase. That was the rise of all the famous Democrats here in Hawai'i, from Dan Inouye on," Moore said. "The Democratic party speaks to [Hawai'i] more directly. It's very diverse; there is no white plurality, unlike most of the mainland states. The issues Democrats speak to tend to resonate with the people here in Hawai'i, so I think it's tough for Republicans to get much of a purchase here." 
A battle of blue and red 
According to a 2014 survey done by the Pew Research Center, 58 percent of Hawai'i survey takers leaned Democrat while 24 percent chose Republican. The remaining 18 percent claimed "no lean." The results of this is not surprising, but it does make being and supporting Republicans difficult. 
Moore says that being Republican in a deep blue state comes with its own set of problems.
"Hawai'i  is the most Democratic state in the country. We have no Republicans in the State Senate, and there's five in the State House and that's probably going to drop to four after the General Election," Moore said. "If you are a Republican, you are probably not going to win an election, and if you do, you're not really going to have a lot of power in the legislature."
For much of Hawai'i's history after the Blue Revolution, many of its successful politicians were Democrats. Examples include George Ariyoshi, who served two terms as governor from 1974 to 1986, Daniel Inouye and Spark Matsunaga, who were the first Japanese Americans to serve in the Senate. 
Over the years, Democrats seemed to have conquered the state's government, especially with the ousting of Republican Senate incumbent Sam Slom by Democrat Stanley Chang in 2016. 
The Democratic Party is still trusted by a majority of Hawai'i. However, this support seems to be dwindling. 
Hawai'i has a higher approval rating for President Donald Trump than it does for Governor David Ige and the State Legislature, according to a recent survey conducted by the UH Public Policy Center. 
Ka Leo reached out to Governor Ige to participate in a debate with Republican candidate Andria Tupola, which was set for Oct. 4. Ige declined the invitation due to scheduling conflicts. Although Ige is now scheduled to speak with Ka Leo separately on Oct. 8, Ige's refusal to debate alongside Tupola sets a negative precedent. 
For Moore, this proves there needs to be a change in how Hawai'i sees its politics. 
"This mainly shows the arrogance of the Democratic Party here - the unwillingness to debate a legitimate Republican candidate. It's pretty shameful," Moore said. "[Ige]'s not going to lose - there's almost no chance that's going to happen but it's not great for democracy. People already have a low opinion of the State Legislature and our government in general, so this doesn't help."  
A needed change
Democrats and Republicans are known to clash because of their perspectives and values. In a deep blue state such as Hawai'i, this clashing is not as apparent locally as it is on a national level. 
Moore believes that removing the opposition between Democrats and Republicans by having majority Democrats within the local government impedes the development and functionality of democracy. 
"Democracies don't function well when there's no opposition party. I don't think ours is functioning particularly well because of that," Moore said. "There's a desperate need for an alternative to the Democrats."
Republican Cam Cavasso, who served three consecutive terms in the Hawai'i House of Representatives from 1985 to 1991, is currently running for Hawai'i's First Congressional District in the U.S. House.  
As a Republican running in a Democratic state, Cavasso understands and is a witness of this need for political equilibrium. 
"Competition strengths us. Balance is so critical; it impacts us to grow," Cavasso said. 
He is also aware of the problems of being in a one-sided environment and stresses the importance of offering alternate ideas. 
"When you are surrounded by one viewpoint, you are more likely to believe it," Cavasso said. "[When working with the Legislature], I would start to speak, and the legislature would change [their thinking]. The power of one voice - I encourage people to use it."
Cavasso expanded upon this by mentioning the "Free Speech Comes to UH" event, which was held at UH Mānoa on Sept. 20 and led by conservative commentators Candace Owens and Charlie Kirk. He says that the ability "to present another view" is "a great leap forward."
An elephant in a group of donkeys
The Democratic Party's success in the state is not to be overlooked or undermined; however, despite opposing views, it is essential that Republicans remain visible as they offer alternatives. Balance needs to be maintained in order for a democracy to work. 
Moore offers his thoughts on how young Republicans can get a foothold in Hawai'i and how having alternatives will benefit a legislature that currently has too much of one side. 
"No one should cheer the weakness of the Republican Party here," Moore said. "What younger Republicans need to do is to carve out an identity here that's different from the Republican brand on the mainland, which would never work here - unless the mainland Republican Party changes. But, [young Republicans] could be encouraged because people desperately want an alternative."