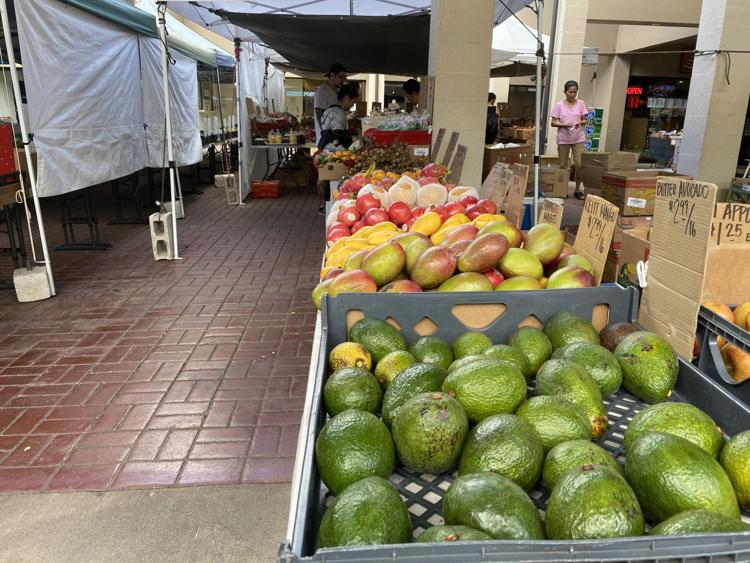 Made In Hawai'i
The holidays are upon us and it is time to think about gifts to buy for your loved ones. The thing I struggle with the most is deciding where to buy gifts and how much money I should shell out for the holidays.
What I've found to be an exciting way to shop for gifts is to visit locally owned shops that I normally support throughout the year. This can be anything from a coffee shop in Kaimuki that sells coffee mugs and bamboo straws, to a local brewery that has a ton of merchandise for sale including stickers and t-shirts.
If you think about the places you enjoy going to for a bite to eat or a yoga studio you enjoy, most of these places sell merchandise – and what better gift than to give your family and friends something that means something to you while also supporting local businesses.
One particular place that stands out to me as a unique place to find local goodies is Nā Mea Hawaiʻi. Located in Ward Centre, this hidden gem has locally made, hand crafted items from Hawaiʻi such as original art and fine art reproductions. Hawaiian books, clothing and even food products can also be found.
Owner of Nā Mea Hawaiʻi, Maile Meyer, said that not only does shopping local help the local economy, but shopping local and made in Hawaiʻi makes it that much more special.
"Things that are made by people who are of a place, implies a deeper respect and understanding of those materials, symbols and practices," Meyer said.
This place allows the shopper to widen their understanding of Hawaiian culture and showcases how creative, original and powerful giving a gift of Nā Mea, or "things Hawaiian," can be.
Meyer said that a reason to come in to Nā Mea is for native books "since we are a native knowledge exchange, [it] gives you a chance to sit and read, talk story, ask questions, provide opinions, and be in exchange with others."
If you want to deepen your understanding of Hawaiian knowledge even further and have time to create your own gifts, classes and workshops are offered in their makerspace. 
"We encourage people to awaken the memory found in their hands and minds around 'making' something and participating fully in a gift giving process, their time is part of a gift when they make something," Meyer said.
Working with hala is a big part of what happens at KIPUKA. There is a workshop called "Keanahala," that focuses on learning to prepare hala materials and weaving projects to make a personal Hawaiian style mat and to affirm your connectivity to the islands.
"Whether it's a Moena Hali'a, a memory mat frame, painting a small rock, making Niihau earrings, learning hula, playing hanafuda, having a mana card reading, these are all ways to participate more fully and ideally, people making their own gifts and sharing is the deepest method of exchange. Money has a low frequency, making something with your time and intention is a powerful and meaningful gift exchange," Meyer said.
Buying local 
Policy across the country has given the biggest corporations an advantage, but research is proving something that many communities already know. Locally owned businesses create neighborhoods that are more affluent and connected.
Shopping local is supporting a whole ecosystem of small-scale enterprises and community makers. Every dollar spent on local products stay within the community; it's a reinvestment. According to the American Independent Business Alliance, locally-owned businesses recirculate a great percentage of revenue locally. In other words, going local creates more local wealth and jobs.
"Shopping local is a method of exchange, it creates a dynamic of knowing your community deeper…," Meyer said, "what we have that comes from our places represents things that are familiar and familial. We can celebrate ourselves and our communities through how we spend our resources."
More reasons to shop local
"Made in Hawai'i" can pose different meanings to different people. If you ask someone who has visited the islands, what they brought back from their trip as souvenirs, the answer could either be a gift that was authentic and locally-made or pose as the former.
One-of-a-kind businesses are an integral part of the distinct character of a place. It distinguishes a unique community to a chain store that looks the same anywhere else.
Another unique shop is Sugarcane Shop in Kaimuki. Owner Jill Hatch-Fong filled her boutique with local gifts and designers as well as previously loved home goods that get repurposed. Her motto: "ReCycle, ReUse, ReStyle!"
Like the Sugarcane Shop, locally owned businesses make more local purchases requiring less transportation and therefore reduces environmental impacts. 
According to the Institute for Local Self-reliance, shopping local also makes for better service, better selection, and more diversity. Most local businesses hire people that usually have a better understanding of the products they're selling and take more time to connect with their customers. The product selections are based on personal and community interests rather than a national sales plan.
Buying local encourages local prosperity which means people are more likely to invest and settle in communities that promote a one-of-a kind business with distinct character, which means better use for community space.
Many of the retailers also sell their products online, so you can get Hawai'i-made products even when you can't be here.
When it comes to gift giving, quality doesn't mean expensive it means exceptional.