Being raised in Oʻahu and graduating from Mid-Pacific Institute, an approximate ten minute walk from University of Hawaiʻi at Mānoa's campus, made my decision to attend UH Mānoa one that I have always struggled with. Was I missing out on what moving away could offer? Was I missing experiences that I could only get in the mainland? Or was I the greatest child in the world because I was saving my parents' thousands of dollars on tuition? 
Honolulu, being the tiny city that it is, meant that I had friends and family at my fingertips. I had connections to learning opportunities and could also work near campus. Therefore, I had the misconception that attending UHM and transitioning to college life would be a cinch. 
Little did I know that my greatest struggle in my transition would be finding connection to others. 
There are many different factors that play into my difficulty getting settled into the new college life.
One factor was large class sizes. I went from a twenty person classroom in highschool to a two-hundred person lecture that made finding a seat seem daunting. Another factor was structuring my own classes and schedule. 
There is freedom in creating your own schedule--two days a week of classes? Absolutely. 
However, the process of finding five classes out of hundreds that are offered seemed terrifying. Luckily, we have teachers and advisers who help us make these decisions about enrollment, create our schedules, and adjust to a new curriculum.
But the biggest struggle that I did not know would exist is the loneliness that can come with being a student at a university with a majority of its attendees being commuters. 
I am a commuter. Because my house is a fifteen minute drive away, I found myself quickly packing my bag after, or even in between classes, and scurrying home. If I stayed on campus to eat lunch, it was a ten to fifteen minute break at most before I would retreat to the library to continue studying. 
Most of what keeps me around and interested in any sector of my life is connection. Connection to others like short conversations with classmates, being on a first-name basis with my colleagues, and having socialization planned are what keeps me from speedily driving home to watch Netflix. This lack of connection did not just affect my emotions, but also took a toll on my performance in school. 
Since I was not being forced to spend time with classmates for eight hours a day anymore, I no longer had study buddies or built-in after school activities. I was not alone in the "I would rather watch Netflix in the comfort of my home that is  driving distance away" club. 
After class would end, there were few people who would converse or move their conversations to the cafeteria or campus center. As I became more isolated and lonely, reluctant to reach out to clubs or events on campus, my class attendance and interest in my studies decreased. The freedom and opportunities for more social engagement I received as an adult attending university were squandered in my first two years. 
This led me to take a gap year. 
In that gap year, it was a constant conversation of "What do I want to do?" Rather, the question that I should have been asking was What is missing from my educational experience that is holding me back? I needed a reason to be on campus other than attending classes. 
I needed community. 
It was in my return to UH Mānoa that I was motivated to find a reason to be on campus. This took exploring, putting myself out there,  fostering many new friendships, and extending invites to people to get a drink at Bal-Le or grab lunch, but also came with many frustrations of that same loneliness that would provoke me to retreat home. 
I am happy to say I am on the uphill trend of feeling connected and having purpose. A few ways I have done this are making a gallant (almost over-bearing) effort to talk to my classmates, exchange numbers with like-minded students, and set up my own study sessions. The largest factor that allowed me to feel purpose again was becoming a staff writer for this very newspaper you are reading right now. 
I knew I was not alone in my struggle to stay connected on campus and have luckily met a couple people who have seized opportunities on campus and set an example for me to do the same. It was through talking to these students that I realized my experience at UHM would be what I made of it. The opportunities to enjoy my non-traditional college experience definitely existed.
One student whom I had the pleasure of speaking with was Ji Won Kwak, a 2019 Finance, Management Information Systems, and International Business Major graduate from the Shidler College of Business who was also raised and educated in Oʻahu. 
She had a simple piece of advice for me: "You have to join clubs and look for opportunities." Her college career began in Omaha, Nebraska at Creighton University for two years before transferring to UHM.
She said, "Even though Creighton was in the middle of nowhere, I always felt close to my friends because we all lived in the dorms. No one really commuted and we always dined in the cafeteria. I studied a lot more because I was always on campus. It gave me a sense of belonging." 
However, when she returned home, she faced similar loneliness of being at a new school, let alone a commuter campus.  
"When I came back to UH, I was extremely sad and nervous because I did not have many friends. When I first started, I did not know what I wanted to do and was really alone. I would only go to class, try to take online classes. I avoided people."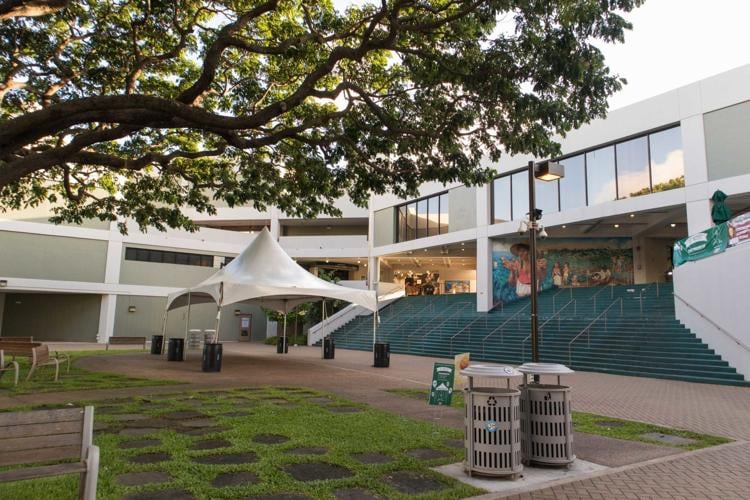 It was when she found her niche in business that she found a community that would give her a reason to stick around after class. "When I decided to apply for Shidler, it was my opportunity to step out and make friends. The first week of the school semester at Shidler, the courtyard had different clubs showing what kind of communities they were and what they wanted to help you with. One that stood out to me was Delta Sigma Pi. They valued professionalism, community service, scholarships and awards, and brotherhood. Brotherhood stood out to me because I needed a family feeling. It really was that."
When Kwak joined Delta Sigma Pi, she found that not only her social opportunities arose but also her career and educational opportunities too. 
"It was through joining Delta Sigma Pi that I had the opportunity to do case competitions for Northeastern University International Business Case Competition. With other members from my club, I was able to compete and go through hardships with them and learn. And in November 2019, we won the competition allowing UH Manoa's school of business to showcase their standing of excellence as an International Business School." 
Through many conversations with Kwak about her experience at UHM, I felt motivated to follow suit. 
While I had connected with someone who grew up in Oʻahu like me and faced similar struggles, I was interested to know what out-of-state students' thoughts were on UHM being a commuter school. 
Reuben Sablad is a first year Kinesiology and Rehabilitation Science Major from California. When I asked him about his thoughts on the commuter effect on his experience thus far, he surprised me with a rather enthusiastic response. 
Even though Sablad lives at the dormitories, he mentioned that many of the residents on his floor who are locals return home on the weekends. Instead of hibernating in his dorm, he has found a club called "E-Sports" on campus that has provided him with community. 
"E-Sports is a competitive video gaming club where we have different divisions. UHM is a part of the Mountain West Division and we play other colleges on the mainland." Sablad said.
According to Sablad, meeting often for the club created ways for him to make friends. 
"We meet four times a week and at first I did not think I would hang out with anyone from the club outside of our meetings but I ended up making good friends who I eat and go to the gym with." 
When I asked him what advice he would give to someone struggling with finding a community, he said "Look at flyers around campus for events. You do not even realize how many things are offered. I saw E-Sports through a flyer at my dorm. Follow social media and keep your eyes open for opportunities." 
I hate to say it but it is true. If I do not have a reason to be on campus, I will find a reason not to be. This is not only true for university, but my future endeavors. I am a firm believer that loneliness or hard seasons weigh less when we have others to share it with and endure through it. And when loneliness and such seasons come to an end, what remains is community.