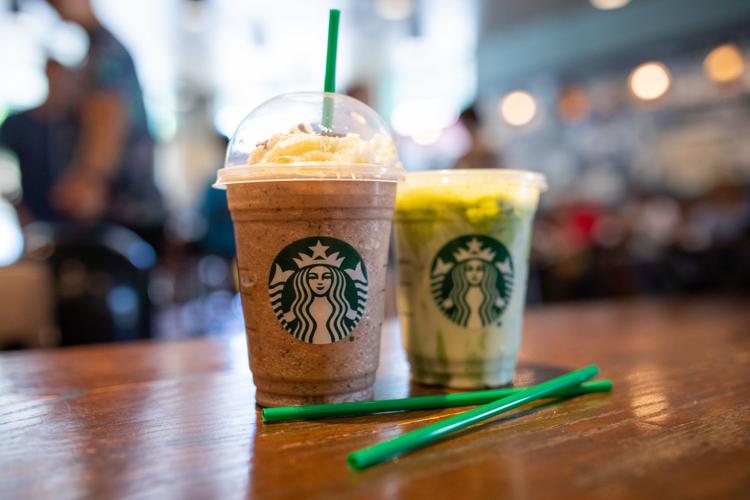 Starbucks is making a move that will alter the look of our usual cup of joe. On July 9, the coffee company announced it will be eliminating single-use plastic straws to move forward their sustainability efforts. To replace them, they are planning to create strawless lids and straws out of alternative materials, like paper.
While the new look may take some getting used to, this change takes a small step towards reducing plastic pollution.  
The problem with plastic
Plastic is a common material seen in everyday items such as bags, water bottles, packages and straws. But, plastic is also one of the main causes of pollution. If not thrown away properly, plastic can find its way to oceans by land run-offs or river transport. According to the U.S. National Park Service, 90 percent of trash floating in the ocean is plastic.
Plastic is not biodegradable, which means that it can take years to break down. Once plastic is discarded into the environment, exposure from the sun breaks up plastic into smaller particles called microplastics.
A report from the NOAA Marine Debris Program states that animals of all sizes can ingest this plastic, and can be exposed to contaminants that the plastic absorbs in the ocean. Once these animals ingest plastic, it spreads to the rest of the food chain which includes humans.
Nicole Chatterson, an Applied Research Sustainability Coordinator for the UH System Office of Sustainability, says single-use items like straws and convenience culture are part of the problem.
"Littering is a big piece of the problem, but more so it's that we don't actually need these products," Chatterson said.
A study in Science Magazine  found that 6,500 metric tons of plastic were produced between 1950 and 2015, yet only 9 percent of that plastic was recycled.
Reducing our society's reliance on plastic continues to be a challenge and it is time to do something.
Circular Solutions 
While Starbucks recently started its push to eliminate plastic, Hawai'i legislators have been taking similar initiatives over the past few years.
Plastic bags have been banned in Hawai'i since 2015, but with some exceptions. Last year, Mayor Kirk Caldwell enforced stricter laws to the plastic bag ban and signed a bill to have a total ban on plastic bags by 2020.
"I think the bans are good," Chatterson said. "But it's not enough without also building out infrastructure on the island to take care of the new materials we're gonna be using."
Chatterson says that in order to further reduce plastic pollution and to promote a sustainable environment, we would have to redesign products with alternative materials and move away from throw-away culture.
"If we want to make something a product, how do we only use resources that are healthy with the ecosystem and human health?" Chatterson said. "Once we're done using that product, how do we make sure it can turn back into something else instead of being conceived of as trash and thrown away?" 
Chatterson also proposes committing to a circular economy. In a circular economy, resources are made, used and recycled throughout an item's lifetime. The goal is to have a product in which its materials can keep being used for a long time. 
Currently, there is no large scale industrial composting facility in Hawai'i. 
Although businesses have to adapt to new changes, they also have to respond to consumer demands as well. Demands that promote sustainability and reducing pollution will have a greater effect in improving the environment.