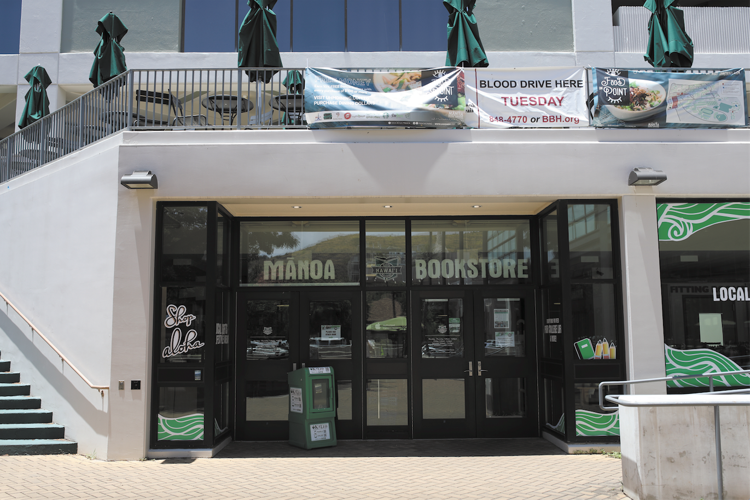 Buying textbooks is one of the many financial obstacles college students face at the beginning of every semester. While many opt for the cheapest option, it is vital to consider all factors when purchasing required course material; buyback programs, shipping costs and convenience. 
Students must explore all available options when it comes to purchasing textbooks to find which choice best suits their preferences. 
Utilizing the UH Mānoa Bookstore
The UH Mānoa Bookstore is located on the first floor of Campus Center. Aside from UH merchandise and other paraphernalia, the store offers a list of required course materials, an online Textbook Price Comparison engine, textbooks available for rent and purchase along with an in-store and online Buyback Program. 
For UH Mānoa sophomore Shailyn Wilson, the online Price Comparison engine is helpful when it comes to figuring out what books are needed and their potential cost. 
"One of the things I like the most about the Online Comparison Tool is that it lists the correct version of the textbook you need for your class (and) the different mediums the books are available in, along with the prices of other websites selling that textbook," Wilson said. 
Prior to coming into the store, students can check for their class materials and compare rent or purchase prices online. Students can either go into the store to purchase their books or order online and pick up in-store. 
Buyback - with not much pay back
The UH Mānoa Bookstore offers Buyback Programs, both in-store and online. The in-store "Buyback Periods" occur six times a year and allows students to sell back their new or used textbooks. Although students can receive money back, "the prices paid for books are dependent on the nationwide demand for each title," according to the UH Mānoa Bookstore website. 
In some cases, the store will not take back books if the course is not being taught the next semester or if a different textbook will be used.
UH Mānoa sophomore Dorian Reyes finds this fact disheartening and mentions that cheaper textbooks would be more convenient. 
"The buyback system does not give you your money's worth on selling your books," Reyes said. "It would be nice if books could be cheaper since we only use them for one semester, anyway." 
The online BuyBack program, which is conducted through the MBS Textbook Exchange, accepts all books year-round. If a student's textbooks are not needed at UH Mānoa, they can still sell it to MBS, who "may still buy it back for another University at the wholesale price," according to the UH Mānoa Bookstore website. 
Wholesale prices are not guaranteed, however, as the site cautions that MBS accepts books "they will need in the future...because its not immediately needed, the price for that book may be lower."
The (book) hunt elsewhere 
UH is not the only place to find and purchase and/or rent textbooks. Online websites such as Chegg.com and BetterWorldBooks.com also allows students to rent or purchase new or used textbooks for their classes.
Another popular site students can use is Amazon. According to Amazon's Textbook Rental Frequently Asked Questions, students "may receive a new or a used textbook, based on availability." All books distributed will be in "acceptable rental condition," based on Amazon's standards. These standards include, but are not limited to, "no water damage, no broken spine or binding" and "no missing, torn, or loose pages."
Rental periods are affected by textbook availability and usually lasts for six months. If needed, rental periods can be extended and books that were rented can be purchased. Shipping for rent returns is free. 
Students can also purchase new or used physical copies of their course material, along with an eTextbook purchase or rental option. Amazon states that students can trade in their textbooks at the end the semester and "get up to 80 percent of their value in an Amazon Gift Card." If unsatisfied, students have 30 days to return their books (given that their order was fulfilled by Amazon). 
While standard shipping rates apply, students are able to partake in free two-day shipping when they join "Prime Student," which is half the price of "Amazon Prime," along with a six-month free trial. 
While she believes ordering from other sources is convenient and can be the cheaper option, Au cautions that there are risks students need to take if they decide to order from other places. 
"Ordering textbooks from other sources is extremely convenient, especially if the prices challenge that of which is offered at the bookstore. However, with other sources, students have to make sure their timing is right to assure getting the textbook in the first place, getting it on time, and being sure it is of useable condition, but those are risks that are taken with anything ordered from outside sources," Au said. 
The answer is in the books - somewhat 
It is an undeniable fact that students have different options to choose from when looking to purchase their textbooks. While both UH Mānoa Bookstore and online sites like Amazon offer similar services, there are advantages and disadvantages for both, many of which are subjective, depending on one's perspective. 
For this reason, answering the question of "where to buy textbooks" is not easy. 
When purchasing or renting textbooks, it is vital that students explore all options available for them, determine the pros and cons of each choice and decide which option to go with based on their preference and financial capacity.