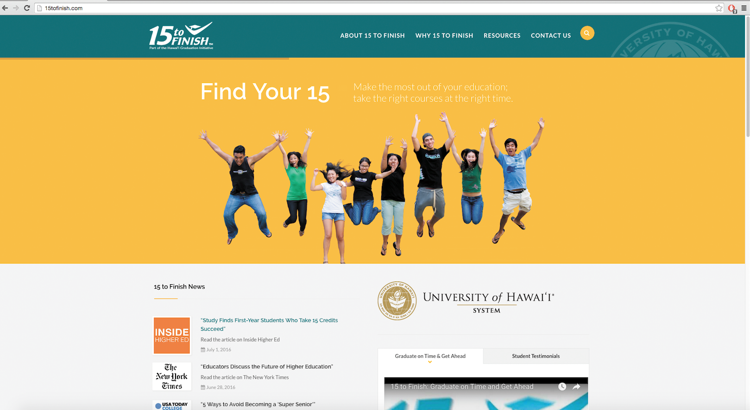 "15 to Finish" is a University of Hawai'i campaign that encourages students to take 15 credits a semester, putting them on track to graduate on time.
According to the 15 to Finish website, the campaign was launched at the University of Hawai'i in 2012 as part of the Hawai'i Graduation Initiative and has been implemented by seven states at scale as well as 120 institutions nationwide. In 2017, an additional seven states have committed to launching the campaign.
The idea of graduating "on time" is not a reality for some students. Students who take the minimum 12 credits a semester are considered "full-time" students, but are unable to graduate in the designated four-year time frame by falling short of graduation credit requirements.
According to Forbes, taking 12 credits a semester may actually delay obtaining a degree to five years of enrollment; additionally, tuition and higher living expenses as well as "life getting in the way" may further prevent degree completion.
Associate Vice President for Academic Programs and Policy Debora Halbert states that there has been a "huge" increase in graduation rates within the last 10 years at UH Mānoa as the campus began to implement strategies similar to the 15 to Finish campaign. 
According to the Hawai'i Graduation Initiative, the graduation rate has improved from 34 percent in 2012 to 62 percent in 2017.
"We've done other things like implementing the 4 Year Program sheet which gets students thinking about what classes to take, academic advising, mandatory advising, etc., to help students stay on track," Halbert said.
According to the 15 to Finish website, on average, Hawai'i residents who obtain a bachelor's degree earn more than $61,000 per year, compared to the average annual salary of $33,000 for Hawai'i residents who finished high school but did not earn a degree.
However, the 15 to Finish campaign is not praised by all students, especially those who find it difficult to complete the campaign due to financial struggles or work obligations.
"I can see why they would want people to finish in four years but it can put stress on the student especially with the gen ed requirements depending on your major," Dax Shizuru, a sixth year communications senior, said.
Shizuru states that during his time at the university, he did not follow the campaign because as a working student, he had a hard time trying to find classes that worked around his job's schedule. Additionally, his uncertain academic goals made it difficult to figure out what classes to take.
"I didn't have a set plan for a major and I knew many people that were over halfway in their major and decided to go different routes so I took my time to decide, even though I declared really late in my schooling," Shizuru said.
According to Halbert, switching majors later would delay graduation as the student will have to start taking classes in an entirely new major.
Lauren Loualhati, a  graduate student in education, also said that the campaign is not for all majors, particularly students who are pursuing a degree in STEM.
While obtaining her bachelor's degree in public health, Loualhati took more than 15 credits a semester due to additional classes. 
"One semester I had to take 18 credits due to my microbiology lab which was 2 credits and the lecture was 3 credits, so that was 5 credits additional to the 13 credits that I had already planned with my advisor when I declared," Loualhati said.
Loualhati said the full course load took a toll on her mentally and physically, with her having to retake a few courses over the years.
Students like Shizuru and Loualhati feel that the campaign is not for everyone because people learn differently and have different circumstances in their lives.
Those who still want to follow the 15 to Finish campaign might consider finding an on-campus job that will accommodate their class schedule or  finding a required course that is available online to prevent time conflicts with other required classes. Students unable to take 15 credits a semester may also look into enrolling in summer school within the academic year to stay on track.
For individuals unable to keep up with the 15 credits a semester, Halbert stresses that it is fine if students are unable to graduate within the ideal four years, because the main goal for the campaign is to encourage students to graduate.
"What we want to do is make sure we're not putting up any barriers that keep students who are taking 15 credits every semester and coming to class every semester from graduating in four years," Halbert said.