Poke is a local staple in Hawai'i, so it would seem strange for the University of Hawai'i at Mānoa to be without a dedicated poke spot on campus. 
Poke lovers can rest easy now as Ono Seafood Poke Bowl Patrol is one of the newest food trucks at the UH Mānoa campus. This is all part of UH Food Services' recent efforts to provide students with more options for eating.
In a recent survey they conducted, Food Services found that many students lack the time to venture off campus for alternative eating options. To that end, Beth Lehman, Food Services assistant manager, announced that they would be introducing four new food truck vendors to campus.  
But with space being so scarce on campus for food trucks, food services had to be discerning in their selection process to ensure the quality of potential vendors.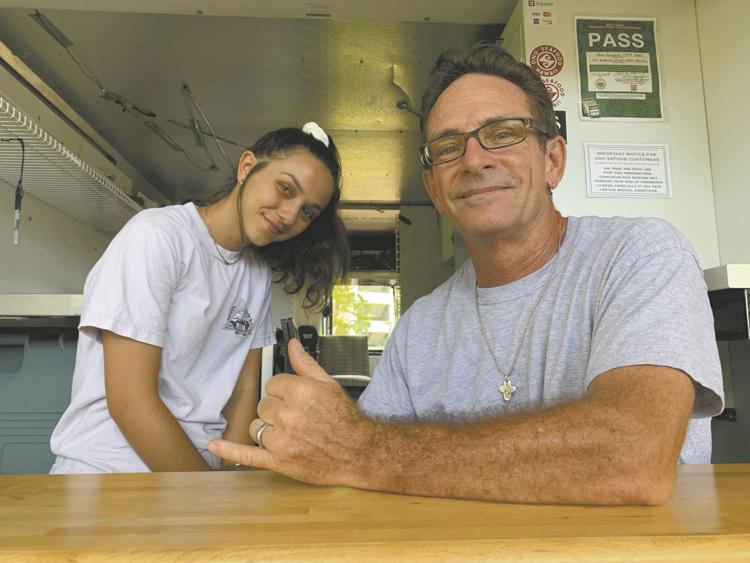 "Beth Lehman was the point of contact, she's great to work with. Made it pretty seamless as far as submitting the information, the menus, just getting the dialogue going," Lance Brug, co-owner of Ono Seafood, said.  
"(Beth) looked at our program and our presentation to be fresh poke vendors was something new for the campus. To bring these services to campus, it's a no-brainer, the students need it.  And so for entrepreneurs like myself, its an excellent deal. You know, we're pleased to be here," he said.
While this is Ono Seafood's first time at UH Mānoa, long-time patrons will know that they have been providing locals with fresh poke since 1995 from its main store location in Kapahulu. For Brug, he is pleased to have the opportunity to share his family's tradition of fresh poke with the student body of Mānoa.
"So a lot of the local students here on campus already know Ono Seafood Kapahulu, the truck just makes it convenient. Right here on Krauss circle, it's a match made in heaven," Brug said. "UH is proving itself to be really good because it's a high density of students, everybody's hungry, everybody's liking to eat a little bit more healthy these days. It's working out really, really well."
One of the things that Ono Seafood prides itself on is the freshness of its poke. 
For Brug, the quality of Ono Seafood's poke has always been something ensured by a "rock solid" process developed by his family over the generations.
"I would defer that to my mother-in-law again; 25 years in the poke business is a long time," Brug said. "As far as poke, there's a lot of stuff that's trended through the nation and through the world in the past two or three years. For us it's something that's been happening for a long time. So I like to tell people, we're a tradition in poke, not a trend."
And this tradition of working in the poke business is something that Brug has shared with his daughter Tehani, who now helps run the Poke Bowl Patrol truck with her father.
"It's cool. Before most kids, I was already working at 13. I got to learn business and entrepreneurship skills," Tehani said.
"Yeah, she would work the front-end at the farmers market. So she would handle all the orders and payment processing and her mother and I would be in the back putting orders together and preparing the poke," Brug added.
Since the semester has begun, business has been good for Brug and his daughter as their family's fresh ahi has resonated with students looking to get their poke fix. By Brug's estimates, it seems that so far spicy ahi has been Mānoa's fan favorite. 
"I've had a line from here all the way to that rock wall over there and 80-90% of that's going to be for the spicy poke bowl," he said.
As far as secret recipes for sauces go, Brug said that you would have to direct that question to his mother-in-law who is the proprietor of the concoctions.
When asked if the truck ever runs out of poke, Brug said it is their goal. 
"My goal is basically every day to run out of fish. We're still trying to break the code with the UH community but the goal is to empty the truck every day. But spicy ahi, hands down is the millennial poke madness. Everybody goes spicy," Brug said. 
Aside from their popular spicy and shoyu ahi poke, Ono Seafood has other options from wasabi ahi poke to tako poke. And for those that want a bit of everything, customers can also choose two different styles of poke for one bowl. 
Ono Seafood is located next to Krauss Hall across from the Campus Center. They are open on Monday, Tuesday, Thursday and Friday from 10 a.m. to 2 p.m.