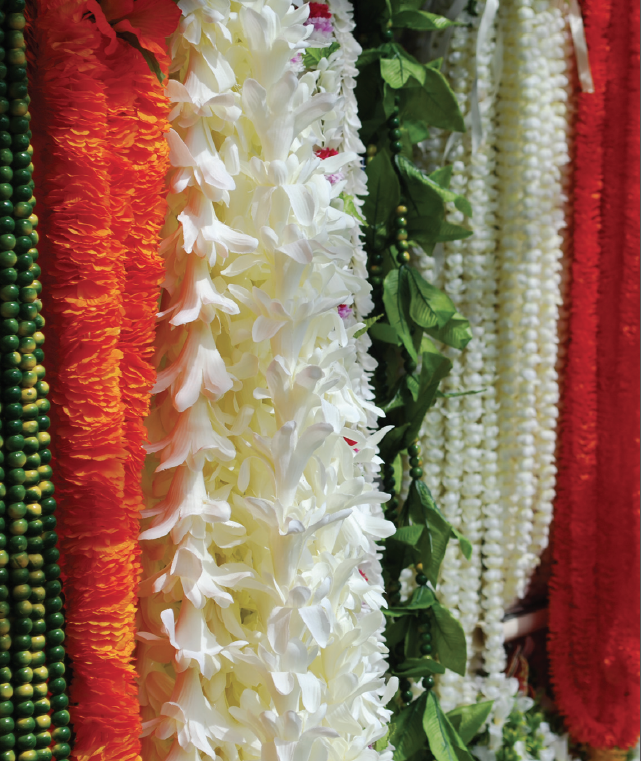 Lei or leis? The Hawaiian language does not distinguish between singular and plural, so the proper way to say lei in plural form is "lei." 
The custom of lei giving is a Hawaiian tradition that has been perpetuated by Kanaka Maoli and residents of Hawai'i. The origin of lei making derives from the arrival of Polynesian voyagers that navigated to the islands using the stars. For many cultures in Polynesia, gods were honored by twining greens into wreaths and adorning their own bodies with strings on flowers in vines. 
Hawaiihistory.org shares that lei throughout the settlement period (roughly 750 AD to the 1300s) were very similar. Several types were temporarily fragrant such as maile and hala. Others include non-perishable lei such as lei niho palaoa (whale or walrus bone), lei pūpū (shell) and hulu manu (feather). The site adds, "After long ocean voyages ceased and Hawaiians entered a period of cultural isolation (1300s-1778), they developed a richer variety of lei than anywhere else in Polynesia. In a lifestyle that fused ritual and nature with every aspect of daily life, lei were a ubiquitous ornament worn during any type of work activity, celebration or rite, by maka'ainana (commoners) as well as ali'i (chiefs)."
In ancient Hawai'i, wearing a lei indicated one's wealth, rank or royalty. Lei were also associated with hula, religion and geography. The Hawaiian Lei Company claims on their website that most Hawaiians preferred the maile lei, a leafy vine made with fragrant spicy-sweet leaves that is draped around the neck open-ended to the waist. In contrast, Hawaiian chieftains fancied the fiery and vibrant colors of the ilima lei, a thin orange blossom that requires hundreds of flowers to make a single lei strand. 
The Hawaiian Lei Company notes, "Hawaiian Princess Ka'iulani's favorite lei was the Pikake—named after the peacocks in her garden—for the heavenly white blossoms and sweet jasmine fragrance."
Today, lei giving is a symbol of aloha. Lei are everywhere in Hawai'i: graduations, parties, dances, weddings and even workplaces. In other words, a lei is a symbol of love, friendship, celebration, honor or greeting. A lot of effort and care is involved in gathering materials for a lei. As the materials are fashioned into a lei, the mana, or spirit, of the creator of the lei is woven in. Thus, giving a lei is the equivalent of giving a part of you and vice versa. When receiving a lei, you are receiving a part of the lei creator. 
Hawai'i consists of eight major islands and each island has its respective lei which represents the harmony of texture and color of the island.
Since lei giving acts as a modern day custom, lei can be worn, received or given for any occasion. A lei can also be worn for adornment to admire the beautiful fragrance from the flowers, embracing the aloha spirit that surrounds. 
In terms of etiquette, lei should always be accepted with gratitude and a kiss on the cheek or hug. If you are allergic to any of the flowers in the lei, be discreet to slip it off so as not to offend the person who gave you the lei. It is acceptable and a kind gesture to offer it to your spouse if you cannot wear the lei. 
Most importantly, a kapu (taboo) that should never be committed is giving a pregnant woman a closed or tied lei because it is believed that it is bad luck for the unborn child. However, head haku and open-ended leis are acceptable to give to pregnant women.