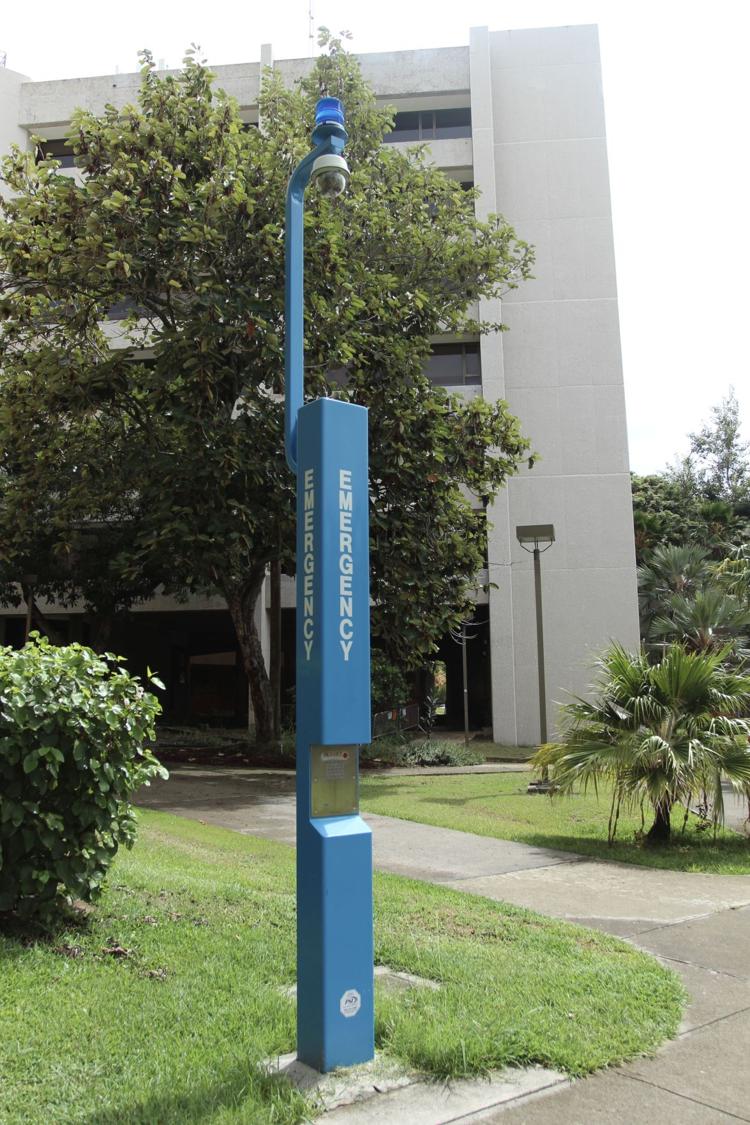 The University of Hawai'i at Mānoa Department of Public Safety works around the clock to keep the community secure. DPS has a team of dispatchers and a variety of resources to guide students around campus safely. 
For emergencies
In the case of an emergency, always dial 911. Also located on the UH Mānoa campus are Emergency Call Boxes, implemented by DPS in the 1880s. There are 74 ECB's around campus that can be easily identified by their prominent blue paint. When a student presses the red button located on the box, they can relay the situation to a dispatcher, who is automatically notified of the user's location.
"DPS response to ECB calls is consistent with any other incident on campus.  The dispatcher takes a call and sends an officer or officers to respond to the location of the ECB - we can tell which ECB is calling us even if the person on the other end of the line is unable to speak," DPS spokesperson Sarah Rice said in an email interview.
Keeping students safe on the go 
DPS makes its services easy to access for students and faculty through calling its main line, (808) 956-6911. Another available resource that DPS provides is the Safety Escort Service. By dialing the escort line (808) 956-SAFE (7233), a DPS dispatcher will help users get to their designated location at any time of day. Safety Escort services can also be reached through the extension x67233 from campus phones, or (808) 586-3015 for the John A. Burns School of Medicine and UH Cancer Center locations. 
The Manoa Guardian, a free app for UH Mānoa students, was implemented in April 2015, which students can use to report an incident anywhere on campus. Some of the features include a call directory where students can access UH Mānoa policies and the Emergency Response Callbook and a safety timer feature, the highlight of the app. 
"If you are walking alone on campus, you can set the timer for the amount of time it takes you to reach your destination, and then deactivate it when you arrive. If the timer expires before you deactivate it, DPS is notified immediately and we can send help to the location of the phone.  This feature is very helpful because it means that students don't have to wait for a safety escort - they can just use their phone. We have a lot of students who use it for situations where a safety escort might not work - like waiting for the bus or waiting for a friend to meet them," Rice states. 
Extended resources 
From learning how to combat an active shooter on campus to hurricane preparedness, DPS also offers workshops and training sessions for the UH Mānoa community. Safety and wellness and first aid/CPR/AED certification training are among the other services provided. These workshops, according to its 2018 Annual Security and Fire Safety Report, are conducted by the UHM DPS Community Policing Unit. 
DPS is currently working on a project to replace older ECB's with newer ones to improve functionality. 
"While the overall number of call boxes will be reduced, there are some new locations we are adding so that the layout and distance between units makes more sense and is more cost-effective. Technology has definitely impacted this decision, as most students own cell phones and opt to use those in favor of landlines. However, we still feel that ECBs have a use on campus, and we see value in keeping them on campus, as long as they are in good condition and can be useful to the community," Rice added.
Program information, including extra tips and resources on various safety issues, can be found on at manoa.hawaii.edu/dps/.