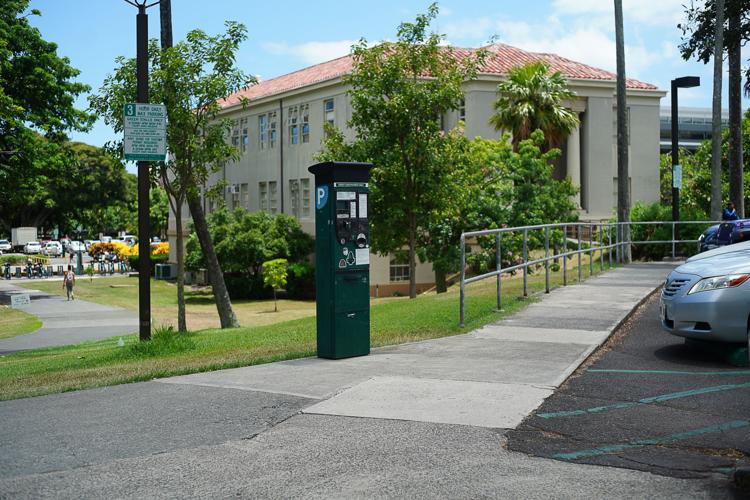 The University of Hawai'i at Mānoa is trying to improve the ways students get to campus with new initiatives. 
"In the next few years we hope to roll out a technology upgrade, making our operations more efficient and thereby keeping cost down," Ryan Fujii, Commuter Services operation manager, said. 
Car
According to Commuter Services, UH Mānoa's peak parking demand is from 7 a.m. to noon. There are numerous areas where students can park: Zone 20 (Lower Campus Parking Structure), Dole Street Parking Structure, next to Hawaiian Studies and other upper campus parking lots. 
Visitor parking varies, depending on the location on campus. On weekdays from 5 a.m. to 4 p.m. at Zone 20, it is $5. 
Each semester, parking permits are also available for purchase. For students, it is $166 starting this fall.
Bus
UH students who have paid their tuition and fees qualify for a U-Pass, which allows for unlimited rides on the city bus for the whole semester. The U-Pass is a sticker that is placed on a student's Mānoa One Card, and is a mandatory $50 fee. 
Routes serving the UH Mānoa campus include: 4, 6, 13, 18, express routes A, 80A, 85, 85A, 90 and 94.
For those who use TheBus as their daily commute, DaBus2 App, which is available on Google Play or the App Store, allows you to view real-time schedules and arrival times of the buses.
Rainbow Shuttle
The Rainbow Shuttle is a free service provided to UH Mānoa students, faculty, staff and visitors. Shuttles are air-conditioned and seat 28 passengers. The shuttle system consists of multiple routes, which travel through the campus and the neighboring area, including some off-campus parking locations. 
The shuttle runs during the fall and spring semesters, Monday through Friday during the day and some evening hours. To view arrival times, download the UHM Shuttle app on Google Play or the App Store.
Bike
UH Mānoa has over 50 bike rack locations around campus. For those who live farther from campus, Commuter Services encourages students to combine a bus and bike commute. Each city bus is equipped to carry two bikes. 
Commuter Services also offers free secure bike cage parking for cyclists and moped drivers. Only registered UH students are allowed card-access entry to the cage, which is located in the Zone 20 parking structure next to the Stan Sheriff Center.
Biki
UH Mānoa's newest commuting option, which recently came to campus in December 2018, is Biki. Biki is Honolulu's bikeshare program that offers 130 self-service stops from Iwilei to Diamond Head and 1,300 Biki bikes. 
The bikeshare program has six sites on the UH Mānoa campus.