Surf spots: A beginner's guide to surfing on O'ahu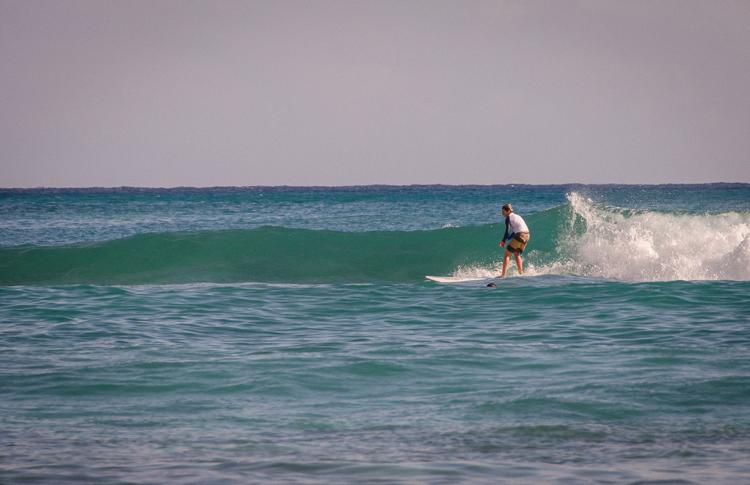 If you grew up watching Tito in "Rocket Power," you may remember some of his eccentric sayings like, "Just because you can afford the modern longboard, doesn't mean you can honor the moving water."
But those words do hold weight here in Hawai'i – one of the top surfing destinations in the world. Experienced surfers, especially locals, tend to get aggressive over their territory, but that is to be expected anywhere that has a surfing community like O'ahu.
So where exactly can beginners go to learn to surf without being mistaken for a kook? Here are a few places:
Canoes 
Directly across the Duke Kahanamoku Statue on Kalākaua Avenue, Canoes is a popular attraction for tourists and for longboarders looking for party waves. Because of the nature of Waikīkī, this surf spot tends to be crowded with both beginners and more advanced surfers competing for priority over the waves. However, this spot has consistent waves over reef and coral with a swell that is normally 1 to 3 feet working up to 10 feet when the winter swells kick in. 
Ala Moana Courts
If you're not too fond of the traffic at Canoes, Ala Moana Courts can become the go-to instead. The break is located across from the tennis courts at Ala Moana Beach Park. Next to it is Concessions, where more experienced boarders paddle to. Like Canoes, Courts is also over reef and coral, which gives the waves some decent rights and lefts. The swell is normally 2 to 4 feet working up to 5 feet at the most. It can get crowded during dawn patrol but if you get lucky, bring your board out and enjoy the break.
White Plains 
The west side of O'ahu can be a far drive, but if you're looking to for out-of-town surf spots, White Plains has decent sets for beginners, although the waves do not have much power. At the most, the swell goes up to 6 feet but regularly peaks at 1 to 2 feet year-round. Because White Plains is a popular destination for families and military, the break crowds easily. However, the sets are easy, party waves that beginners can learn to maneuver on. 
Getting in the water 
When choosing a surfboard, beginners should start off with a longboard before moving to anything shorter. The longer and thicker the board, the easier it will be to ride a wave. Longboards are usually 8 to 9 feet in height and can be bought brand-new and used in different surf shops or on Craigslist. The university also offers surfboard rentals through its Student Recreation Services.
Besides choosing a spot and a surfboard, the number one thing beginners have to remember is surf etiquette. For many experienced, local surfers in the water, respect goes a long way. Be honest with your abilities and be willing to learn through observation and sometimes, correction. Understanding certain unwritten rules such as wave priority, placement, and lineups will help you become a better and more respected surfer in the water. Also, all the uncles will soon begin to understand that you're just a beginner and probably extend their own share of grace as well.
At the end of the day, surfing is all about having fun in the water and while at it, respecting the environment around you.