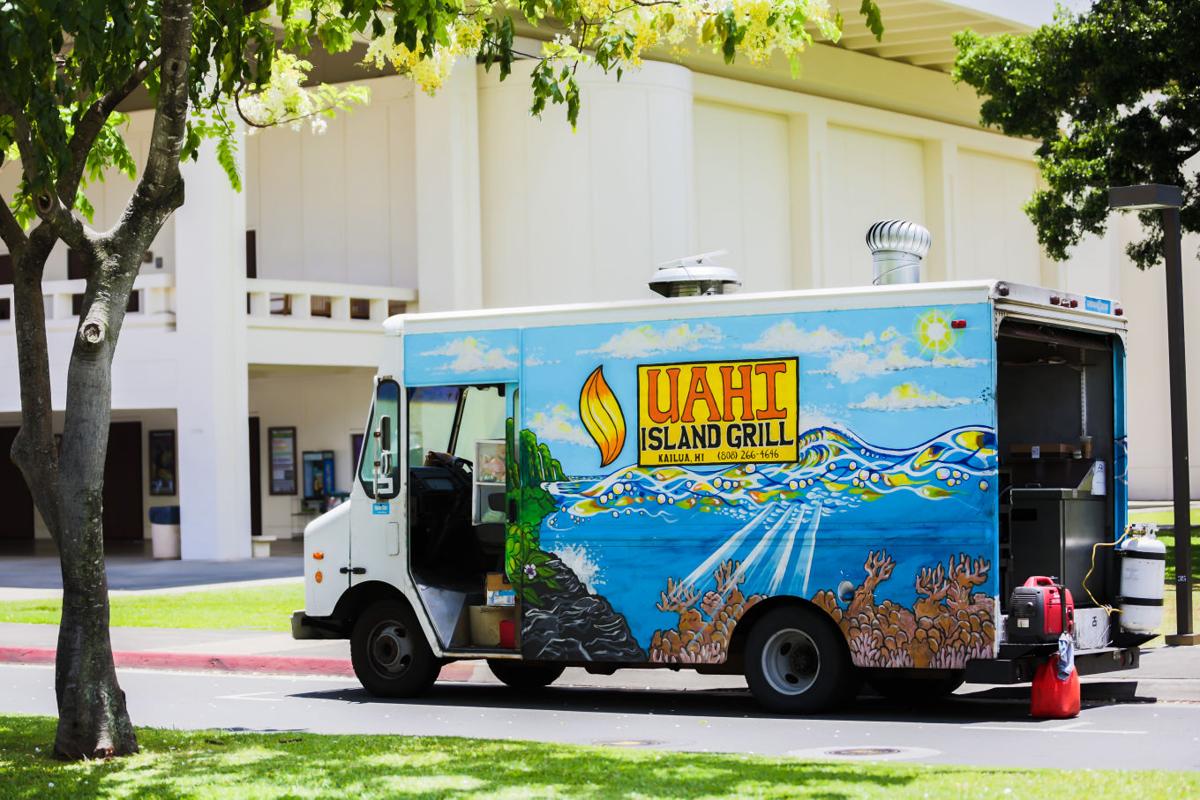 The lines at Campus Center, Ba-Le and Paradise Palms can get unbearably long at lunch time. Try these locally owned food trucks, wagons and stands located across campus.
Da Spot
Many choose to turn over a healthy leaf in college and start dieting. With an all-vegan menu, Da Spot can help. The cuisine has Hawaiian, Egyptian, Mediterranean, European and Asian influences. Only three types of dishes are offered a day, but these rotate daily. Da Spot is handy for filling the tummy on the go, serving 15 varieties of smoothies and the option to customize your own from their ingredients selection. 
Location: Sustainability Courtyard
Hours: Mon.-Fri. 8:30 a.m. - 3 p.m. 
Price: $4-$10
The Curb
Not able to stay awake during your early morning study session in Sinclair Library? Your espresso awaits you on the first floor. Also try out the location's mochas, cappuccinos, coffees, teas and pastries. The line is never close to the size of Campus Center's Starbucks, although the hours aren't convenient for late-night studiers. There's another location at Paradise Palms if you find yourself on the other side of campus. 
Location: Sinclair Library
Hours: Mon.-Fri. 7 a.m. - 2 p.m. 
Price: $2-$6
Laverne's Lunch Wagon
Laverne's food truck excels in serving simple, classic local food. If you're new to the island, this is the place to go to taste the authentic cuisine that locals were raised on. The squid luau, poi and lau lau await adventurous souls, while items like beef stew and mahi mahi with garlic butter caper sauce are available for those who want to taste more familiar cuisine. The truck also offers the option to mix two half-portions of entrees together.
Location: Outside Krauss Hall
Hours: Mon.-Fri. 10 a.m. - 2 p.m.
Price: $3-$12
The Blue Truck Teppanyaki
This food truck serves food you would find at a Japanese steakhouse, minus the knife tricks and hefty price. It doesn't have the healthiest food on campus, but it has some of the biggest portion sizes. Small stomach? This truck offers mini-plates. Steak, garlic chicken, shrimp, fish or vegetarian options are available, and sides normally include rice, corn, grilled onions and zucchini.
Location: Across the street from the Architecture Building.
Hours: Varied. Mon.-Fri., Sun. 
Usually parked/opened by 4 p.m. 
Price: $5-13
Le Crêpe Café
Law students may be the most frequent consumers of these crêpes on the campus, as this stand is the only eatery near the law building and library. The menu has savory (e.g. mozzarella and turkey) and sweet (e.g. Nutella) crêpes often made with fresh, organic ingredients. The stand also serves sandwiches, salads, French Roasts and espressos.
Location: Outside Richardson Law School
Hours: Mon.-Fri. 8 a.m. - 2 p.m.
Price: $4-$7.50
Verde Burrito Stand
Verde packs tortillas fat with rice, pinto beans, lettuce, pico de gallo, salsa and marinated meats or soyrizo (vegetarian sausage). Extras like guacamole and sour cream can also be added for a few extra quarters. These burritos are massive, so no sides are offered. Order your burrito deconstructed in a bowl for an impromptu salad.
Location: Saunders Hall, first floor
Hours: Mon.-Fri. 8 a.m. - 2 p.m. 
Price: $7-$9
Serg's Mexican Kitchen
Serg's near Manoa Marketplace is a hot destination for Taco Tuesdays, thanks to its close proximity to campus. Now Serg's food is even more accessible with the opening of its food wagon on campus. Grab flautas, tacos, chimichangas, burritos and more Mexican classics on the way to class. Beans and rice are also offered as side items or ala carte.
Location: Behind Holmes Hall
Hours: Mon.-Fri. 10 a.m. - 2 p.m.
Price: $5-$10
Uahi Island Grill
This food truck takes classic local dishes and adds contemporary spins. The truck serves plate lunches like kalua pig with kale and furikake tofu with garlic teriyaki sauce, as well as sandwiches and salads. The truck strives to be local first with all ingredients, serving fresh fish and Hawai'i Island grass-fed beef.
Location: In front of Kennedy Theatre
Hours: Mon.-Fri. 10 a.m. - 2 p.m.
Price: $7-$13