People often look into their family histories, drawn by the question of identity and belonging. Taylor Johnson, a senior in the BFA of print media program, finds her answers through art.
"I intend for my work to evoke a somber sense of nostalgia in my viewers," Johnson said. "I'm trying to recreate the familiar space of a family home."
In her work, Johnson compares human-made structures with those left behind by animals. She takes images borrowed from old photographs, mostly from 1940s and '50s family albums, and combines them with different dwellings, moths and birds.
"I'm fascinated by how elements of each of these places can be pieced together to form a more collective idea of 'home,' even if the resulting location is completely fictional," she said. "They reflect on ideals of close family ties, the perfect domestic home, and a closer connection with nature. The moths and birds—both of which experience short life spans—suggest the fleeting nature of these memories. I'm especially interested in how memory is tied to place."
Johnson grew up on Maui but has family roots in Wisconsin and Norway and uses images that represent homes and families from those personally significant locations.
Johnson has always been interested in location and explored this through a method called relief printmaking. Before finding her place in lithography and the idea of home, she explored "how symbols of digital imaging can be imitated by the handmade mark" through imagery of "rock formations, topographical maps, and aerial views."
Now she works in lithography, a method using a flat slab of limestone which she draws on using a lithographic crayon. The stone is rolled over with an oil-based ink and sponged with water. The image area, which attracts grease, retains the ink while the rest of the wet stone resists the ink and remains clear. This process is repeated until the stone is properly covered and the image is then printed on paper as it is run through a press. Her prints will be shown in the upcoming BFA showcase.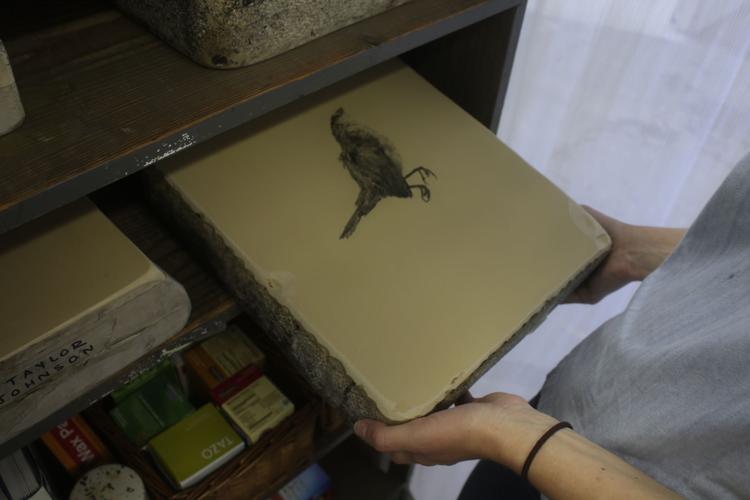 "I'm thankful to have this opportunity to show my work," said Johnson. "Being in the BFA program here has pushed my work so much further than I expected and it's exciting to have such talented artists working alongside me."
Taylor Johnson had an early exposure to art and strong support from her family.
"My mom and dad kept me fully stocked with supplies and enrolled me in extracurricular art classes from a young age," she said. "There's never been a doubt that I would pursue art as a career."
She began exploring printmaking in high school, continued pursuing the medium at the University of Hawaiʻi Maui College, and got serious about a career in printmaking when she came to the Mānoa campus and got involved with the printmakers on Oʻahu.
"The community of printmakers here is so strong and I realized that this communal aspect of art-making was really important to me," Johnson said. "Art has become so much more of a lifestyle for me."
After receiving her BFA, Johnson hopes to enroll in a graduate program at the University of Wisconsin in Madison to further her work.
"I would like to keep exhibiting work," she said, "but I'm also interested in teaching art courses and working with local print collectives."