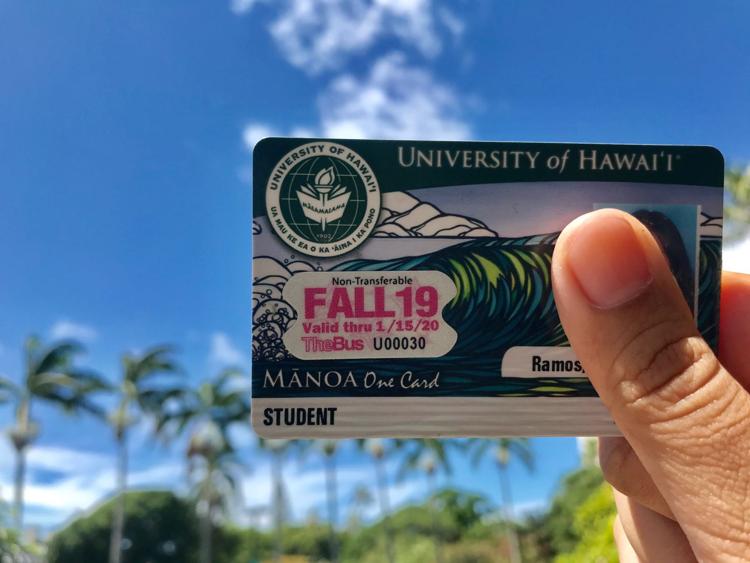 All new and incoming University of Hawaiʻi at Mānoa students, faculty and staff receive an identification card, known as the "Mānoa One Card." Having the card provides students with access to certain university privileges and benefits depending on their enrollment status. Some stores and restaurants also give discounts if students show a form of college ID such as the Mānoa One Card.
How to get your card
All students will obtain their Mānoa One Card at the Campus Center Ticket, Information and ID Office after they have registered for classes at the university and established a UH email account. For most students, they will do this during new student orientation. Students must clear any holds or financial obligations to use the ID card in its fullest capacity. The first card is free, while replacing a lost or damaged card costs $25. 
One of the following forms of identification is required to be issued a Mānoa One Card:
A valid State-issued driver's license with photo.
A valid State-issued photo ID card
A valid passport with photo
A valid military ID card
Students who are enrolled in regular credits at the university and are degree seeking are qualified to receive a card and will be eligible for privileges associated with the account. Students who are not degree seeking and are taking non-credit classes, certification programs or non-regular programs will receive an ID card with an expiration date. 
Using your card
Depending on the category and fees associated with your account, your Mānoa One Card may be used for the following:
Campus Center
Discounts on services at the Ticket, Information & ID Office include:
Movie Passes

Athletic event tickets

Concert Tickets

Kennedy Theater Admission

Outreach College

Orvis Auditorium Admission

Discounts on Passport Photo, Fax and Lamination services
Campus Center Computer Lab
Discounts for Leisure Center Programs and Activities to include:
Equipment Rentals & Leisure Classes
Student event access privileges
Warrior Recreation Center
Dining Services
Use the Mānoa One Card for contactless Meal Plan and Dining Dollars transactions at Mānoa Dining Services locations. Visit the Mānoa Dining Services website for hours and locations: http://www.uhmdining.com/
Athletic Complex
Participation in UH Mānoa Intramural and Sports Programs to include:

Equipment rentals

Student Fitness Center access

Duke Kahanamoku Swimming Pool access

Klum Gym access

Tennis Courts access

Discounted tickets to athletic events
Hamilton and Sinclair Libraries
Borrowing privileges

Study Room Reservations

Computer Lab Privileges

Wong Audio-Visual Center Privileges
Other
Use of Moore Hall Language Labs

Unit Mastery Course Labs

Student UPASS

Software Discounts at the Bookstore

Various off-campus merchant discounts
Office Hours and Location
Monday through Friday
8:30 a.m - 4:30 p.m.
Campus Center 212
Phone: (808) 956-7236
Email: manoa.onecard@hawaii.edu