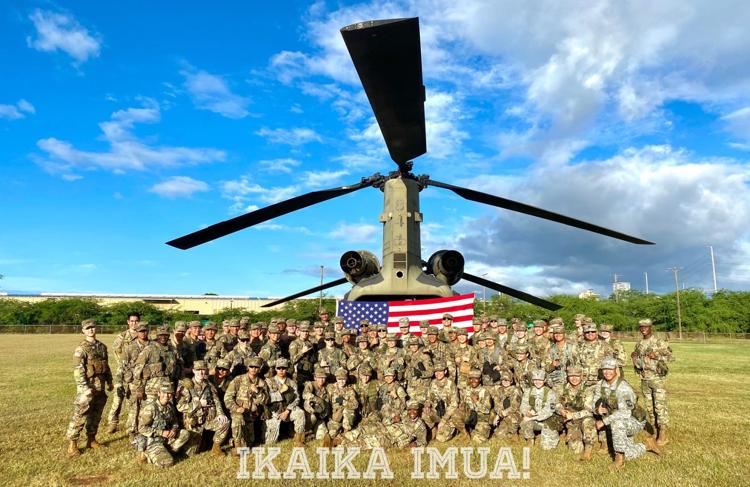 Former JROTC cadets, enlisted soldiers and those who are interested in learning more about or establishing a career in the military can find their stations with the University of Hawaiʻi at Mānoa Army Reserve Officer Training Corps (ROTC) program. 
Founded in 1914, the UH Mānoa Army ROTC program "recruits, trains and develops leaders of character to serve the Nation as Commissioned Officers in the U.S. Army; additionally, motivates young people to be better citizens committed to life-long service to the community," according to its official Facebook page. Stated on the program's official website, cadets "have gone on to serve with distinction in the United States Government, Hawaii State Government, and the United States Army." 
Meeting in formation 
According to the UHM Army ROTC website, military instruction began during World War 1, when the War Department authorized a Student Army Training Corps. In the fall of 1919, students formed an infantry company with hopes to qualify "for the newly instituted National ROTC program." Due to not meeting the 100-man strength requirement, the group was not authorized until October 1921. In 1924, the men who completed four years of ROTC training were commissioned into the United States Army Reserve. The UHM ROTC program also played a pivotal role in World War 2, as "UH was the only senior ROTC unit in the US and its territories to be called to active duty and serve." 
Over the years, changes meant to improve the quality of the program were made. For example, in 1965, the ROTC program began to be offered on a voluntary basis. Moreover, the Revitalization Act of 1964 allowed students who could not enroll as freshman to join as juniors. Students from Chaminade University were able to join the UHM ROTC program, an option that was later extended to Brigham-Young University-Hawaii students in 1971. 
Education and ruck marches
As stated on their official website, the program "provides full-time college students the opportunity to pursue a commission in the U.S. Army, U.S. Army Reserve, or the Hawai'i Army National Guard." Four-year, three-year and two-year programs are available. 
Enrolling in these programs does not automatically mean you will be in the military. Freshman and sophomores are able to take courses without obligation of service to the military. Juniors are required to contract into the Army. 
The four-year program is broken into two parts: two years of the basic course and two years of the advanced course. The basic course, tailored toward those who enroll in ROTC as freshman, consist of electives. Sophomores who decide to join may do so with approval and complete a compressed version of basic course classes. The basic course allows cadets to experience a "moderately paced course of military and academic training." Completion of the ROTC program will make them eligible for a commission once they graduate. 
The advanced course requires cadets to attend a month-long summer camp at Fort Knox in Kentucky. To be eligible for the advanced course, a student must be a U.S. citizen or U.S. national, have completed the basic course or an equivalent, and meet other "statutory and regulatory requirements." Cadets in this course are paid $450 to $500 per month during the academic year, and are given $900 and free room and board while at camp. Students can enroll in the two-year advanced course without taking the basic course by completing a four-week summer camp, also at Fort Knox. They receive about $600. 
Additionally, veterans, three-year JROTC graduates, national guardsmen and reserves may be exempt from taking the basic course. 
Enlisted soldiers can also join through the "Green to Gold" program, which, according to goarmy.com, allows them to pursue "a baccalaureate or graduate degree and earning a commission as an Army Officer."
Those who seek to become an officer in the Army Reserves or the Hawai'i National Guard can participate and receive drill pay as a trainee while completing the Army ROTC advanced course. This includes monthly ROTC spending allowances and any GI Bill educational benefits they are allowed. 
Scholarships offered by the Army ROTC program are merit-based and cover full tuition and fees for any university on the island. According to their official website, "scholarships provide $1,200 per year for books and an additional $300-$500 per month spending allowance." High school seniors can apply for four-year scholarships by Jan. 10, while three and two-year scholarships can be applied for once a cadet is in the ROTC program. 
Being a Warrior Battalion Cadet
Cadets in the ROTC program balance schoolwork and training in leadership and soldiering. Activities include physical training three times a week, which is used to prepare them for the Army Physical Fitness Test (APFT). They also partake in five to seven-mile ruck marches in full combat gear, as well as Beach PT, held in Waikiki. 
Students are also able to participate in Color Guard, the Ranger Challenge, Air Assault School, Airborne School, "Push-Up Squad," and the Cultural Understanding and Leadership Program, along with other volunteer opportunities. 
Samantha Smith is in her master's program in Human Resource Management at Hawaiʻi Pacific University. Originally from Tennessee, she is a MSIV cadet, or a fourth-year student, in the ROTC program and enrolled through the "Green to Gold" program. 
She said her decision to join came after hearing of the program's stellar reputation among enlisted soldiers. 
"Rumor flies around fast within the Army of which universities have a good reputation and which ones don't. The University of Hawaiʻi has an outstanding reputation among graduating lieutenants for producing quality officers," Smith said. 
Unlike Smith, junior and political science major Jin Kim found herself avoiding the program at first. 
"I was trying to avoid coming to this program because of the background I grew up in; I didn't have the most positive perspective on the military," Kim said. "But my Mom kept pushing me in high school because she knew I would match it and she knew that this was the way I needed to succeed in life."
After a change of heart and learning more about the program, Kim enrolled in ROTC courses and has plans to "continue to the end." 
Senior and political science major Stephenie Rivera found herself following her older brothers' footsteps when she came to UHM and joined the ROTC program. Since joining, she has received a scholarship and participated in a multitude of activities including Color Guard and the Ranger Challenge. Her involvement in these events, as well as volunteering, allowed Rivera to fulfill a dream she had since her JROTC years at Moanalua High School.
"(In highschool) I would always see people in uniform greeting us. I was very excited and nervous to see them because that was the next step I wanted to take," Rivera said. "Being able to, within this program, go back and greet and help out those cadets in high school, it feels like full circle, like I've become the person I wanted to be when I was there."
Coming from Fort Hood, Texas before joining the program, Smith notes how the program and its members cultivate a sense of ohana. 
"The best part is coming in and you're friends. Everyday you have cadets who are going through the same thing as you; they're doing college, they're juggling jobs, a lot of us have families," Smith said. "We're making it; we're coming in here and leaning on each other for support and we help each other out. The fact that you are building relationships you're going to have throughout your entire life, entire career. You're going to encounter these people again and again if you stay in the Army." 
For Kim, the best memory of being in the battalion is volunteering for Push-Up Squad during the football games. Through these experiences, she gained a new network of friends and the opportunity to grow and mature. 
"It's given me a lot of connections, networking and whatnot. We joke around that we're not normal college students; there's a lot more that we have to hold up on," Kim said. "It's good. There's a lot of responsibilities so it makes us mature a lot faster."
For students interested in joining the program,  Smith, Rivera and Kim have some advice. 
"Come out, don't be shy. We're normal people doing normal things, except we actually are working towards a career in service to our community and country. It's unforgiving but very rewardable."
"I'd say, if you're not sure about it, you can take your first semester off, trying to experience college life and see how hard it is, and you can always join in your spring semester. Take your time making that decision," Rivera said. "There's so many tuition options here that are available so it's a great way to pay for school and they have a solid career afterward."
Kim participated in Punahou summer school's JROTC program and felt it did not work for her. She says even if the first time does not go well, go for it again. 
"If it didn't work out the first time, do it again because it could be a different experience. Don't just stop and think you can't do it. If it's not for you, there's obviously something else for you to do."
Smith also has a special message for her fellow enlisted. 
"When I was doing my undergrad, I would see them (ROTC cadets) out there in the morning and I was walking the dog and they were doing PT. I was like 'Man, that sucks. I am so glad that is not me.' Then flash forward five years and here I am doing the same thing. If I had done it on the other side, if I would've done it for my undergrad, where would I have been?," Smith said. "A lot of us active duty cadets are in grad programs because a lot of us have our undergraduate. We're like 'Man, we missed out.' Number one, running might have been easier. We would've been miles ahead of our peers right now than where we are at. Don't have that regret."