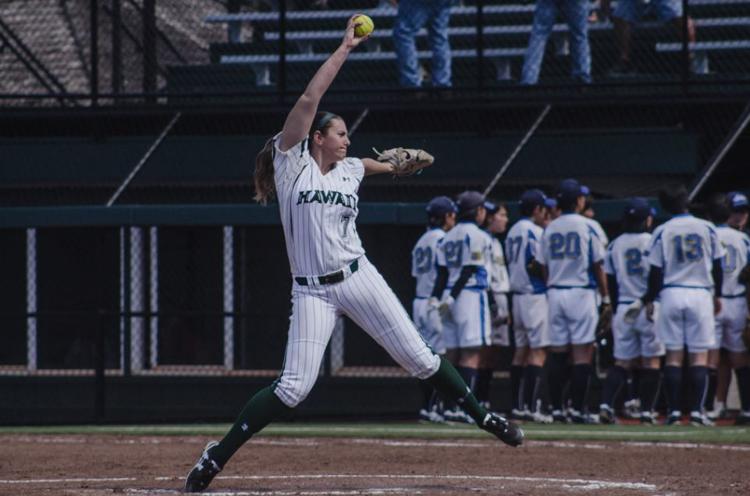 After battling through two season-ending injuries so far in her collegiate softball career, University of Hawai'i senior pitcher Brittany Hitchcock returns for a sixth year. 
Hitchcock was granted a medical redshirt in her freshman year (2014) after suffering a back injury. Last season, she was forced to miss the last 32 games because of another injury. 
"This last season, getting injured again, I was almost like a pro at getting injured," Hitchcock said. "So how to come back from that, I feel as though I kind of had some good preparation."
She holds a 2.21 ERA and a 47-33 overall record, striking out 362 batters in the past four seasons. Although Hitchcock had a 1.97 ERA and was 5-4 in her short 2018 campaign, she is motivated to carry the team to success. 
"Everyone looks at her for that balance, for that calmness out there," head coach Bob Coolen said. "She doesn't ever get riled, she may get frustrated but she doesn't usually show it. I think her biggest frustration is her injuries." 
Hitchcock said she managed to get through the injuries with the support of her coaching staff, trainers and physical therapists. She also added pilates to her routine, which helped her in the recovery process for the last few months. As the "grandma" of the team, Hitchcock hopes to lead by example. 
"A lot of it comes down to just believing in the abilities that they have, but never feeling satisfied," she said. "Always looking to push more and know that there's someone out there just like you, competing for the same thing. Especially when it comes to our conference, everybody wants it just as bad." 
Reviving the team
After Hitchcock's early exit last season, the pitching staff struggled as the Rainbow Wahine finished with a 23-27 record. The team is seeking to improve, especially since this season is the program's 35 year anniversary.
"(The freshmen pitchers last season) really didn't toe the rubber the way that you would wish a freshman would," Coolen said. "You want your freshmen to be a little bit successful, pitch a little bit more and we couldn't really pitch them because they were so inconsistent." 
The Rainbow Wahine pitching staff features four other players: sophomores Dominique Martinez and Emily Klee return, and new to the roster are freshmen Ashley Murphy and Isabella "Izzy" Dino. Coolen said they project Dino to be the No. 2 pitcher behind Hitchcock. 
"So with Brittany and her, and three others to play with, I have a lot more opportunities and positions to put them in different situations," he said. 
The Rainbow Wahine also have their top three hitters returning to the plate: junior first base/catcher Callee Heen, senior third baseman Nicole Lopez, and sophomore outfielder Brittnee Rossi. Lopez and Heen were also named to the All-Big West first and second teams respectively. 
UH starts the season with the Hawai'i Paradise Classic from Feb. 7 - 9 at the Rainbow Wahine Softball Stadium. The Rainbow Wahine open the season with Georgia State on Feb. 7 at 7 p.m., and will face UT Arlington and UCLA on Feb. 8 at 4:30 p.m. and 7 p.m. as well. 
Coolen said the team will be exciting and fans will see "a lot of good hitting." 
"For the younger pitchers, its a matter of stepping up and elevating themselves when Brittany is not on the mound," he said. "With a pretty much upperclassmen laden lineup, we're going to have to, this is going to be our year to make it better than number four in the conference and obviously go out and win the whole conference."