After a first half offensive struggle, freshman quarterback Chevan Cordeiro came in the fourth quarter and led the Rainbow Warriors to a comeback victory over the UNLV Rebels on senior night.
"[Head coach Nick Rolovich and coach Craig Stuzmann] just told me to do my job, and protect the ball," Cordeiro said. "And with the O-line's help, wide receivers, defense, believing in me, it really made my job easy."
The 'Bows (7-5, 4-3 Mountain West Conference) beat the Rebels (3-8, 1-6 MWC) 35-28 in front of a crowd of 22,241 on Saturday night at the Aloha Stadium and became bowl eligible.
Cordeiro threw for 153 yards and two touchdowns in the 'Bows win. Junior wide receiver John Ursua led receivers with 148 yards and one touchdown on six catches. Junior wide receiver JoJo Ward added 109 yards and two touchdowns on five catches.
Sophomore quarterback Cole McDonald's first pass was a 43-yard bomb to Ursua to the UNLV 32-yard line. Three plays later, McDonald's pass was intercepted by UNLV sophomore wide receiver Drew Tejchman at the UNLV 14-yard line, and returned for 36-yards to the 50-yard line.
The 'Bows defense forced a three-and-out for the Rebels' first offensive drive at the UH 46-yard line. After the punt, the Rebels received a kick-catching interference for 15-yards.
'Bows sophomore running back Fred Holly III picked up 15 yards on the ground, followed by a big 27-yard gain by McDonald to the UNLV 14-yard line for the first down.
That drive set up junior kicker Ryan Meskell's successful 36-yard field goal attempt from the UNLV 18-yard line to put the 'Bows on the board 3-0 over UNLV at 8:04.
UNLV sophomore quarterback Max Gilliam threw a 9-yard touchdown pass to freshman tight end Noah Bean to lead 7-3 over the 'Bows with 18 seconds left in the first quarter. That touchdown pass ended a 17-play, 75-yard drive.
The 'Bows trailed 14-3 to start the second quarter after senior running back Lexington Thomas scored on a 12-yard touchdown at 7:29.
Thomas found a big hole up the middle for a big 45-yard touchdown at 2:22 to extend the Rebels' lead 21-3 over the 'Bows.
The 'Bows still had trouble offensively to start the third quarter as McDonald was sacked for a loss of 17-yards and fumbled the ball. However, the defense forced another three-and-out as the 'Bows got the ball back on the next drive. 
"Everybody did a great job, nobody wasn't worried about doing someone else's job," senior defensive lineman Zeno Choi said. "Everyone did what they had to do."
The 'Bows converted on two big fourth down conversions: Ursua caught a 16-yard pass to the UNLV 34, and Byrd caught a 24-yard pass to the UNLV 3-yard line. Byrd's catch set up McDonald's three-yard touchdown run as the 'Bows trailed 21-13 with 3:32 left in the third quarter.
The Rebels scored on a 16-yard touchdown from senior running back Evan Owens at 14:21 to start the fourth quarter. UNLV extended its lead 28-13 over the 'Bows.
 Cordeiro entered the game and threw a 64-yard touchdown pass to junior wide receiver JoJo Ward at 11:42. Cordeiro proceeded to throw a successful two-point conversion to Ursua to cut UNLV's lead 28-21.
Rolovich said the discussion to put Cordeiro in was during the previous drive.
"We started talking about it the series before when we went three-and-out, and then we said 'let's give him a shot,'" he said. 
When asked about how he felt throwing a deep ball in his first snap, Cordeiro said he was a little nervous. 
"Coach [Stuzmann] and Coach [Rolovich], they really prepared me well," he said. "On the sideline, we went over that play, and I just had to throw it."
That touchdown pass fired up the crowd at Aloha Stadium, as the 'Bows defense was hyped up coming onto the field again. 
"That was the loudest I've heard the stadium since the Wyoming game (on Oct. 6)," Choi said.
The Rebels drove into the 'Bows territory and went for it on fourth down, but was stuffed for a loss and turned over the ball at the UH 46-yard line with eight minutes remaining.
Cordeiro found Ward again for another 20-yard touchdown catch at 4:23 as the 'Bows tied the game at 28-28.
Cordeiro was not done yet, as he drove the ball down four plays for 79-yards, then threw to Ursua for the game winning 68-yard touchdown pass at 1:25. Meskell's PAT was good, and that sealed the 35-28 victory over the Rebels.
"We knew once he was coming in, that we had to believe, and to just never give up," Ursua said. "We showed true character tonight and how to persevere when times are rough. I'm just glad Chevan (Cordeiro) came up and he had that opportunity to shine a little bit. And JoJo (Ward) made a hell of a play as well, scoring two touchdowns." 
After the game, 18 seniors participated in the annual senior walk. 
The team also wore #65 on their helmets and the coaches wore shirts in honor of former Hawaiʻi offensive lineman Vince Manuwai, who passed away on Nov. 4.
Manuwai was prolific during his time as a Rainbow Warrior, and was selected by the Jacksonville Jaguars in the third round of the 2003 NFL draft.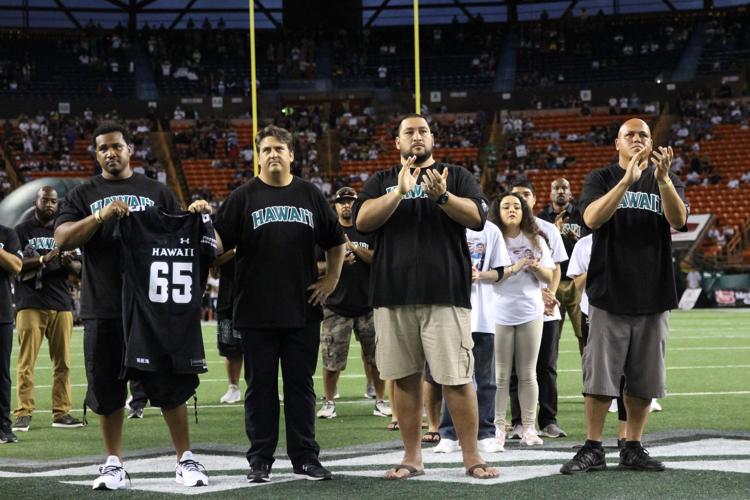 "[Chevan Cordeiro] showed that he can play at this level, we were getting stale," Rolovich said. "And you know, Cole McDonald has done so many good things for this program this year, they both got us wins and tonight was just a special night. I think Vince Manuwai is up there right now singing Hakuna Matata, celebrating with these seniors."
Next week the 'Bows travel to face San Deigo State on Nov. 24 for their final regular season matchup.
GALLERY: 2018 Hawaiʻi Football Senior Night