Two games and two seniors
The University of Hawai'i Rainbow Warrior basketball team will have its final two home games on Feb. 22 and 24. It will also be the last time that seniors Gibson Johnson and Mike Thomas will play at the Stan Sheriff Center. 
UH (15-10, 6-6 Big West Conference) is coming off of a road sweep against UC Irvine and Riverside on Feb. 15 and 17. The 'Bows edged the Anteaters in a 62-61 upset to break its previous five-game losing skid, and brought over that momentum to Riverside where they outlasted the Highlanders in a 74-69 overtime battle. 
The 'Bows return home to have rematches against the Long Beach State 49ers (13-15 , 7-5 BWC) and UC Irvine (14-15, 9-4 BWC) on senior night. 
The Opponents
Previously, the 'Bows lost 89-81 to the 49ers in its Big West season opener on Jan. 4. LBSU senior forward Gabe Levin shows to be a threat to the 'Bows, leading in scoring (15.0 points per game) and rebounding (7.2 rebounds per game). Junior guard Bryan Alberts leads the Big West in 3FG made per game (3.2). Junior guard Deishuan Booker is the conference's top assist man with 5.7 assists per game. The Beach closed its homestand after a 80-70 loss against UC Santa Barbara on Feb. 15. In both team's series, LBSU leads 15-9, but at the SSC, UH leads 6-4. UH will have a chance to break LBSU's three-game winning streak against them. 
UCI currently leads the all-time series against the 'Bows 11-6. The Anteaters leads the conference in scoring defense (68.1), field goal percentage defense (.392), rebounding margin (+7.7) and blocks (4.3). Sophomore guard Evan Leonards leads the Anteaters averaging 12.9 points per game. The 'Bows will have to harness its home court advantage and support from fans to beat the Anteaters who lead 5-3 over the 'Bows at SSC.
Mike Thomas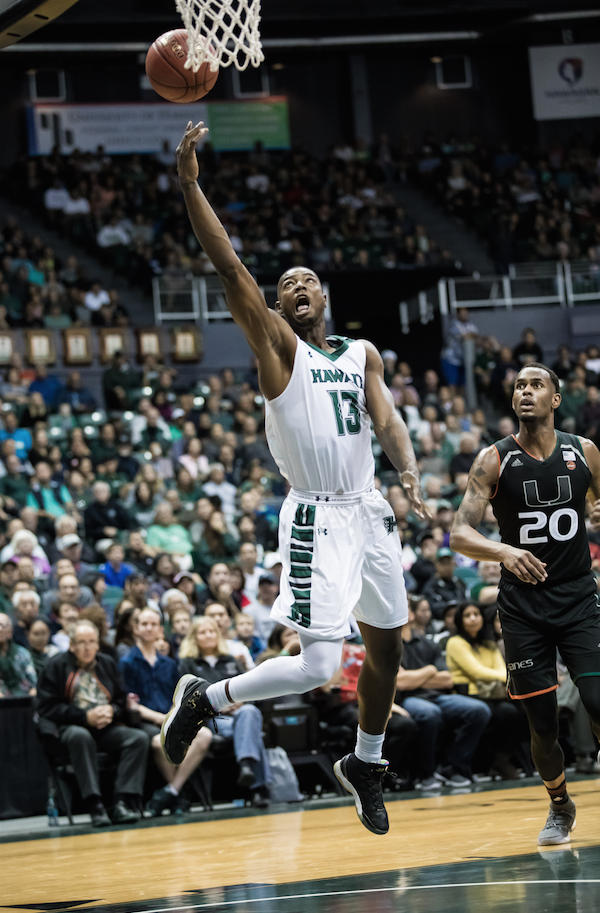 Born in Seattle, Washington, Thomas is a 2013 graduate of El Camino Real High School and was named league MVP and Los Angeles City Co-Player of the Year as a senior. The 6-7 senior forward tops the Big West in field goal percentage (.621) in league play. 
Position: Forward
Major: Marketing 
Hometown: Seattle, Washington
Career Totals
4 Seasons
857 PTS
477 REBS
310 FGM
Season Averages
13.5 PPG
6.1 RPG
.577 FG%
---
Gibson Johnson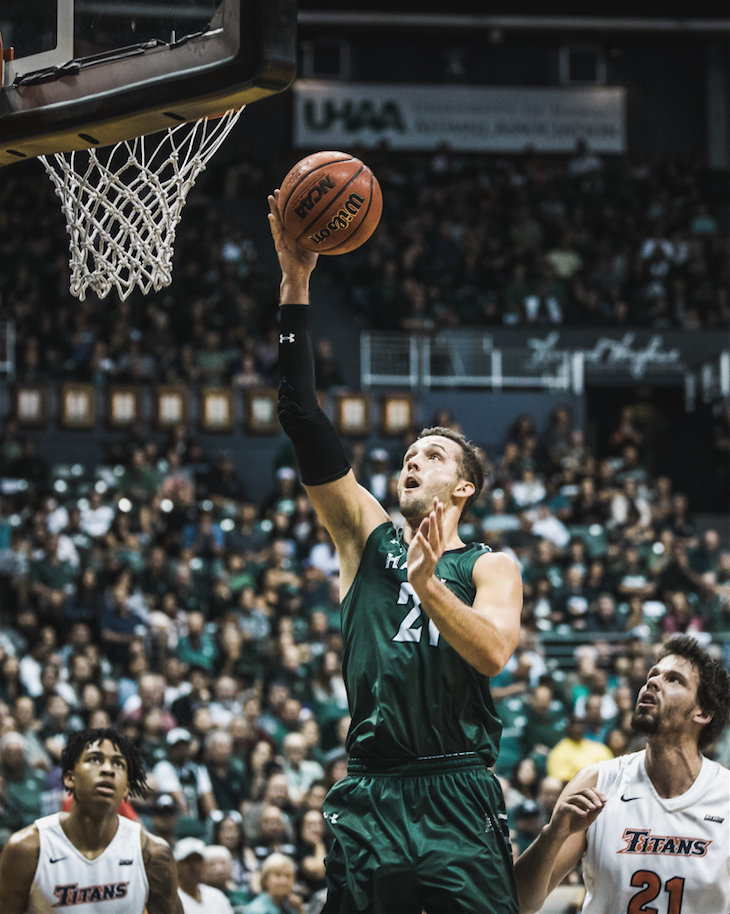 Born in Bountiful, Utah, Johnson is a 2010 graduate of Viewmont High School. Johnson earned two varsity letters in basketball, and also was a three-year letterwinner in golf, earning all-state honors during his senior year. Prior to UH, Johnson served a two-year church mission in Belém, Brazil, then played two seasons for Salt Lake Community College. Johnson entered the 2017–18 season as the second-oldest player in DI basketball. When the 'Bows started the season on Nov. 10, Johnson was 25 years old. 
Position: Forward
Major: Communications
Hometown: Bountiful, Utah
Career Totals
2 Seasons
583 PTS
262 REBS
217 FGM 
Season Averages
9.6 PPG
4.7 RPG
.507 FG%