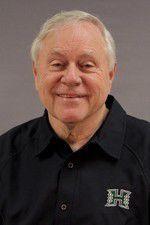 Former Rainbow Warrior football head football coach Dick Tomey died on Friday after battling lung cancer, as announced by his family. Tomey was 80-years-old. 
"To us, Dick Tomey was one of a kind," his family said in a statement. "Known for his room-for-everyone big-heartedness, generous spiritedness (to a fault), instinctive kindness, love and respect for people of all walks, and the ease with which he forgave himself and others and moved on with life without resentments—taught all of us so much." 
Tomey coached at the University of Hawai'i for 10 seasons from 1977-86. He has a 63-46-3 record, and was special teams coordinator in 2011. He is a member of UH's Sports Circle of Honor.
During his time at UH, Tomey led the Rainbow Warriors to a pair of runner-up finishes in the Western Athletic Conference and four 7+ winning seasons.
A true pioneer in giving Polynesian kids an opportunity to further their education through football, Coach DICK TOMEY served as Polynesian Football Hall of Fame Selection Committee Chairman and recognized as a Founders Award honoree. We will miss you Coach. Aloha. pic.twitter.com/g1WmIPWc4u

— Polynesian Football (@PolynesianFBHOF) May 11, 2019
Tomey's 1981 team finished the season with a 9-2 record and runner-up WAC finish. He also coached UH's only Associated Press first-team All-American (Al Noga) in 1986. 
Tomey was also served as head coach at the University of Arizona from 1987-2000 and San Jose State from 2005-09.
Tomey is the winningest coach in UA history, and coached five NFL first round picks, 20 All-Americans, and 43 first-team Pac-10 players and was picked as Pac-10 Coach of the Year in 1992. 
In 2009, Tomey was named the president of the American Football Coaches Association. 
Mahalo Coach Tomey, for everything.

— Nick Rolovich (@NickRolovich) May 11, 2019
Tomey's family will announce a Celebration of Life at a later date. 
In lieu of flowers, the Dick Tomey Legacy Fund was established through the Positive Coaching Alliance (501c3). 100% of these funds will go directly to giving scholarships and programing for underserved youth in the markets where Dick spent the majority of his years in the community as the head football coach.