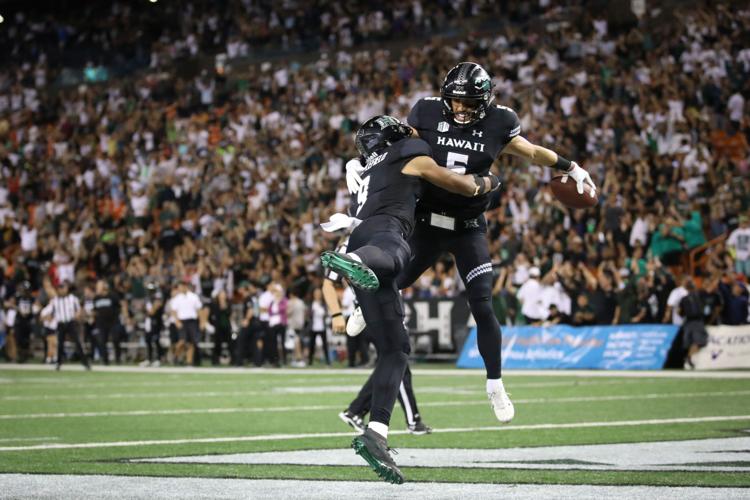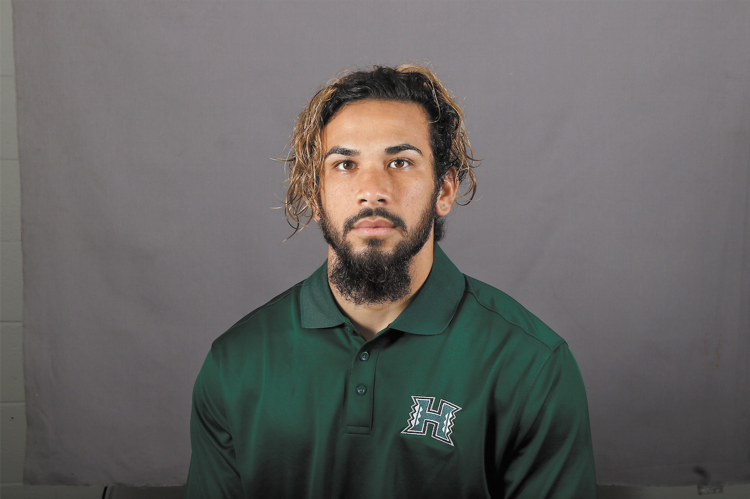 J.J. Watt, Khalil Mack, Russell Wilson. What do all these athletes have in common? They were all 2-star recruits coming out of high school who have made a name for themselves in the NFL. At this year's draft, University of Hawai'i wide receiver John Ursua will be hoping to get the chance to add his own name to that list.
Every year, thousands of college football players vie for one of 254 spots in the NFL Draft. Ursua will be among those hoping to hear his name called during the three-day event this year. 
The Kailua-Kona native spent his freshman year as a wide receiver at Kealakehe High School, the same place where his older brothers, Nai'a and Jared, made a name for themselves. 
"Family has been the key for me playing football," Ursua said of his brothers' influence. "They both played collegiate football, and it helped me to follow in their footsteps and pursue football as well."
Ursua and his family decided to move to Utah after Nai'a graduated from Kealakehe following John's freshman season. While playing for Saratoga Springs's Westlake High School, Ursua developed into a star quarterback. In two seasons at Westlake, he threw for 2,854 yards and 34 touchdowns, drawing the attention of former BYU head coach Bronco Mendenhall.
"Going into my junior year, BYU offered me a scholarship,"  Ursua said. "I verbally committed to (coach) Bronco and I felt good about my decision (at the time)."
 However, a wrench was soon thrown into those plans. Following his junior season, Ursua transferred to Cedar High School, roughly three hours away from BYU. He lost his proximity to Provo and some important contacts, but he refused to let it affect his performance on the field. As a senior, he threw for 1,005 yards and 10 touchdowns while rushing for 1,539 yards and 16 touchdowns. His play on the field attracted the attention of then-Utah offensive coordinator Norm Chow. When Chow was later named head coach for the University of Hawai'i football team, he didn't waste any time offering Ursua a scholarship.
"Hawai'i came knocking at the door," Ursua said. "I felt like that was a great opportunity to come home and play for my state."
Following a high school football career in which he moved twice and played for three different teams, Ursua had one last pitstop to make before his college decision.
"After I graduated high school, I decided to serve my two-year mission and that's when I (got a chance) to think a little more about where I wanted to go and who I wanted to be," Ursua said. 
As a member of The Church of Jesus Christ of Latter-day Saints, Ursua was assigned to serve in Paris where he learned about the French culture and language. He spent his days serving people in any way he could, whether that meant teaching people about his religion, or even doing simple yard work.
"It was always something I knew I was going to do," Ursua said. "Serving a mission is a great responsibility."
In 2015, Ursua returned from his mission ready to focus on college football. He decided to commit to a team that had stuck with him throughout his mission. After detours in Utah and France, Ursua had finally made his way back to Hawai'i. He won the team's offensive Scout Team Award in his redshirt season, before making his debut the following year. In 2016, he appeared in all 14 games, finishing the season second on the team with 53 catches for 652 yards. It was clear to the world that the Rainbow Warriors had found a gem.
The 2017 season began with Ursua on the watchlist for the Biletnikoff Award, presented to the top receiver in college football. For the first six weeks of the season, he proved that his inclusion on the watchlist was no mistake. Entering week seven, he led the country in receiving yards per game and was second in receptions per game. Then, disaster struck. On the first play of the second quarter in a Hawai'i victory over San Jose State, Ursua was brought down awkwardly on his right knee. He was diagnosed with a torn ACL, ending his season. Despite playing in only six games, he finished the year as the team's leader in both receiving yards (667) and receiving touchdowns (5).
As he returned from his injury in 2018, Ursua had the best season of his career. Playing in all 13 regular-season games, he put up elite stats in the team's return in the run and shoot offense. He finished the season as the nation's leader in receiving touchdowns with 16. He also finished fifth nationally in receiving yards (1,343) and tied for ninth in receptions. But despite his excellent season, he was not chosen as a finalist for the Biletnikoff Award.
"I was a little disappointed," Ursua said. "One of my preseason goals was to be a finalist for the Biletnikoff, or win it really. I felt like I accomplished all my goals except for that one. That's kind of tough to swallow."
Disappointment or not, Ursua won't let the snub weigh him down. Instead, he chose to use it as fuel for his draft preparation.
"I look at it like a chip on my shoulder," Ursua said. "I'll prove anybody wrong."
That fiery competitiveness is a big part of what has endeared Ursua to all those associated with Hawai'i football. A simple scroll through the Warrior Nation Facebook fan page will reveal the sentiment fans feel toward Ursua.
"You'll be sorely missed but capitalize on your special talents and show the NFL what Hawai'i made looks like!"  - UH fan Tony Tony
Ursua's coaches and teammates also had nothing but glowing remarks on the Kailua-Kona native.
"I wish we had him for a few more years," head coach Nick Rolovich said. "He's been given a lot of special ability. This is the moment he's been waiting for. This is what he's always dreamed of."
"He's a phenomenal teammate and a great person," redshirt junior quarterback Cole McDonald said. "I'm excited for him. There's nothing I want more than to see my friend succeed."
Their love and appreciation has not been lost on Ursua.
"This has been the greatest four years," Ursua said of his time at UH. "I became a man here. This is home for me."
Despite being one of the most productive receivers in college football this year, Ursua is nowhere to be found on most draft websites. The few that have included him have listed him as a 6th-7th round pick. Common criticisms against Ursua include the level of competition he has faced and the offense he's played in here at Hawai'i. Some wonder if Ursua would have gotten more recognition at a bigger school. But not him.
"I wouldn't change anything," Ursua said. "I'm pretty confident in where I am. I don't live with regrets. My time in Hawai'i has been amazing. I wouldn't change anything."
The NFL Draft begins on Thursday, April 25 at 2 p.m. HST.