Fun in the sun for the youth
Rainbow Wahine Beach Volleyball team hosts summer camps and clinics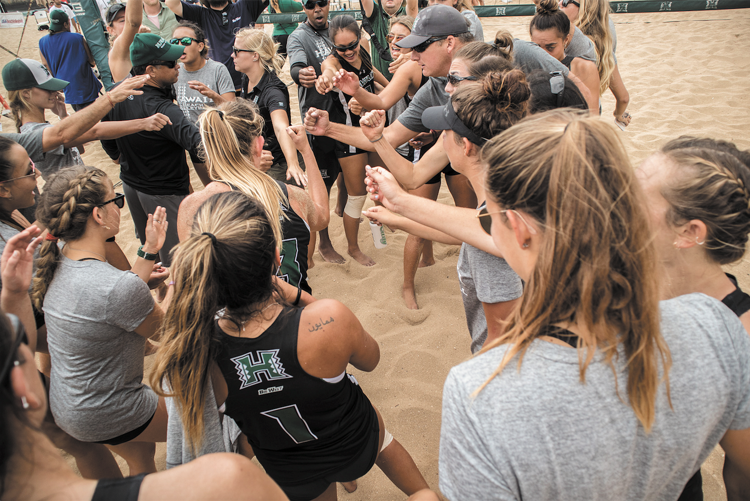 Sun out, nets out, game on. 
Summertime in Hawai'i marks a time to bust out the boards and swim shorts and head to the nearest beach. Although the beach volleyball team's season ended in May, the Rainbow Wahine will flip the roles and become coaches for the youth. 
This summer, the team is hosting beach volleyball clinics and camps for girls 11 to 18 years old. Volunteer head coach Danny Alvarez has taken the lead in hosting these clinics and organizing the camps for the players. 
Alvarez has spent seven seasons with the SandBows and has helped guide the program from the start. Deeply rooted in Hawai'i's volleyball scene, Alvarez spent 17 years as a tournament director for numerous beach volleyball events such as the Duke Kahanamoku State Beach Doubles Championships.
Playing a major role in helping indoor volleyball players transition to the beach, Alvarez hopes to give younger players a taste of what it is like playing in the sand. 
"Our goal is to give back to the community here in Hawai'i, as well as [to] student athletes from the mainland, who would like to learn how to play beach volleyball the way we teach it here in Hawai'i," Alvarez said.
The growing sport of beach volleyball has only completed its third season in the NCAA, and playing Hawai'i-style volleyball has proven to be successful as the team finished in third for its second year in a row.
Alongside Alvarez, the camps will be coached by SandBows head coach Jeff Hall, assistant coach Evan Silberstein and current beach players. 
The summer clinics, a more personal event, are run by coach Alvarez. Girls who are in the ninth grade or lower, as of fall 2018, are eligible to participate. These clinics are more skill focused and are in smaller groups, typically running for about an hour and 20 minutes.
"When it comes to numbers, however, there's always a long range," Alvarez said. "The camps are usually the larger ones and we hope to have around 25 to 40 [girls]."
All training aside, these camps and clinics are about more than improving your skills. It is a chance to get in touch with the coaching staff and players. 
"My favorite part is meeting the kids and parents for sure," Alvarez said. "The parents get to see their kids participate and it's just a great family atmosphere."