Cole McDonald was the captain of the ship yet again for the University of Hawaiʻi Rainbow Warrior football team.
"I can't really attest my personal performance," McDonald said. "It's more so the team's. A lot of people are saying 'oh you did this, you did this.' I look at it as, I didn't do anything. I just did my job."
Hawaiʻi (2-0, 1-0 Mountain West Conference) sunk Navy's (0-1) ship in a 59-41 victory on Sept. 1 at Aloha Stadium.
The redshirt sophomore threw 30-of-41 for 428 yards and six touchdowns. McDonald is the first UH quarterback since Bryant Moniz to throw back-to-back 400+ yard games. His six touchdown passes were also the most since Sean Schroeder (6) in 2013 at Wyoming.
"I think it's his hard work, it's his desire," head coach Nick Rolovich said. "I think it should come down to those two things. He's either worried about his hair, or he's doing football, all before training camp, all summer. He's taking some tough classes, tough major."
Mcdonald found junior slotback Cedric Byrd for a 7 yard touchdown to put the 'Bows up 7-0 over Navy with 9:12 left in the first quarter. Navy got the ball at its 25 yard line, but the 'Bows' defense managed to force the Midshipmen to punt it at their 32 yard line. Redshirt sophomore running back Fred Holly III found a big hole up the Navy defense to rush for 28 yards to the Navy 1 yard line to set up another UH touchdown. Holly eventually rushed for 1 yard to the goal line to extend the 'Bows lead to 14-0.
A scuff by junior defensive back Ikem Okeke managed to pressure Navy junior quarterback Malcolm Perry for a loss of five yards for the start of the second quarter. Navy was forced to punt it away after 3:18. McDonald found junior wide receiver JoJo Ward down the field for a 34 yard touchdown. The 'Bows extended their lead to 21-0 early in the second. After Navy was forced to punt again, the 'Bows managed to block the punt and sophomore defensive lineman Maxwell Hendrie returned it for 19 yards. The 'Bows continued to dominate 28-0 in the second quarter.
Navy exploded with a 40 yard rush from sophomore fullback Nelson Smith. Nelson continued to run for another 15 yard gain to the UH 19 yard line. The Midshipmen managed to get on the board at 6:52 with senior quarterback Zach Abey's 3 yard keeper, 28-7.
McDonald found junior slotback John Ursua down the field for a 50 yard touchdown pass to extend the 'Bows' lead 35-7 in the second quarter. Perry managed to find a huge whole in the 'Bows' defense for a 75 yard keeper to the endzone. The Midshipmen trailed 35-14 going into the half.
The Midshipmen struck first in the third quarter with a 12 play, 75 yard drive capped off by Abey's 1 yard rush touchdown to cut the lead 38-21 'Bows. McDonald was sacked for a loss of 21 yards to the UH 9 yard and fumbled the ball. Navy's senior defensive end Josh Webb recovered it to start their drive at 7:33. Abey struck again with another 7 yard touchdown at 6:35 to cut the deficit to 10 points.
When asked about how the Midshipmen managed to make a second half comeback, head coach Ken Niumatalolo said the team just had to settle down.
"We were kind of shell-shocked to fall down, get down 14-0 that quickly," Niumatalolo said.
It was the worst case start for the Midshipmen, according to Niumatalolo. The team finished last season with a 7-6 (4-4 American Athletic Conference) record. 
"They took like seven minutes off the clock and they scored," Niumatalolo said. "So it wasn't only that they scored, they ate most of the first quarter. That's the last thing we wanted to happened. We wanted to do it the other way, us eat the clock and have the ball."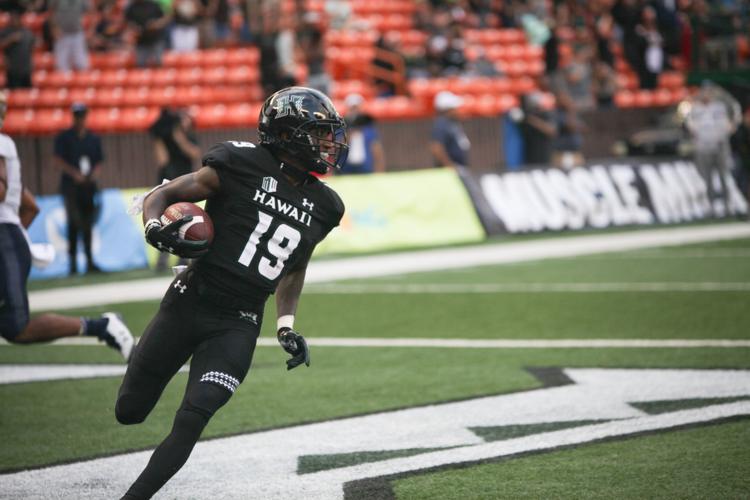 McDonald eventually found Byrd in the endzone again for a 31 yard touchdown pass to extend their lead 45-28 in the fourth quarter. Perry found senior slotback Tre Walker for 19 yards to the endzone to cut their deficit back to 10 points again at 12:06. McDonald fired back with a 75 yard bomb to junior wide receiver JoJo Ward to put the 'Bows up 52-35. Ursua was wide open for a 9 yard touchdown to build a healthy 59-35 lead over Navy. Abbey managed to squeak a 2 yard touchdown in, but the PAT was no good. The 'Bows ultimately won 59-41 over Navy.
Holly rushed for 82 yards and one touchdown on 17 carries in UH's victory of Navy.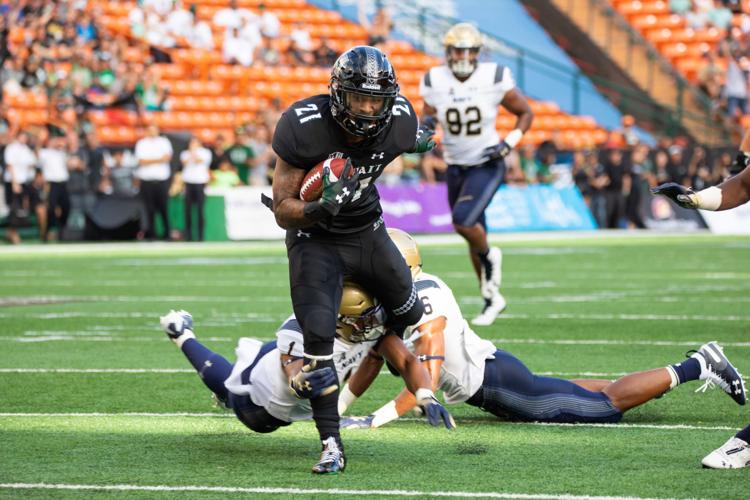 McDonald also credited his receivers for being able to haul in yards and touchdowns. 
Ursua led receivers with 167 yards and two touchdowns on 10 catches. Ward added 161 yards and another two touchdowns on six catches. Byrd had 90 yards and two touchdowns on 11 catches.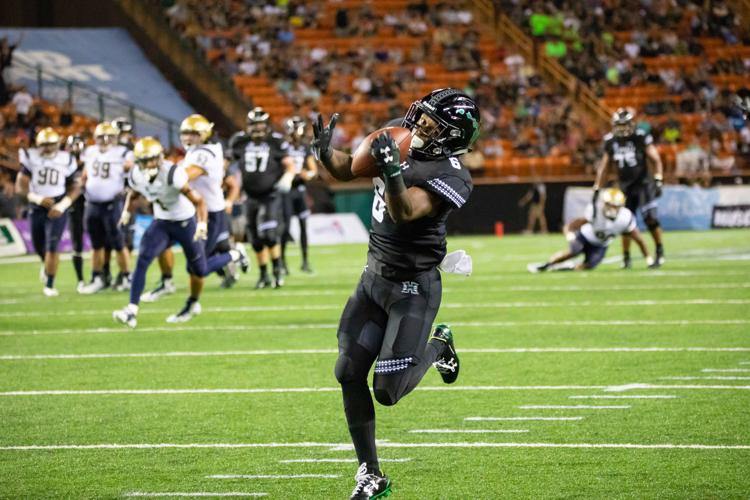 "You have smart guys, you have athletic guys, and just guys you can trust," McDonald said. "I spent a lot of time with those three."
UH's season opener also marked Ursua's return to Aloha Stadium after suffering a season ending injury last year. 
"The fun we're having out there, it's a blast," Ursua said. "It's a contagious feeling, you almost don't want the defense to go back out there, but you want to score quick at the same time."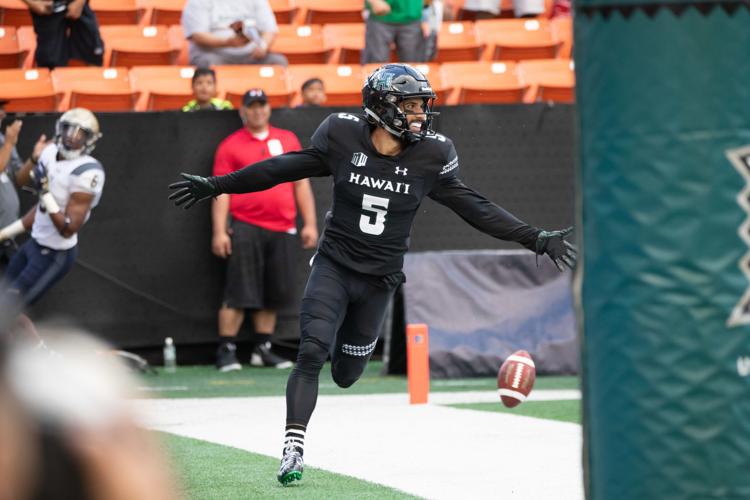 Perry led the Midshipmen with 108 yards and one touchdown in the team's loss.
Niumatalolo gave UH credit for being able to run the offense well. According to Niumatalolo, the team had trouble ganging up on UH because they ran the ball well.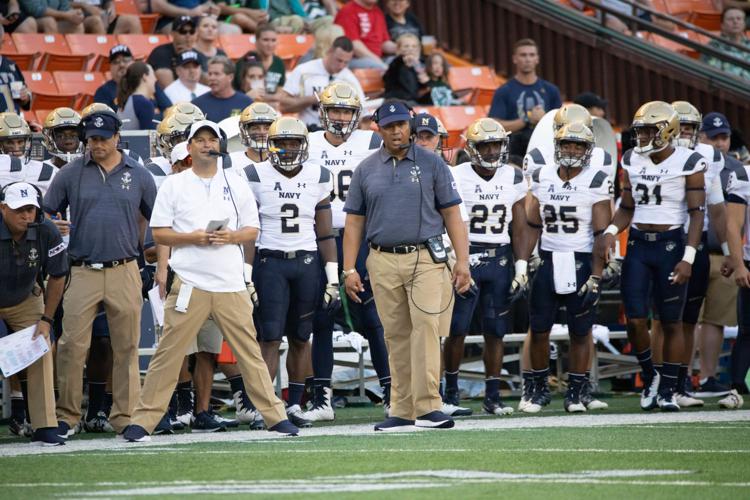 "Cole can run the ball," Niumatalolo said. "There's so many different things you gotta be aware of. You try to bring pressure, he can elude pressure, he can try to do things. They got all the passing stuff... but you can't gang up on the pass because you got the run game. They spread you out in so many different ways and present so many different problems. They're going to do really well in the Mountain West."
Next week the 'Bows remain home to host Rice on Sept. 8 at Aloha Stadium.