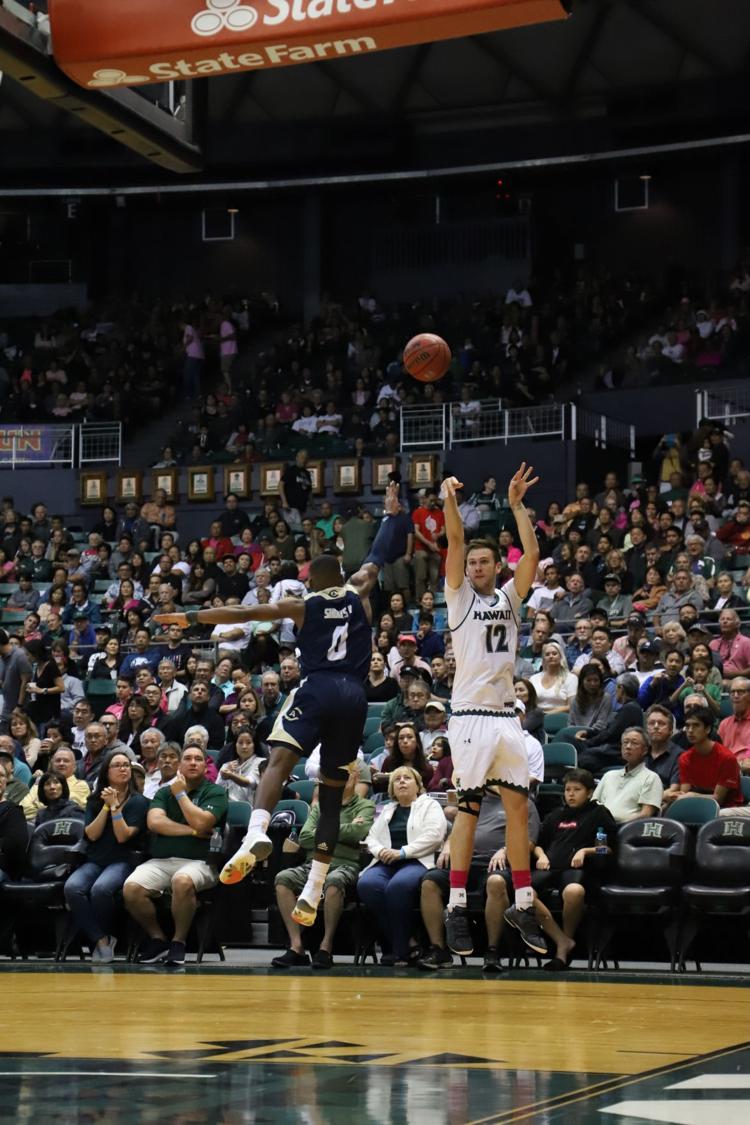 The 2018-19 Hawai'i men's basketball season marks the end of a historic career at UH for senior forward Jack Purchase. After playing in Hawai'i for the past three seasons, the senior from Australia stepped onto the hardwood floors of Stan Sheriff Center in front of the screaming fans of Hawai'i for the final time as a Rainbow Warrior on March 2.
Purchase has taken a long and winding road to reach Hawai'i. Through the twists and turns of his journey, there has always been one constant: basketball. He practically grew up on the basketball courts of Melbourne, Australia. Basketball has played a big role in shaping his life, and there, at the very beginning to nurture his love of the game, were his parents. 
"Dad always said, 'If you don't play basketball, you don't eat'," Purchase joked.
His parents had actually first met on the basketball court, and Purchase credits basketball with helping to create his family. His father, Nigel Purchase, played 10 years of professional basketball in Australia for the Melbourne Tigers of the National Basketball League. His mother, Simone Purchase also played professionally in Australia, playing for the Bulleen Boomers of the Woman's National Basketball League. Nigel and Simone were Purchase's first coaches, and they fostered his love for basketball early in his life, teaching him to play the game the right way. It wasn't long before he found his niche on the court.
On Feb. 16, Purchase moved past 'Bows great Zane Johnson for sole possession of the UH record for 3-pointers made. Purchase's game has always been defined by his 3-point stroke. He credits all his coaches for bringing out his abilities from the 3-point line, but one name seems to come up more than most.
"He played a massive role," Purchase said of his uncle. "A lot of early mornings in the gym shooting the ball."
That uncle turned out to be NBL legend Andrew Gaze. Nigel Purchase and Andrew Gaze were childhood best friends. It's quite fitting that Gaze played such an instrumental role in helping Purchase find his shot. In 2004, Gaze was inducted into the Australian Basketball Hall of Fame. In his playing days, Gaze was best known for, you guessed it, his 3-point shooting. This was a trait which he had clearly passed on to his nephew. 
A career 36.5 percent 3-point shooter, Purchase carved out a very successful junior career in Australia before coming to the States for college. He was a frequent representative for the state of Victoria, with whom he won the U20 Australian Junior Championship in 2013. He also won a FIBA U17 silver medal with the U17 Australian National Team, playing alongside good friends and current NBA stars Ben Simmons and Dante Exum. 
"Playing for Australia would definitely be number 1," Purchase said of his fondest career memories. "Wearing your [country's flag] across your chest is an unbelievable feeling. Listening to the anthem before the game and standing with your teammates is always amazing."
Purchase was quick to add that playing for UH was a very close second.
"Being here; just being a part of that team that went to the [March Madness] tournament was an amazing experience," he said of playing for Hawai'i. "Playing for the University of Hawai'i and being a D1 player has been a great honor. Its something kids dream of and something not a lot of people get to do." 
Purchase's collegiate career didn't actually begin in Hawai'i. He spent his freshman season with Auburn, as a reserve forward. His time in Auburn was frustrating, as he was used sparingly, averaging just 13 minutes per game across seven games. After his freshman season, Purchase decided to transfer. He chose to finish his college career in Hawai'i. During his recruiting process, Hawai'i had expressed interest in him, but that was under then-head coach Gib Arnold. While Purchase was at Auburn, the Rainbow Warriors had undergone a regime change. That didn't deter Purchase from coming to Hawai'i though. 
"[Head] coach [Eran] Ganot was the first coach to call me," he said of his decision to come to UH. "He was right on it when I got my release, so I knew they were interested from the start. That really stuck with me." 
It wasn't long before Purchase felt at home in Hawai'i, as the island community was quick to embrace him. He will look back at his time in Hawai'i fondly, thanks in large part to the love and support shown by the fans. 
"I feel like they're the best fans in the country. They get around you, and they love you no matter what happens."
Heading into the final two games of the season, Purchase leads the Rainbow Warriors in points scored (331), defensive rebounds (148) and blocks (15). He isn't ready to close the book just yet.
"I'm not really satisfied until we get to the tournament," Purchase said of his senior season. "I'm not satisfied until we've won the championship and done what we wanted to do. So at the moment, I'll say no, I'm not satisfied."