It wasn't pretty, but after a second half battle the Rainbow Warriors managed to take the win over Rice.
"We weren't executing at a high level," head coach Nick Rolovich said. "Credit to Rice for some of their schematic things they brought into the game. They were making more plays than us."
Hawaiʻi (3-0, 1-0 Mountain West Conference) continued its homestand with a 43-29 win over Rice (1-2). This is also the first time the 'Bows had a 3-0 start since 2007.
Rice won the coin toss and elected to receive in the opening drive on its own 21 yard line, but after six plays they were forced to punt it away from its 35. The 'Bows got off to a hot start with sophomore Cole McDonald throwing a 34 yard pass to junior wide receiver John Ursua to the Rice 31 yard line. McDonald threw to Ursua again for a six yard touchdown pass to put the 'Bows up 7-0 with 9:14 left in the first quarter. After Rice got the ball back at its own 25 yard line, the 'Bows' defense managed to force another punt after three plays. McDonald found Ursua again for 23 yards to the UH 48 for the first down. After four more plays, McDonald rushed for 13 yards to make it first and goal 'Bows. McDonald found junior wide receiver Cedric Byrd in the endzone for a 10 yard touchdown pass to extend the 'Bows lead 14-0 with 3:39 left.
When asked about how the defense managed to force consecutive turnovers, junior linebacker Solomon Matautia said "we just try to get stops."
"[We] try to get turnovers so we can get them on the field," Matautia said. "...get the ball in John's hands, JoJo's hands, Bryd's hands so thats all we try to do as a defense, just try to get the offense back on the field."
Rice responded back with a big 51 yard touchdown rush from junior running back Emmanuel Esukpa to cut the score 14-7 with 3:03 left in the first quarter.The 'Bows got back at their 21 yard line, but was quickly stopped after seven plays as McDonald was sacked for a loss of four yards to the Rice 47.
The 'Bows stopped the Rice offense yet again in the start of the second quarter seven plays. McDonald showed his athleticism by rushing for a big 15 yard gain to the Rice 49 for the first down. McDonald found junior wide receiver JoJo Ward for a seven yard gain to the Rice 42. After that, McDonald rushed again for another 13 yards, and passed to senior wide receiver Marcus Armstrong-Brown to set up another first and goal 'Bows. McDonald passed to Armstrong-Brown again for a 14 yards as he shaked off a few Rice defenders to hassle in the last 5 yards for the touchdown. The 'Bows extended their lead to 21-7 with 8:05 left in the second quarter. After that, both teams struggled to score on their drives, but Rice managed to pull a 34 yard field goal to trail 21-10 leading into the half.
The 'Bows got off to a shaky start in the third quarter after a pass from McDonald to Ursua at the UH 22 was recalled to an incomplete pass. McDonald managed to rush for another four yard gain, but the 'Bows were forced to punt it away for 46 yards as Rice started its drive with 14:11 left on the clock. A bad penalty for the 'Bows moved Rice down to the 20 yard line. Rice made another successful 31 yard field goal to trail 21-13 at 9:45. After six plays, the 'Bows had to punt it away to the Rice 41 with 6:28 left in the third. McDonald broke the ice with a handoff to sophomore running back Fred Holly III's five yard run to the endzone to put the 'Bows up 28-13 at 4:37. The 'Bows defense managed to stop Rice at the one yard line to avoid a possible touchdown.
In the 'Bows' first drive of the fourth quarter, Holly III rushed for a loss of one yard to the endzone, senior linebacker Martin Nwakamma was credited for the safety at 14:43.
"Obviously the safety, that's more on me than any of the players," Rolovich said. "Gotta get them more mentally ready for that play and that situation. So please don't blame them for that one, that was on me."
After the next kickoff, Rice senior running back Austin Walter returned the ball for 46 yards to the UH 35. Sophomore wide receiver Austin Trammell hauled in a 31 yard touchdown pass from quarterback Shawn Stankavage to make it a six point game, 28-22 with 11:49 left in the game.
The 'Bows struggled offensively to move down the field, but McDonald found Ward for a much needed 63 yard gain to the Rice 36 to make it first down with 3:50 left in the game. McDonald found Byrd again for a 26 yard touchdown pass, and McDonald also made the two-point conversion to make it 36-22 over Rice at 3:01. Stankavage squeaked in 19 yard touchdown pass to sophomore wide receiver Aaron Cephus as the 'Bows continued to lead 36-29 with 1:48 left.
When asked about what happened in the second half with the offense, McDonald said "nothing." 
"I think we were shooting our-self in our foot," McDonald said. "Penalties, just dropped balls, bad reads on my part. Just stuff that we need to cleanup as an offense, and as a group. I don't look at it as Rice stopping us, I look at it as us not taking advantage of the opportunity that was given. We need to execute more and even hungrier than before."
Holly III rushed for 46 yards to the end zone to extend the 'Bows lead to 43-29 with 1:35 left.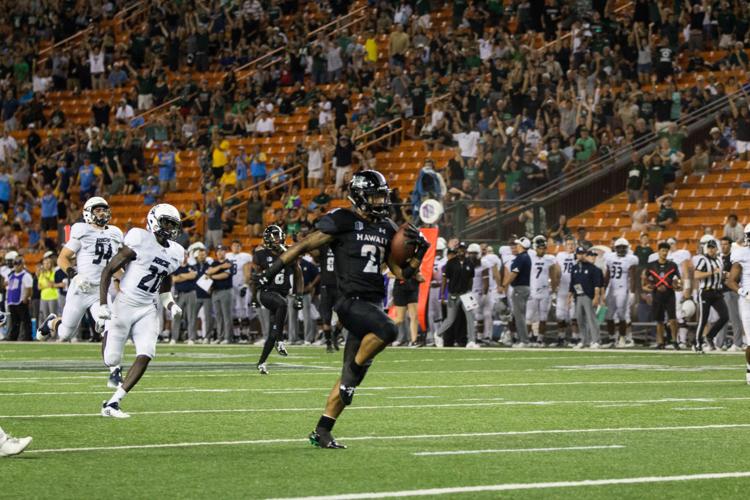 Stankavage was sacked for a loss of 10 yards to the UH 42 by junior defensive lineman Kaimana Padello. The game ended with Stankavage's pass being intercepted by sophomore defensive back Zach Wilson.
McDonald led UH with 319 yards and four touchdowns in the 'Bows victory over Rice. McDonald's 13 touchdown passes are the most by any UH quarterback through the first three games of the season (previous: 12 by Colt Brennan in 2007).
Holly III rushed for 105 yards on 17 carries and two touchdowns. Ursua caught 133 on nine receptions and one touchdown while Byrd added two touchdowns of his own. Armstrong-Brown hauled in 41 yards on four receptions and one touchdown.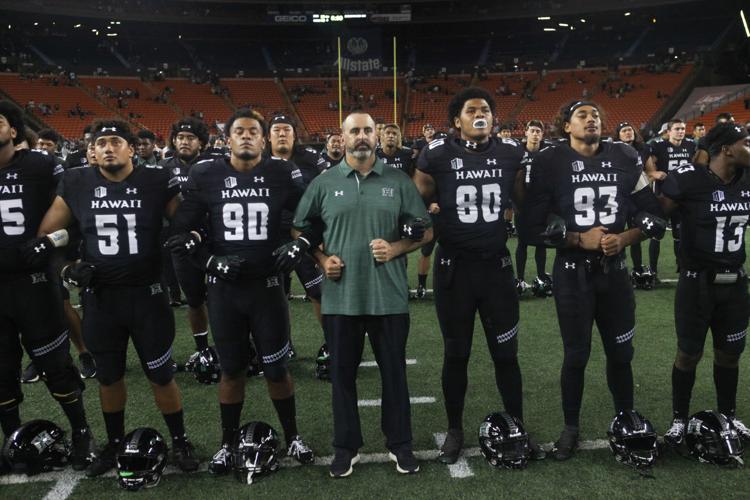 The 'Bows now travel to Westpoint, NY as they go into battle with Army on Sept. 15. Kick-off is set for 6 a.m. HST.