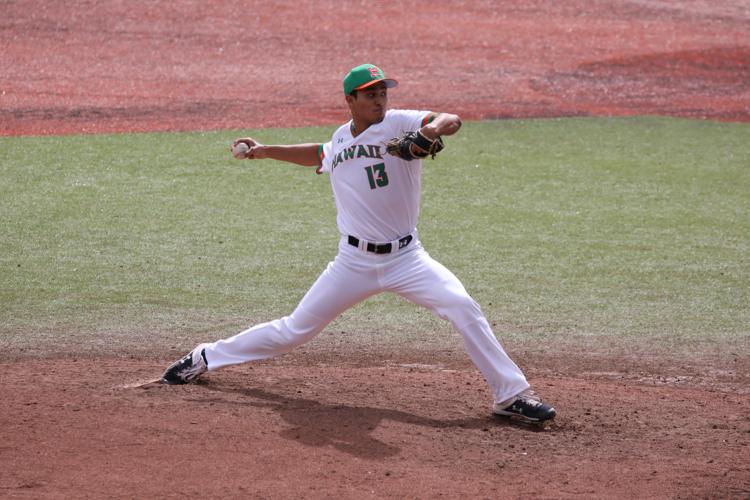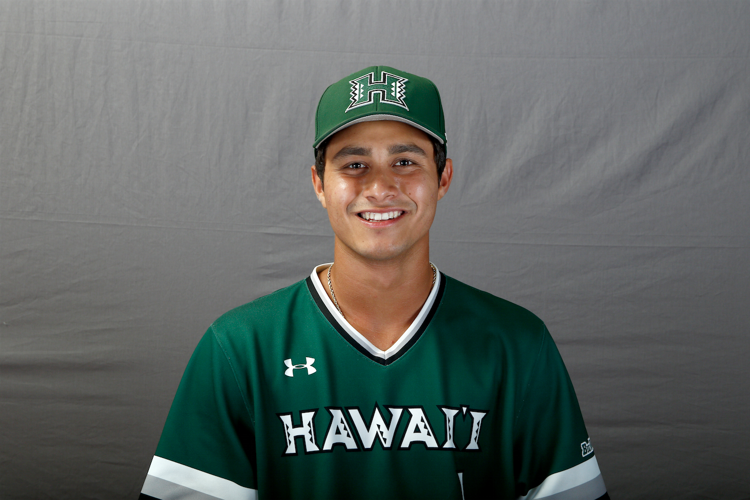 Things are just getting started for University of Hawai'i baseball freshman Blaze "Li'i" Pontes.
Pontes, a Mililani native, has had moments of greatness throughout the 2019 Rainbow Warrior season. On March 2, he pitched three scoreless innings in a 5-4 win against the Longwood Lancers at the Les Murakami Stadium. 
To get to this point of early success there had to be a lot of hard work and focus for the young talent. The bright lights of the Les Murakami Stadium can be a lot for a young student athlete to handle, but Pontes is embracing this opportunity.
"It's been a grind but it's been fun getting the experience," Pontes said. "Being able to come out and get on this field and help the team has been amazing."
Some fans have already embraced the local. Whenever his walk up song "Welcome to Jam Rock" by Damian Marley plays, some fans start to cheer.
"Looking into the audience and seeing people go with the flow it's pretty hype and it's pretty cool," Pontes said.
Pontes is keeping his options open, pursuing a degree in business  to have as backup in case baseball does not work out. As of now, he is all in for baseball and has been playing a long time.
Most people from the mainland are not typically expecting top baseball talent to come out of Hawai'i, but Pontes put the state on the map when he had the opportunity to play for one of America's top baseball programs.
Team California Baseball, currently the No. 8 ranked baseball team in the nation, has been around since 2010. It was created with the goal of helping America's brightest young baseball stars reach their full athletic potential. 
"Nobody really ever expects a kid from here to be able to play for Team California, it was a really cool experience getting to meet new people," Pontes said.
He was unfazed by the pressure of the bright lights and by being around some of the top baseball talent in the nation on a daily basis. He went to the team with a business-like mentality and it shows in the way he carries himself: mature and driven.
The team had a respect-all-but fear-none type of mindset and would play anyone, anytime, at any location. Pontes is the embodiment of what the team wanted to accomplish.
"All I wanted to do is compete," Pontes said.
The team emphasized that teammates are your brothers and that one of the best ways to strengthen that bond is by spending time with them off the field. This lesson is something he carried to UH.
"I love to go out with the team, beach days especially, Waimānalo with the boys, anything really to bond with my teammates," Pontes said.
Pontes knew that baseball would be the best way to bigger and better things in life, so he put all his time and effort into the sport years ago.
"Once I got to high school I knew that baseball was going to be the one ticket for me," Pontes said.
His high school resumé speaks for itself; he was a three-time All-Interscholastic League of Honolulu Division I selection, a member of the Second Team as a sophomore (2016), First Team as a junior (2017) and an Honorable Mention as a senior (2018). 
He was as much of a star in the classroom as he was on the field. Pontes has always taken his academics as seriously as his athletics, graduating from Kamehameha Schools Kapalama with a 3.5 grade point average in 2018.
With the Rainbow Warriors, Pontes currently has a 3.86 ERA and a 1-2 record in 30.2 innings pitched. 
Despite being a young local celebrity in the island community, he remains grounded and positive thanks to his biggest supporters: his family.
"They supported my decisions, whatever I do I know that I can count on them and that they have my back," Pontes said.
Even though his career at UH just started, he is already certain about what he wants to be remembered for once he hangs his cleats up.
"I want to leave a name on this field, I'm going all out for this team and for the hometown," Pontes said. "I just want to be that kid that did everything he could."