Not love at first spike
How Carly Kan developed a talent for volleyball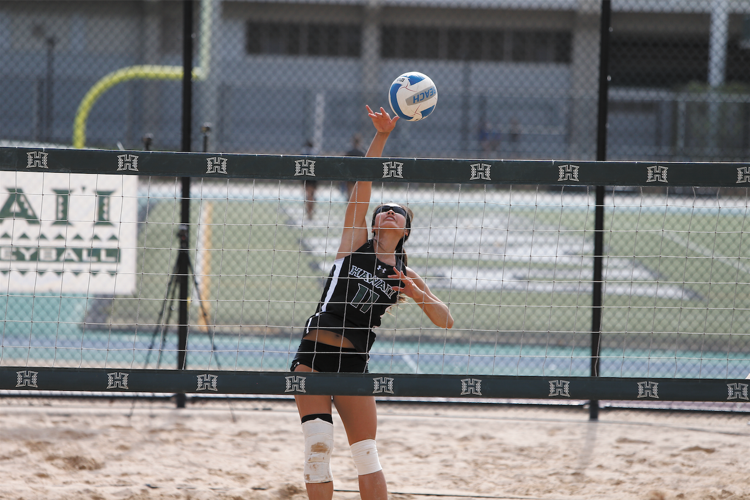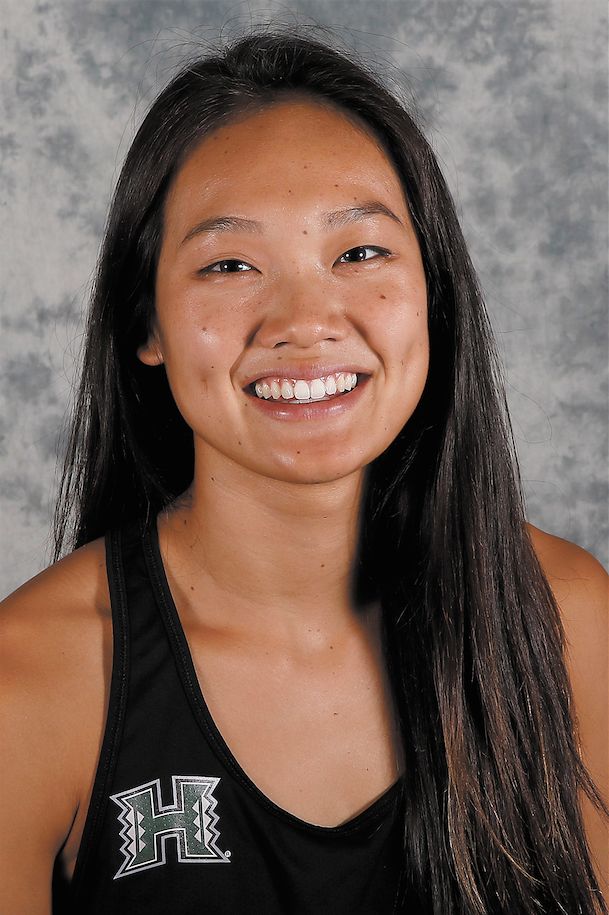 Senior Carly Kan was a four-year volleyball standout at Punahou School in 2013 and a three-time All-American for the University of Missouri. Now she is an emerging leader for the University of Hawai'i's beach volleyball team. However, she was not initially interested in volleyball.
"One of my friends, her and her sister played a lot of volleyball. That was kind of how I got into it," Kan said. 
Kan thought that the practices were hard and that the drills were numerous and boring. But as she got older, the sport grew on her. 
"It's just kind of a growing love," Kan said. "It wasn't love at first sight."
At Punahou, she led the Buff 'n Blue to back-to-back state championships in 2011 and 2012, was named state tournament MVP as a senior and led the team to a No. 9 national ranking by MaxPreps that year. 
Kan took her indoor volleyball career to Columbia, Missouri, where she was one of the Tiger's best players. She is one of two players to become a three-time All-American and made her mark in the record books by leading Missouri to an appearance in the NCAA Sweet 16 in her final year. 
After graduating from Missouri with a degree in finance, Kan came back to Hawai'i to continue her volleyball eligibility as a graduate transfer student pursuing a master's in kinesiology. Kan switched from finance because she wanted to try something different. 
"I knew that I didn't want to really go further into the finance careers," Kan said. "... A lot of the jobs were intense."
But Kan is thankful that she chose finance, referring to herself as a "money person." She is still figuring out what she wants to do with her degrees. 
She has been influenced by her father, Darryl Kan, and his career as an orthopedic doctor specializing in sports medicine. He serves as an orthopedic consultant at UH Athletics and as an assistant clinical professor in orthopedic sports medicine for the John A. Burns School of Medicine. Her interest in kinesiology and the science of movement encouraged Kan to pursue her degree. 
Kan is not the only athlete in the family. Kan's father played quarterback at Dartmouth and participated in NFL camps for the San Francisco 49ers and San Diego Chargers. Kan's brother Brett was also a quarterback, playing for USC. 
Last season, Kan contacted the beach volleyball coaches about her interest in playing for the team. 
"I knew I wanted to play beach volleyball after I was done with my indoor career," Kan said. "I reached out to a bunch of teams, but I knew that I kind of just wanted to come home." 
Head coach Jeff Hall said that assistant coach Evan Silberstein and volunteer coach Danny Alvarez knew Kan before he did.
Alvarez knew her from growing up on island and playing junior beach volleyball, and Silberstein took Kan to Los Angeles for an Amateur Athletic Union volleyball tournament where other Hawai'i kids represented the state. 
When Kan joined, the coaches were uncertain of how well she would transition from indoor to beach volleyball.
"We didn't know how she would be because she kind of dinged up in the fall," Hall said. "But [this season] she started really emerging as one of our top players. Just really proud of her focus, her commitment, her development."
Kan says it was a difficult transition at first. 
"I lost some confidence, but just staying patient and staying focused on the process was the most important," she said. "It's nice to look back and see how my hard work is paying off."
Last season, she and Ari Homayun played at the fifth seed. The duo went 21-5 at the No. 4 flight and 10-0 at the No. 5 flight. 
This year, Kan is paired up with fellow senior Laurel Weaver on the No. 1 court. Within 10 matches, Kan and Weaver posted a 5-5 record. 
Kan says that they have a lot of common ground and chemistry that helped them bond. 
"Playing [with] Laurel is very natural. She pumps me up and I calm her down, so we have this love and flow going," Kan said. "We've built that base for friendship and respect for each other which is so important in a partnership. Just having that ability to be friends off the court but competitors on the court is really nice."
According to Weaver, she and Kan roomed and traveled together last year. Weaver was one of Kan's first friends at UH. 
"It's really fun to be on the court with someone who you know believes in you [and] supports you, and I will always believe in her and support her," Weaver said. "It's fun to go to battle with her and really give 100 percent because I know that she'll never give up on a play, and she'll do whatever ... we need to do to win."
With the team on the road for now, beach volleyball fans will have to wait until April 7 to watch the team in action at Queen's Beach in Waikīkī.