Coming off a hot victory against top-seeded UCSB, the 'Bows kept the fire going as junior Roxanne Resma took the 'Bows to gold.
The No. 4 University of Hawaiʻi Women's tennis team claimed its first Big West title by defeating No. 3 Cal State Fullerton in the Big West Championship tournament final, 4-2.
'The Bows started off strong by claiming the doubles point and took an early lead, 1-0.
The duo of senior Klara Pribylova and sophomore Nikola Dolakova aced their doubles match against the Titans, 6-0. Senior Marina Hruba and sophomore Alzbeta Houbova secured the doubles point by winning their set, 6-3.
In singles competition, the 'Bows sought to keep their victories going.
Pribylova won her  match against CSF's Luxizi Meng, 6-2, 6-3. However, UH's Hruba was unable to claim victory against Karla Portalatin finishing 2-6, 2-6. The 'Bows were still in the lead, 2-1.
80th ranked sophomore Petra Melounova clinched a win against CSF's Genevieve Zeidan, 6-2, 7-5. But, UH's Dolakova could not manage to win her second set tiebreaker against Sarah Nuno and lost 3-6, and 6-7 (5-7). The 'Bows were 3-2 at that point.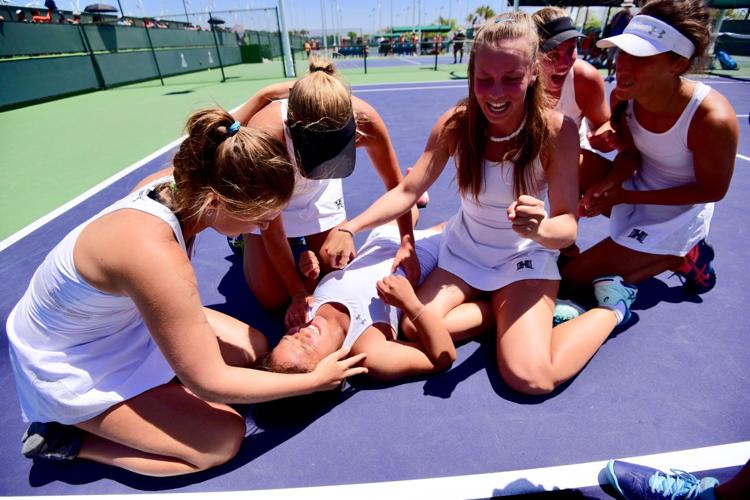 The Wahine's chances of winning the gold were all left to junior Roxanne Resma. Resma went against CSF's Jadie Acidera and fought through a back and forth battle in the first set. Holding off Acidera, Resma won her first set tiebreaker 7-6 (7-5). The championship was within reach and Resma breezed through her second set, 6-2.
With this victory, the Rainbow Wahine claimed the 2018 Big West Conference Women's Tennis Championship, a first in the program's history.
The 'Bows are now headed to the NCAA tournament. The first rounds are scheduled to start May 11.